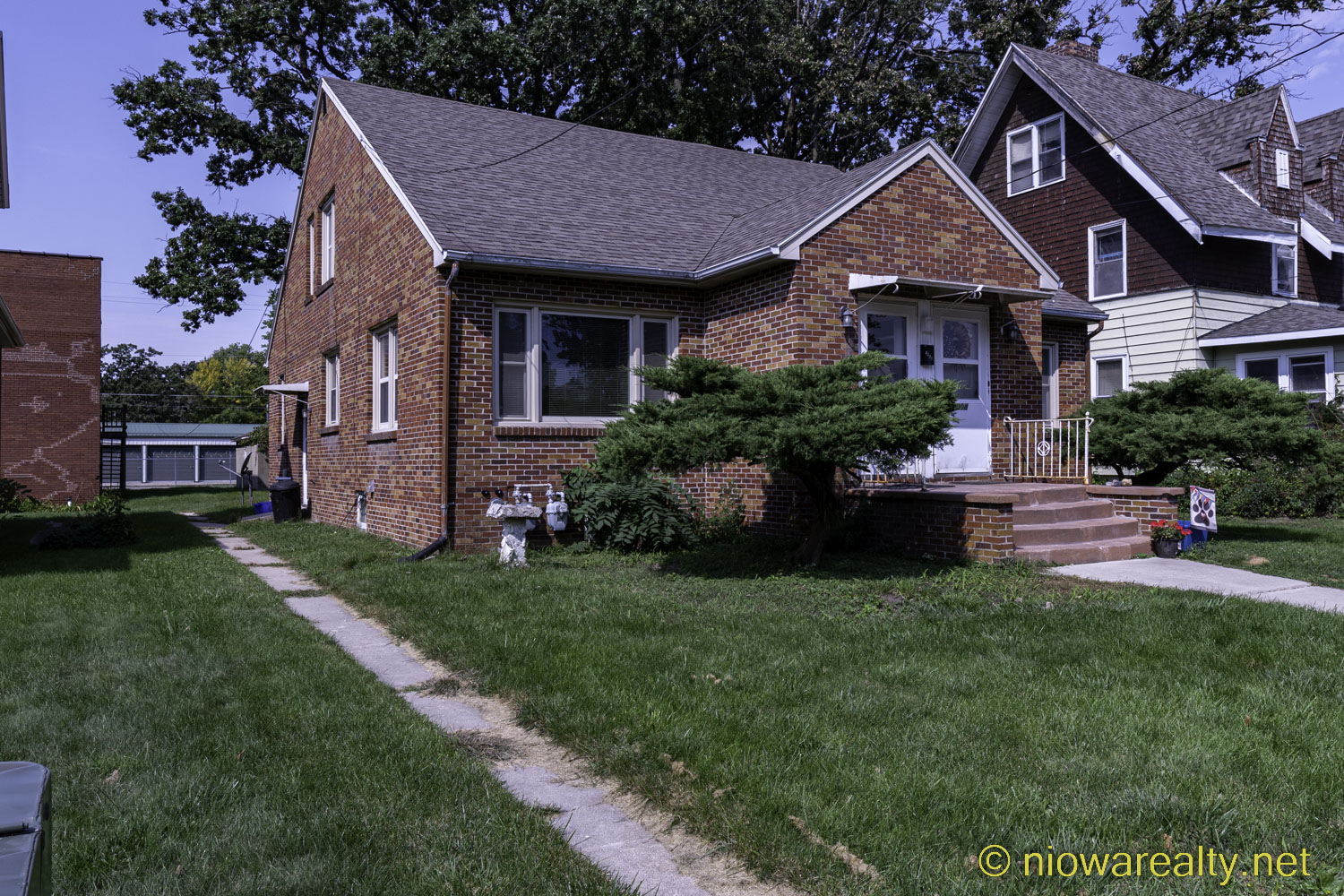 View More Photos
This morning's weather was quite pleasant with the warm breezes and shining sun, but not long after the hour of two, it began growing overcast and cooler. Of course the wind changed directions and now coming from what appears to be a north/northeasterly direction. North Iowa's definitely starting to take on the appearance of Fall.
Before arriving at office, I delivered two big bags of cucumbers to a very accepting receiver, and while visiting, I couldn't help mentioning how some of these corner vegetable vendors who've been out since early summer and selling fruits and vegetables which were definitely out of season for North Iowa, and causing me to wonder if they're saying it's locally and naturally grown, or if they're just out there selling it. We both had to laugh when she said, "Only the real gardeners know when our produce is in season."
Most of my morning was taken up with getting a side-by-side duplex listed which is located at 1006 – 1008 N. Delaware Ave. here in Mason City. Tonight's photo is of the exterior, but if you click on it, it'll start a slideshow for you.
For a fact, the design and floor plan of those units is the only one of its kind in likely all of North Iowa, and because I know some of the history of it, there was a builder by the name of Mr. Kuppinger who was called upon to build it according the specific design of a couple who wanted one side as their personal residence, and the other to be used as an income producing rental. Believe it our not, absolutely everything is separate including the water and sewer lines coming in from the street. I guess when the original owners said "everything's to be separate", they meant it. Even the middle wall which separates those units is doubly-thick and insulated, which I'm sure was meant to suppress noise.
What I've found unique about the floor plan, is the size of the living room, there being a full bedroom and bath on the main floor, and a monster bedroom upstairs with giant-sized closets, along with a half bath. I mentioned to someone today that there'd be nothing I'd change about its floor plan other than creating a 3/4 bath upstairs instead of the half that's there. I'm sure the original owners who had it built, must've been older and wanted that bedroom upstairs as a place they could send their grown children whenever they visited. How often do you find doors both the bottom of a set of stairs, as well as at the top? Yes, they must've really wanted that upper bedroom private.
The brick on the exterior is of the cinder type which is much stronger and weather resistant than the normal brick homes we find dotting our City. There is a nice-sized double garage out back which has a center wall going down the middle, along with separate electric garage door openers. All the windows have been replaced with thermal units, the heating and central air units are newer, along with the wiring having been updated and the boxes converted to circuit breaker. In the basement there's a center concrete wall going down the middle which again, offers more privacy.
Yes, if I were a buyer, I'd have those giant Juniper bushes removed, get those trees trimmed up higher, and likely install more modern sets of kitchen cabinets. They're definitely functional, but many in our younger crowd aren't into mid-century modern metal cabinets. Given a good week's work on that yard, I'd guarantee you it would be an eye-catcher.
My last remarks about the above duplex, is the likelihood of the new owners of it being similar to those people who built it, and that being one side serving as their personal residence, and the other either an extended family member's home, or simply an income producing unit. If you know anyone who's looking for such a set-up, please have them give me a call. The asking price on it is just under $175K.
Shortly after Noon, I had to head over to show an acreage which is south and west of Nora Springs, and just as I was preparing to turn south off the Avenue of the Saints, a red pickup truck came up from behind at an accelerated speed, and in spite of my having flipped my turning signal on long before, as well as my brake lights being on as I was slowing to make the turn, he must've been on his cell phone or majorly distracted by something because he nearly rear-ended me at a high speed. He almost lost control when trying to get around me. I'm still in shock about it all. What is it with today's drivers?
After making that long trek down that gravel road, and then making another turn down a very long driveway, I found my buyers already waiting for me. Oh Mercy! The moment I stepped out of my vehicle the gnats were attacking me, so by the time I managed to get the lockbox opened, I was being pestered by those flying pests, as well as several outside cats that were wanting inside.
Once we had a good look at everything, they decided it wasn't for them because of the amount of work the grove was in need of which was showing signs of old broken-down machinery hiding in the tall grass, dead trees, and an old stone foundation of what must've been the original home built by a homesteader, and the list goes on.
Someone must've decided to use the stone basement of that old house as their burning pit, but unfortunately they'd been burning EVERYTHING because of the smell that was still coming up from those ashes. Unfortunately, that fire must've killed the largest native Red Cedar tree I've ever encountered in North Iowa. What a terrible waste!
Tonight's One-liner is: The three hardest tasks in the world are neither physical feats nor intellectual achievements, but moral acts: to return love for hate, to include the excluded, and to say, "I was wrong."
Related Property:
1006 – 1008 N Delaware Ave. Mason City