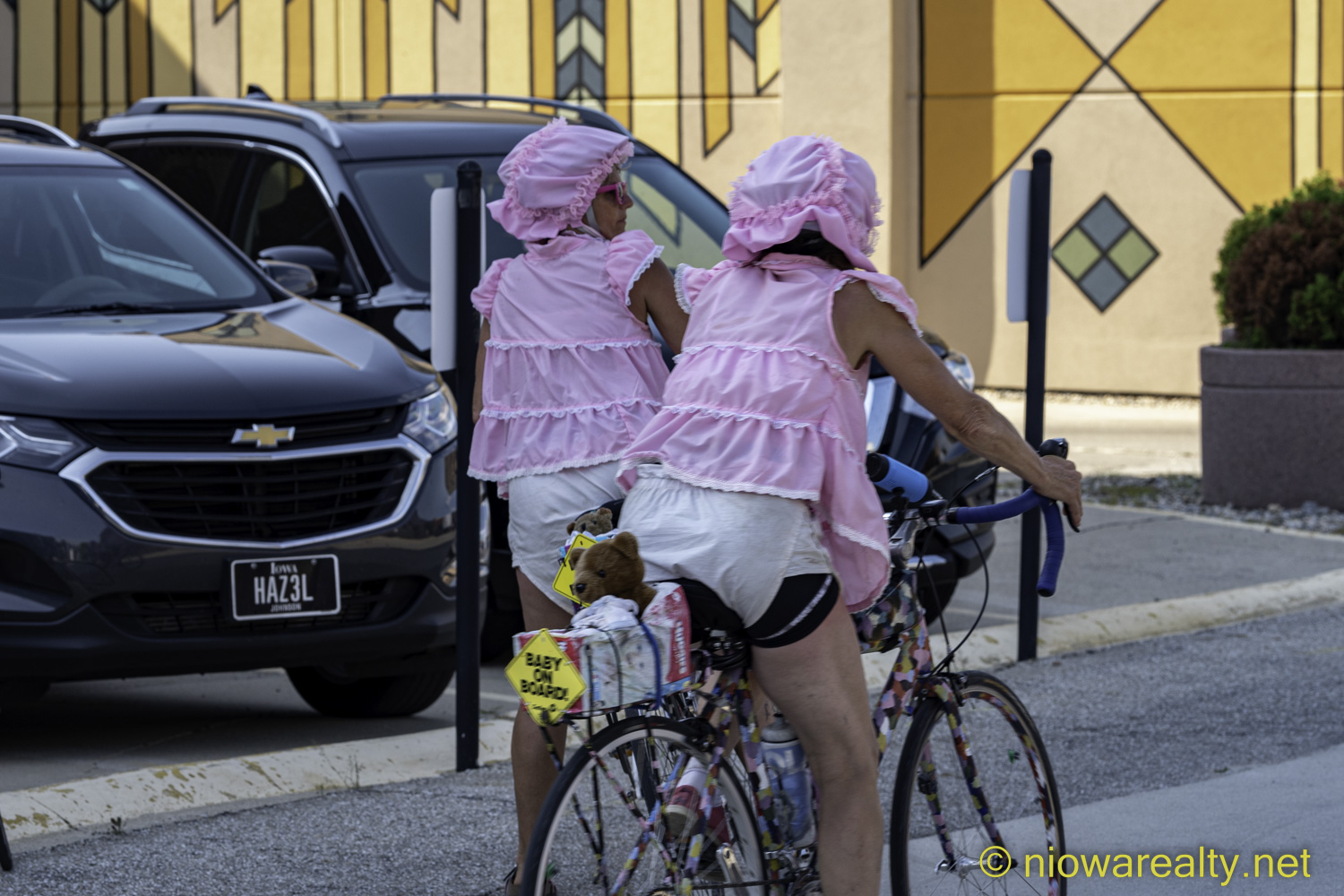 View More Photos
As I suspected, from the time I arrived at office, I was encountering the last-minute preparations of our Downtown "City Folk" with their setting up of roadblocks, detours, banners, highway dividers, serving tables, flags of all sizes and shapes, and just about everything in between, for the arrival of the hordes of RAGBRAI riders which would begin arriving from their long 100 mile one-day journey. For that reason, I made sure I had every little Downtown errand completed before they began to trickle in.
My first and foremost job of the day, was to get my new listing at 304 N. Fairview in Manly, disseminated out into the cyber-universe. Once that was done, I focused on a closing that's supposed to be taking place this Friday, but I'm not so sure if it's going to happen due to some delays with title work. I do have another closing that day which is all ready to go, so at least that one's going to close on time.
The neighbor next door to my office was also out early with her preparations for the bikers who'll be staying the night, and likely having some fun times in our Downtown. I was somewhat surprised she didn't have her own set-up a block down, where they were selling food and drinks. Even though her business is less than a block away from those stands, I thought it was just a bit too far for strangers to investigate. I sure hope she gets a good crowd this afternoon and evening because I think she had a great deal of food prepared to sell for the occasion. I'll continue to wish her well.
After my real estate duties were done, I changed my clothes and scrubbed my office floors from stem to stern, and because I decided to do a deep cleaning on my hands and knees, I was at it for a good three hours. Since I hadn't done that deep of a cleaning in many months, I figured it was long over-due for one.
By the time I put all the furniture back in place and got myself cleaned up and changed back into my street clothes, it was time for me to spend a good two hours wandering around the Downtown with camera in hand, and taking random photos which I'm sharing with you as a slide-show, so if you click on tonight's photo which is a pair of those bikers, the show will begin. I had to laugh when seeing the signs on the backs of those two which read, "Baby on board". Too funny.
I can't begin to share all the sights, sounds and smells that were encountered while moving from location to location. I couldn't believe I'd taken well over 100 photos, and those were just a small portal in time when thinking how many of those bikers had already arrived, as well as those that hadn't yet hit our City limits.
Do take a closer look at each and every photo because there were so many sizes and shapes of people, as well as the expressions on their faces. One of those bikers appeared to be taking a photo of me while I was snapping my own of him. Some in the crowd knew I was pointing my camera in their direction, so they'd quickly turn away, while others would pose with a smile. I had to laugh to myself because there were several people I personally know who walked right past me, and likely because I was wearing my Panama hat which for some reason, alters my looks to the point of not being noticed. Perhaps they were paying more attention to my hat instead of my face. No, I wasn't trying to be incognito with that hat, because the only reason I wear it while out in the sun for any length of time, is to keep my face from getting sunburned.
What I'd nearly forgotten, was how much energy I could feel coming from those hundreds of people which is oft times written about when talking about crowd mentalities. It doesn't surprise me when hearing about how some crowds can be filled with sublime joy, while others can turn into downright angry monsters. Perhaps for that reason, I never really enjoyed being in and around large crowds. Today's experience just happened to be a good one.
It'll be interesting to see how many strangers respond to my Facebook posting of those many faces because the last time I posted a number of random photos of a crowd, I was getting facial-recognition responses. Sounds kinda creepy doesn't it?
I was going to go up on a roof of a two-storied building and take some aerial shots, but the time was getting away from me, so maybe next time when there's something big going on in our Downtown. Another reason I had to cut my visit short, was that terribly loud music being played by those three separate bands playing from their own little corners, which is another reason I refuse to go to any concerts containing heavy metal, drums and screaming vocalists. No thank you very much.
Believe it or not, it took me almost a half hour to get home, which was due to all the detours and traffic officers on various corners. I definitely live on the wrong side of town whenever RAGBRAI is scheduled. I sure hope there's not going to be any thefts, fights, deaths, or any other happenings which'll give our City another black mark. Let's hope and pray everyone leaves as happy as they were when they arrived.
If I manage to get up early enough, I'll be taking some additional photos of their departure, and possibly some shots of the aftermath of last night's revelry in our Downtown. Let's hope there were no fistfights or windows broken.
It sounds like we may have rain in the night, which will definitely be unpleasant for any of those bikers who'll be spending tonight's sleep in a tent or sleeping bag. The last time I was in a tent over-night was when I was about ten years old, and nevermore.
Tonight's One-liner is: Humility is no substitute for a good personality.