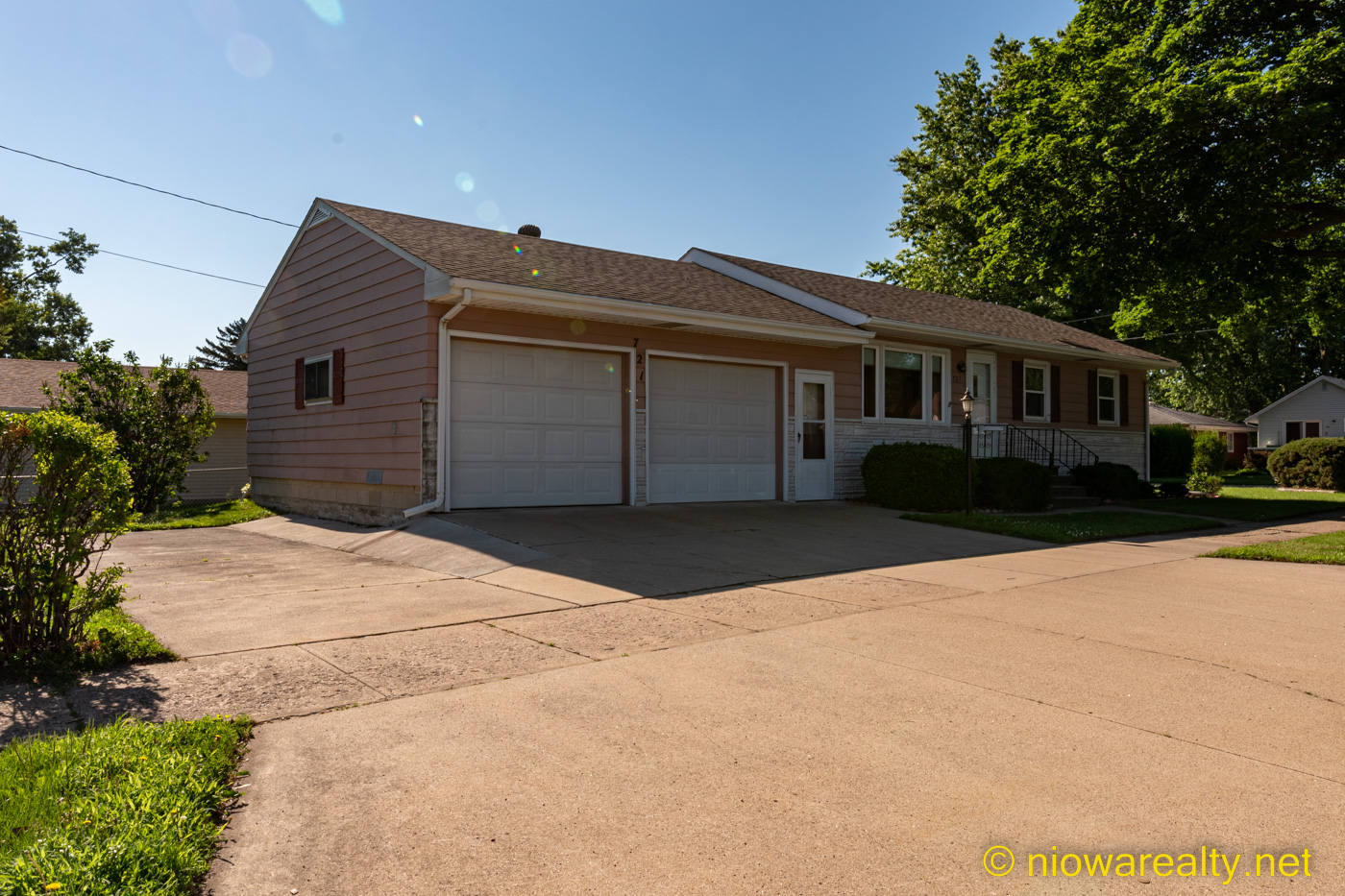 View More Photos
It was certainly a more pleasant morning than it was yesterday, and you can bet I was taking advantage of it when out and about with the many errands I had to run. By the time the hour of eight arrived, I felt like I'd already put a half day's work in, and only because of the amount of multi-tasking I'd been doing.
My first appointment of the day was to meet with the seller of my new listing over at 721 S. Virginia, and in spite of my attempting to get there early enough to take photos of the exterior of the home before the seller arrived, she was already there parked in the driveway. I teasingly said, "Oh darn, I thought I'd get here before you did so I could get my exterior photos before you pulled up, just so I wouldn't have to ask you to move your car." Believe me, it happens a lot.
After all the documents were signed, I proceeded to get some additional notations made and room measurements taken before I grabbed my camera and started snapping photos of both the interior and exterior. I then grabbed my lockbox and attached it to the railing outside because the front door handle was one of those French ones which our lockboxes won't attach to properly.
She'd already supplied me a list of prospective buyers who'd inquired about it, so before leaving, I assured her I'd be calling all of them as soon as I returned to office. We visited a little bit more, and then made a quick 2nd walk-thru of the home before I bid my farewells and headed back to office.
Upon arrival, the very first thing I did, was grab that list of names and begin calling. About half of them picked up, and the other ones I simply left an informational message about the house. I'm not going to hold my breath regarding any one of them purchasing it because most times the buyers who contact sellers direct, are expecting some sort of discounted price. I then proceeded to get all that home's information loaded into my computer, just so I'd be ready to post it online first thing tomorrow.
Now let me tell you a little about the home. It's a roomy 2 bedroom mid-century ranch built in 1955 which offers many recent updates including a completely new kitchen and bath, and the nice thing about that bath update, the owner had it remodeled so the existing stackable washer/dryer could be installed. All the windows have been replaced with thermal units, the wiring has been updated, the garage floor is epoxied and the basement rec room is lined with gorgeous knotty pine. Believe me, there's not one thing a person would have to do other than move in and start enjoying the views from the living room's picture window. Yes, it's that well kept and maintenance free.
What makes this home a cut above, is it being situated on a corner lot with no neighbors other than the ones to the back of the home. Of course it being located in the southeast quadrant of our City, makes it all the more desirable. That home is another one which has always caught my eye whenever driving past. If I'm not mistaken, I think there've only been two owners since it was built which is another plus. Click on the tonight's photo which will start a slideshow for you.
After I got all my real estate chores done and found it was approaching the hour of Noon, I grabbed my sheet music and ran over to First Baptist Church and fired up their organ, just so I could re-acquaint myself with it due to it having been many months since I played it.
It didn't take me long to realize there'd been nothing done to it since I was last there which was a shame because that vintage organ has a very good tone, and truth be told, I'd say it's the most moving of those actual pipe organs I've played in this City. I've never had the opportunity to play Trinity Lutheran's monster and likely never will, but some Sunday morning I'll have to slip into their church and have a good listen. Considering the deep pockets that church has, I'm sure their organ is gets maintained regularly.
While running thru some of the pieces I'd decided to play, their pastor walked up and greeted me. We visited about the organ and the music selections, along with me suggesting that one of their male vocalist sing a solo during their Offertory with me accompanying him on the organ. I made sure to read the lyrics first and then played one of the verses for him, just so he would have a "feel" for that piece. He seemed receptive enough to where he said he'd have the gentleman meet me over there at 11:00 a.m. tomorrow morning so we could run thru it. I'm gonna have to work on making the organ portion of that piece sound more like a true accompaniment instead of a solo. Too much organ for a soloist can quickly become overpowering.
When I got back to office, I found a message from a buyer wanting to look at a home, so I returned the call, set a time, and met them at the home. They seemed interested, so we'll see what tomorrow brings. I was assured they were already pre-approved at a local bank, which will give them some added leverage during negotiations should they decide to make an offer.
My last showing of the day was a complete waste because of that home's price and condition. Wow! I couldn't believe the owner placed it on the market looking like that. If I were the owner, I would've been completely embarrassed by the condition and pricing. When looking closer at that home, I discovered it was one of the first forms of pre-fabs that were shipped-in back in the 1950's when we had another housing boom. I can still smell that wet basement. Yuck.
Tonight's One-liner is: The three kinds of people I dislike most are Gossips, Liars, and Hypocrites.