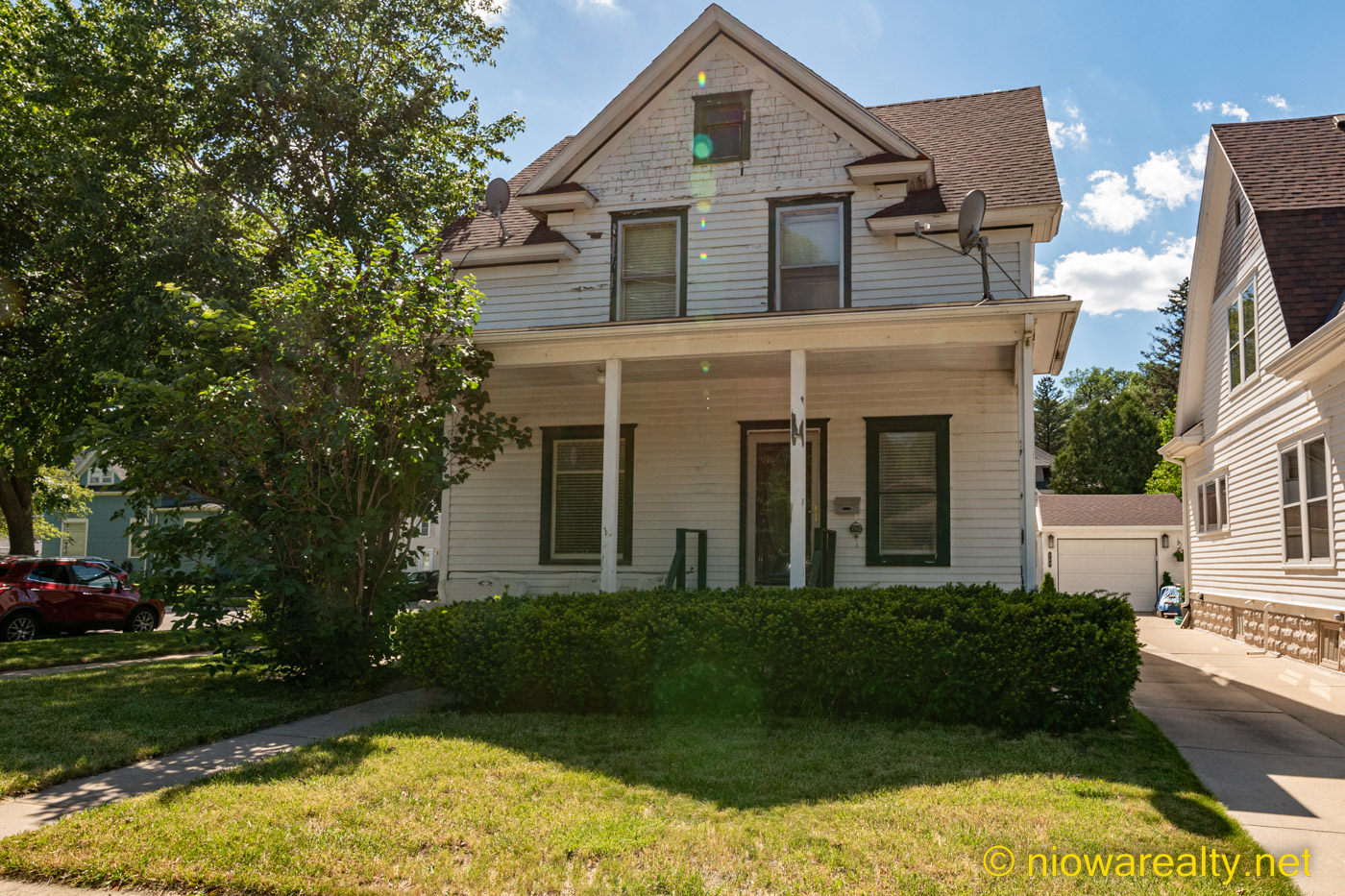 View More Photos
Thank goodness it didn't get so hot again today, but for the strangest of reasons, I was noticing some very interesting happenings going on with the general public which made me think they were all coming out after the heat wave we had and rushing about like they'd been cooped up for days. I noticed two accidents out on the west-side in less than an hour which had me all the more concerned about being in traffic.
After I got all of my early morning running around done, I came back to office and started working on the file of a closing that's to take place next week and in spite of not having all the title work back to me, I had all the seller's numbers together, re-checked them for any errors and then emailed them over the the buyers' bank. In my email I mentioned my not having received a copy of the opinion of title, and the return message I got was a "don't worry about it" because they always seem to pull thru before the scheduled closing date. Since I've given them everything they need from me, I'm taking the advice and not bothering my brain with it.
While on the phone with a banker this morning, we both got a couple good laughs about growing older where she said she's still feeling young as long as she doesn't look in the mirror. I had to one-up her by saying, "I don't have a problem looking at myself as long as the lights are off and using candle-power to get a good look." She laughed and said, "Good idea. I'll have to try it on myself."
It all started when I mentioned it having been a good many years since I worked in one of our banks, and back then, I considered myself semi-good looking. Knowing she worked in a nearby department, she interjected by saying, "Oh, I remember you well.", which must've been a cloaked confirmation that I could turn a few heads back then. Before we closed our conversation I reminded her that every age has its beauty as long as we look for it and accept. We all know there's only one other alternative which is a road I wouldn't want to go down.
During my lunch hour, I took in a little online news. I was glad to hear the Ukrainians have now been delivered the most up-to-date weaponry from Germany. When asked why it took them so long, the Germans said they had to make sure they'd trained the Ukrainian soldiers how to use them. Those German tanks are self-propelled and can accurately strike a target 25 miles away. Wow. That's what I call another example of German engineering.
One of the military pundits mentioned that Putin is trying to bluff the West into thinking he'll pull the nuclear trigger because he knows that if he tries to invade a Nato country, his armies will get flattened by the combined military power of the Nato Alliance. In spite of Putin thinking he's living in the 1930's, I really don't think he's that stupid to start a nuclear war which would likely wipe out the human race. If his warped brain is wanting him to go down in history for some stupid reason, a global nuclear war would not be able to carry his acts forward unless our planet is discovered by some alien race a thousand years later, and by then there'd be little or no evidence remaining.
I spent part of my afternoon paying the bills that had arrived this past week, and then went back and did a little more market research on a home I was to inspect mid-afternoon. I did manage to find enough to support value, so I made a few more notes and called it good.
When I arrived at the home, the sellers were waiting for me, and since it's been a good decade or more since I'd seen him, we played catch-up on each other's lives. I was then given the full tour of the home from top to bottom, and by the time we got back to the kitchen, I opened my file and went over some key points. They decided to list it, so I proceeded to fill out all those forms.
I'm happy to say I'll have my new listing at 702 N. Jefferson plastered all over the internet tomorrow morning, but I thought I'd give you all a sneak-peek by adding all the photos tonight for you to enjoy and share. Just click on tonight's photo and a slide-show will begin.We listed it at $97,500 which I believe is at market or even a bit below, but since the owners want it sold quickly, we felt it would be beneficial to get the activity started right away. I know that neighborhood well, as I've worked it for a good many years.
The first thing that "wowed" me, was all the gorgeous maple woodwork and floors it offers, along with the charming open staircase, built-ins and pillars. Fortunately, it has a half-bath on the main floor for convenience, a roomy cook's kitchen, sliding doors to the rear yard, and just enough area to have flowers and a small veggie garden. The garage is a big 1 1/2 stall which could possibly be converted to a small double if the overhead door opening was made wider. As a footnote, the sellers have contracted a guy to paint the home, and if any prospective buyer should decide against having it painted, the seller will deduct $3,000 off the sale price. Sounds like a good deal doesn't it?
Considering how few if any three bedroom homes we currently have on the market, I'd say if there are still buyers out there, they'll be on it like ants come tomorrow because once I load everything into the computer, it's out in the cyber-universe in less than 15 minutes. The hard maple woodwork and floors in that home would cost many thousands of dollars in today's market. That's another home I could see myself living quite comfortably in. Please share this post with any and all of your friends.
Tonight's One-liner is: I heard the old, old men say "All that's beautiful drifts away, like the waters."
Related Property:
702 N Jefferson Ave. Mason City