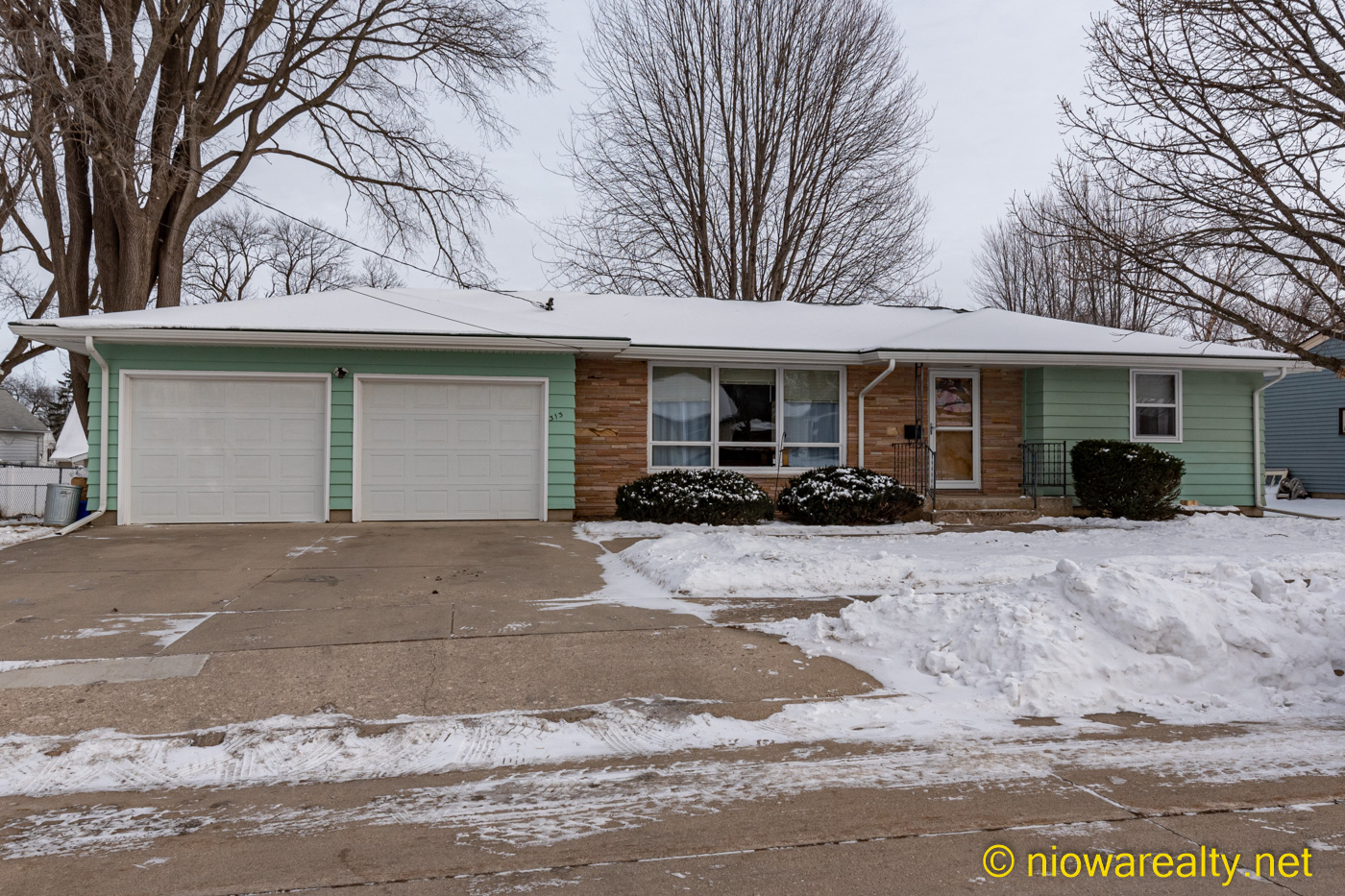 View More Photos
In spite of it being considerably warmer today, I was still compelled to check on a vacant home before arriving at office. There's always a little sigh of relief when walking thru its front door and feeling heat. Of course that fiasco I had with a furnace not running for over 12 hours the day before yesterday, had me nearly fit to be tied because I fully remember what happens when water pipes freeze in a home, and believe me, it ain't a pretty sight. I dare not mention the address, but I know of a particular home which has hot water heat that went thru two freezes; one being with a previous owner, and another with the following. It would make a person wonder if the house was cursed considering all the bad things that had happened to the various owners of it. I know at one time, there was quite the mean-spirited old lady that lived there for a number of years, which would cause a person to wonder if there was a lingering resonance of her which remained after her death.
After arrival at office, my first job was to get my new listing located at 313 S. Hampshire Pl, Mason City, IA posted online. Shortly afterwards, I went over to the home and got my for sale sign planted in the frozen ground. It can be quite the job getting them in, but I did manage to get it driven in far enough so it would stand upright.
That home is one heck of a beauty, and for sure someone is going to end up with an exceptionally well built home. It was custom-built by a person who worked in the building industry, and after giving it a good looking-over, there's no question he made sure the best of materials were used. As chance would have it, the current owner is the second owner of it since it was built in 1959 which is quite a testament to its enduring appeal.
Since it's a mid-century ranch, after the current owner purchased it, he went ahead and installed a completely new kitchen and bath, a patio door in the dining area, installed a new HVAC unit, had additional insulation added, and then went ahead and tricked out the basement where there's now a "legal" bedroom with an egress window, a rec room, and a super-insulated and sound-proofed movie room, along with a 3/4 bath. Its double attached garage is four feet deeper than our standard attached garages, and since it's located on the southeast side of our City, there'll be all the more buyers attracted to it.
There've been two showings on it already; one of them was to people I've been showing homes to, and the other was a "virtual" tour taken by an agent from another office. My buyers said it was one of the best they've seen in its price range, but later said they've decided to bump up into a much higher price range where they'd be able to get something closer to what they had before moving to our area. I'm going to stay hopeful there are still active buyers in our market now that we're past the holidays. If you're interested in seeing all the photos, click on tonight's photo where you can start a slideshow for yourselves. Keep in mind, I don't subscribe to the use of wide fish-eyed cameras which make refrigerators appear to be six feet wide and water closets the size of an emperor's throne.
After getting my new listing disseminated out into the cyber universe, I busied myself with file cabinets in need of being re-arranged in my storage area, just so I could move another three-drawer file in there for this year's closed sale files. Yes, it took a bit of effort, but I did mange to get them arranged where I wanted them, so I'm now good to go for another year.
By the time I was finished with those file cabinets, it was time to run out and grab a take-away and have a quiet lunch at office, and after I was finished, I placed a call to a seller for him to stop by my office and sign some additional documents the bank was requesting. After he got them signed, we had a nice chat about this and that, along with sharing some similar past events which we both had to endure when handling an estate of a deceased relative. I assured him that nearly every family has dramas which unfold after their last parent's death, and no matter what anyone thinks, it's all pretty much the norm in these times, so it's best to get the muddle organized and work one's way thru it, just so everyone can move forward with their lives. I also mentioned the fact that there's usually always one in a family who'll be the bad apple spoiling the barrel which I've always found regrettable, but again, there's nothing a person can do to change it.
Since I haven't spoken about a haunted house in some months, I figured it time to share another creepy story, so here goes. A number of years ago, I used to visit a dear relative who'd re-married after her first husband's death and for some reason, her new husband insisted she move to his creepy acreage that I always considered being on the edge of our known world because of how isolated it was.
I'd not visited her after she moved there for some months, but then came an invitation for a holiday gathering I just couldn't refuse. When the day arrived, I packed up what I was to bring, and headed towards that acreage which was about a half hour drive from my home. After driving up that long lane and parking in their dooryard, I looked at the house and instantly had a creepy chill run thru me. Well, I made it thru that big meal, but as soon as I sat down on her sofa, I suddenly felt as if something was sucking out all my energy. Since it was so unlike anything I'd ever experienced, I got up and walked outside, and as soon as I got away from that house, I was back to normal.
There were other times I paid them visits, and shortly after those meals, it became a normal ritual for me to stay out of that house as much as possible, and especially when I would start feeling that "sucking" of energy on the begin. It wasn't until about ten years later, I found out from a person who lived in the area of that acreage, that the previous owner had been murdered by his son in the living room of that dwelling. From what stories were told, was that the son was found wandering aimlessly around in a nearby field. Now how creepy could that've been? I believe there must've been some sort of Divine intervention because the day arrived when my dear relative announced to her husband, "I'm not staying here another winter.", which was likely why she managed to live many years longer, far and away from that cursed house.
Tonight's One-liner is: The more enlightened our houses are, the more their walls ooze ghosts.
Related Property:
313 S Hampshire Pl, Mason City