As much as it didn't feel like a Sunday, I proceeded to office where my little darkened corner was waiting for me to get my Sabbath contemplative prayer session started. It took a bit longer to get myself mentally quieted down, and likely due to having thoughts about events of this past week which had me nearly fit to be tied, and the biggest was dealing with that un-necessary nonsense associated with the list of repair requirements delivered to me from an appraisal report. On the positive side of it all, I learned a new term I will be using against such reports, and that being "geographical incompetency", which can cause under-valuations, as well as in-appropriate use of sales comparables. I was very thankful for being able to have a conversation with a person who's very much in the know when reporting facts and figures of real estate sales.
I did finally get settled enough to where today's contemplative session ended with me feeling not only spiritually refreshed, but also meta-physically as well. You can be sure there was great deal of thankfulness and gratitude offered up in my prayers which unfortunately most don't look far enough back in recent days to even consider because it's become something we've unfortunately learned as our being entitled to all the good that comes our way. I only touch on this subject because I could go on for hours giving real examples, and especially when it has to do with adult children being of the belief that what their parents have worked for all their lives, should be theirs and theirs alone. There may be laws in other States regarding inheritance, but in the State of Iowa, inheritance is nothing more than a gift, instead of a "right" like many believe.
My next duty was to check on the furnaces of several vacant homes I have listed, and lucky all was well. I'm going to be saying a little prayer my "problem child" sale will get closed this coming week because it's become more of a burden as each day passes. First thing tomorrow morning, I'll be sending another email to the loan officer who's handling it, just as one more reminder. In spite of her being relatively new on the job, she's going to have to learn that time is of the essence because that home was supposed to close on December the 8th, and tomorrow will be the 27th. I'm sure if you were the seller, your patience would be wearing a bit thin.
I did finally catch up with the colleague who called several days ago, and as I suspected, the only reason for her call was to wish me a good Christmas. Since I'd not spoken with her for a number of weeks, I filled her in on what's been happing in my corner of the world. We ended up talking about a person we both know, and how much he's changed these recent years to where I couldn't help giving my opinion of his present character, and being a little wicked about it, I said, "Narcissism isn't something that's genetically pre-determined, but rather an acquired taste." I know that didn't go over very well, as I believe he appears to her in a different light. I spoke no more of it and went on to end our conversation on a positive note.
Another Realtor sent me a text this afternoon asking to show several of my listings tomorrow afternoon, so I went ahead and set them up for her. I do hope this rain/sleet/snow we've been getting isn't going to be a problem with our driving tomorrow because I have two homes to show which are on slippery side-streets. I am glad to see the market picking up again now that Christmas is over, so hopefully I'll have another sale before the year's end.
While out and about, I ran into a gentleman who's into old cars, and the first thing he had to show me on his phone, was a picture of a 1960 Pontiac Tempest which I've not seen for a very long time. Of course after a good look, it prompted a long conversation regarding how our automotive industry has evolved with the sale and re-sale of vehicle manufacturers beginning back when the 2008 Financial Crisis hit. Most think it only hit the real estate industry, but in fact it hit all the many others. Another misconception is that fact that most didn't realize it affected nearly all our global economies. Let's hope we never get blind-sighted by something like that again. Our little happenstance encounter lifted my spirits on this gray day when later thinking about all the now very old cars I used to drive.
I would say the ugliest and oldest vehicle I ever owned, was a 1946 Dodge pickup which for some reason I just "had to have". The day I drove it home, my mother took one look at it and said, "Why in Heaven's name did you buy that piece of junk?" Personally, I felt it would be a challenge to get it up fixed up and used as my work car. As much as I wanted to do a full restoration on it, the day it blew a head gasket, pretty much put a kibosh on my plans, and what made matter worse, was my having innocently broken off one of the bolts holding the head gasket in place. Unfortunately I didn't have the resources to make anymore repairs on it, so off to the junkyard it went. You may think me touched when saying my favorite features of that pickup was its teardrop headlights and it's bouncy rough-ride. Yes, those were my short-lived "old car craze" days.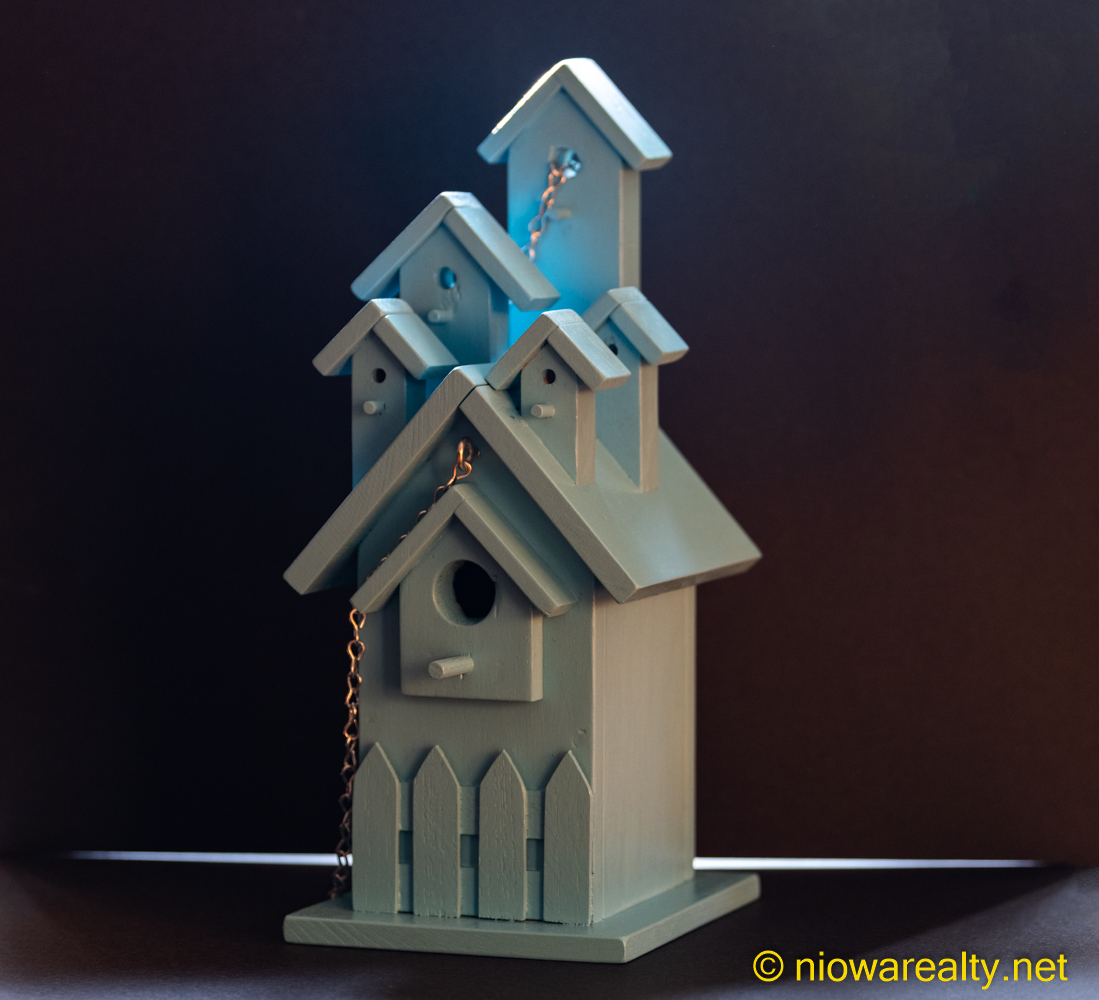 The above photo is of a Christmas gift I received from a dear friend of mine which I now have conspicuously hanging in the front of my office. Instead of hanging it from my tall ceilings, I went and found one of my vintage wooden birdcage stands and hooked it to that. I don't know how it happened, but that birdhouse is in the same color family as the other blue accents I have in my office. For sure there'll be some pedestrians stopping and looking at it from the sidewalk. I personally think it's the cutest, and no, I'll not be hanging it outdoors anytime soon. As most know, I truly appreciate things that've been handmade.
I just now noticed the wind has come up, so be very careful while out driving tomorrow.
Tonight's One-liner is: It is impossible to go thru life without trust: that is to be imprisoned in the worst cell of all, oneself.