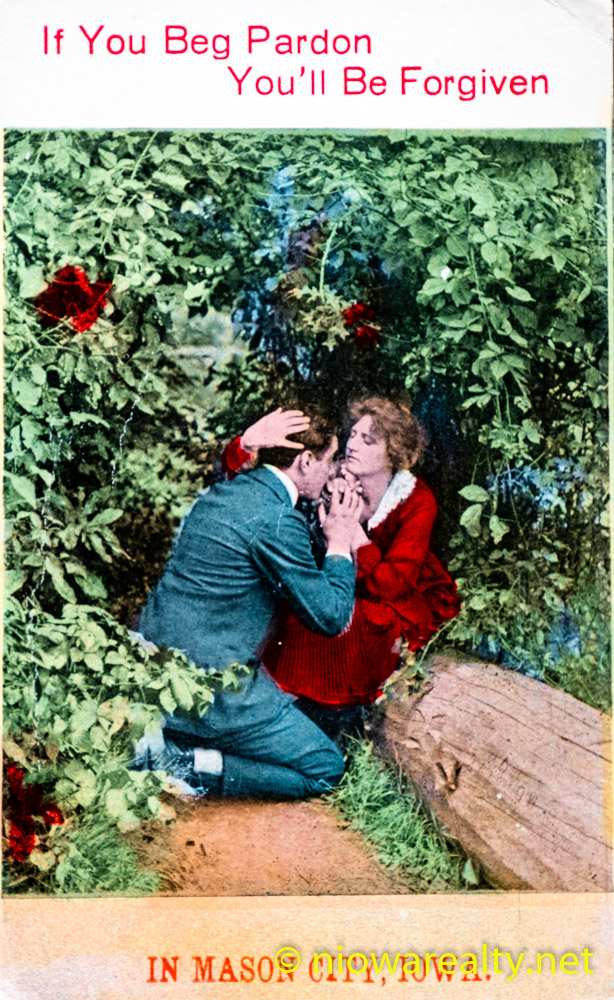 We sure had a taste of winter with it being in the 20's early this morning.  I really noticed how cold it was when showing an acreage around 8:00 am and finding frozen puddles of water while turning into the owner's gravel driveway.
It happened to be a "fly-over" showing due to the amount of work the buyers felt they'd have to do, along with the dollars they'd have to spend to make it functional for them.  It's one of those sites where one would consider tearing the house down and building new.  As most don't realize, acreages require all that much more up-keep due to the average size of the building sites, the number of buildings, and of course the extra mowing and pushing of snow.
Just these past ten years, I've found the turn-key acreages in North Iowa to be the ones that command big sale prices.   It's not unusual to find classy acreages selling in the $300K – $500K range. Unfortunately nearly all of those "city-grown" buyers have no clue as to what they're getting themselves into as far as the extra work they'll be facing.  There've been a number of country properties I've seen that were picture perfect when they sold, but after a few years, one started seeing willful neglect.  It would be a great idea if there would be mandatory two or three hour videos that banks would require acreage buyers to watch just so to bring them up to speed on what it really takes to maintain their much desired little corners of paradise.  The absolute necessary education needed, would be an understanding of the workings and possible problems that arise with private wells and septic systems.  Can you imagine what nightmares take place when wells and/or septic systems fail in the middle of winter?
I'm sure there'll be some starry-eyed acreage lover who'll fall in "want" with the acreage I showed this morning, and once reality kicks in after it closes, there'll be a crude awakening, and hopefully someone will be there to give directions on how to eat an elephant, and that being one bite at a time, because the kiss of death is loosing incentive along with all that much more money being spent from tearing up every room on a project, and then finding an even more un-liveable mess having been made. I'm sure you all remember me speaking about my insistence of when remodeling, doing one room at a time just so to keep oneself from being overwhelmed and subesequently heartbroken.
There was enough office work to keep me busy until a little after noontime and then shortly afterwards, I changed my clothes and went to work on a menial project which took me longer than I'd expected.  It's amazing how quickly time flies when staying focused on something until it's finished.  While working, I was reminded how so very many people we have amongst us who don't take an active step in keeping their homes clean and tidy.  Whenever I see multiple big screen TVs in a home, it's usually an indication their occupants waste far too much time passively watching all that mindless junk being offered by our area cable and dish companies.  Believe it or not, there are all the more who leave their televisions on all night while sleeping.  How crazy is that?  I can only imagine how very little deep and healthy sleeps they're actually getting every night.
I've also been hearing about all the more young people who're taking their smart phones to bed with them, and usually end up falling asleep while they're playing their silly games or group chatting.  Have you ever noticed how many school children you see standing at the corners waiting for their buses with their eyes and hands concentrated on their smart phones?  And if so, you'll understand it's no wonder we have children as well as adults that are loosing and/or haven't learned basic social skills.
Tonight I thought it would be a good time to share a photo of one of those postcards I purchased yesterday.  Keep in mind, that particular card was likely created back in the 1920's, and to think there was a company out East that printed it.  Now if you look at what that couple in the photo appear to be doing, and then reading the text, it leaves one believing those words to be exceptionally suggestive and/or evocative.
There are some of us who remember that back in the 1970's, when Mason City was dubbed the "Sin City" by a national magazine, but perhaps when reading the language on that postcard, I'd say our City was sinning long before that.  What do you think about the print on that card reading, "If you beg pardon, you'll be forgiven in Mason City, Iowa.
Tonight's one-liner is:  Men always want to be a woman's first love, while women like to be a man's last romance.