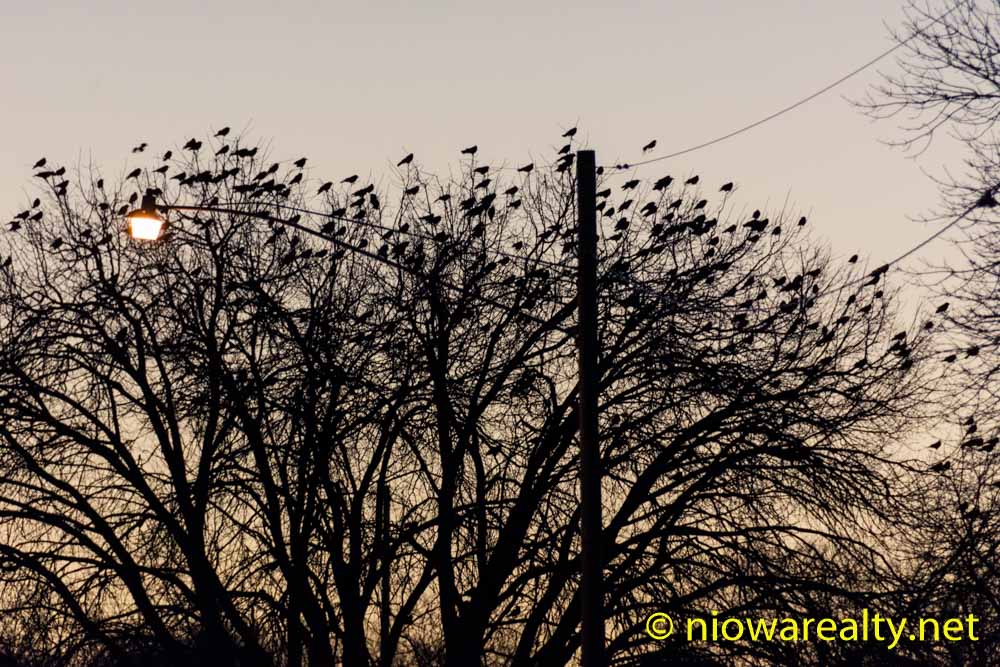 The weather forecast called for it to be windy today, but really?  It was more like a gale force at times.  It had to be the day I was outside more than normal to where I was forced to hold my car door while getting out just to make sure the wind wouldn't take it.
Since I was outdoors and traveling streets, I suddenly noticed something today that I'm hoping is not a bad sign of what lies ahead of us this winter.  When you're out tomorrow, pay special attention to the number of squirrel nests there are in tall trees.  I don't ever remember seeing so many in the Downtown area.  It may also be a sign there was a bumper crop of those bushy-tailed rats this year to where there aren't enough holes in trees and eves for them to create nests.
At least I didn't have to run over to Clear Lake again today.  I know everyone likes their town, but when the cold arrives, for me it's not at all a pleasant place to be–especially when the wind is blowing.  Everyone goes "ape" over their Christmas at the Lake festivities, but personally, I've never attended one simply because I'm not a fan of being out in the snow and cold for any length of time.
It didn't take long to develop an intense dislike for winter back when I was a young man carrying pails of feed and water twice daily up and over snowbanks to hungry barnyard animals.  Of course no matter how careful I was to stay in "yesterday's" tracks, I'd inevitably get snow down my boots which would freeze my feet all the faster.  Oh well, that was light years ago, and I just chalked it up as another necessary life lesson.
I had another pre-listing appointment today with a couple who'll have their home on the market the weekend after Thanksgiving.  If there's anything that'll make their home sell quickly is its brand new custom kitchen.  I soulfully told the seller she has a designer's touch when it comes to style and color co-ordination.  The first time I saw it, I had a near jaw-drop reaction since I remembered what the old kitchen looked like.   It's getting listed in a comfortable price range which should be in reach of most entry-level or "bump-up" buyers.
Since we haven't had an offer on 1415 – 9th St. SE as of yet, I decided to have another public open on it this coming Saturday.  I looked at the weather and it's only supposed to be windy.  I do hope it won't be as strong of a wind as we had today.  I could easily live in that home where I'd fully appreciate its main floor family room with its cozy gas-log fireplace.  Something a client told me late Monday while at her house has continued to haunt me.
She said while she was driving down a street that looks down into East Park, she was shocked to see the number of crows on the ground.  Her voice turned dark and resolute when saying, "There were so many of those devils, I could've sworn I was looking down at a glimmering sea of black in motion."  Of course I had to repeat to her my concern over their growing numbers in our City.  I've already encountered numerous bird droppings on sidewalks and parking lots in our Downtown before winter has even started. I think their acclimating and growing spoiled just like we humans.