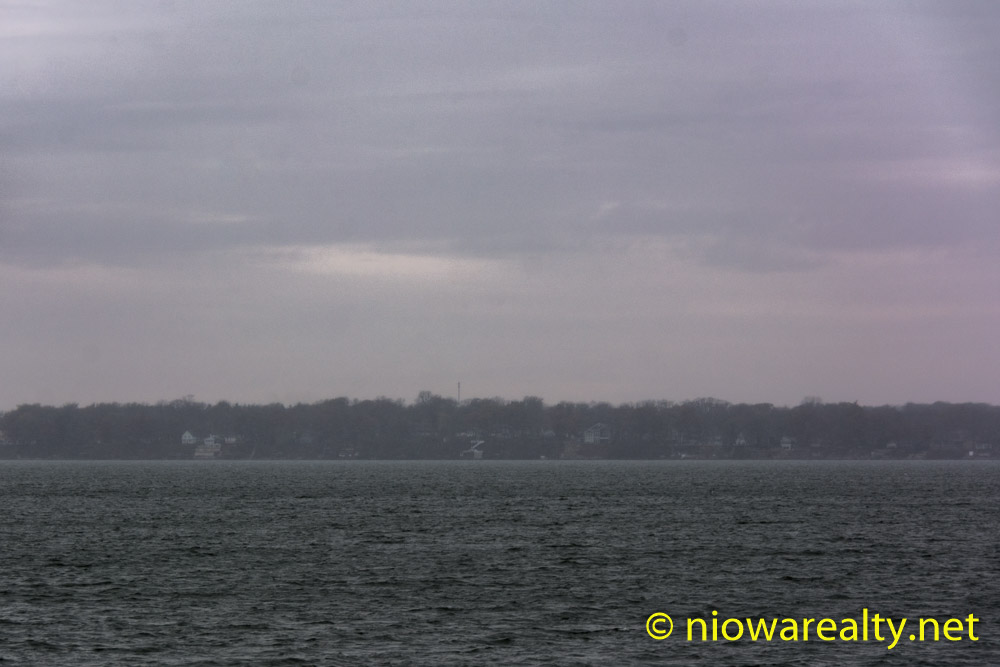 With it being the 1st of the month, most of my morning was spent attending to duties that go along with it. Seeing a few snow flurries outside, I was glad to be indoors in case it decided to really start falling.
Over the noon hour, I attended a gathering where I ran into a handful of past clients and customers. Not expecting to see and talk to so many, I was glad I went and able to play catch-up with them. Most of them were of the older crowd and filled with clever comments that made me laugh.
Of course there always has to be someone at a gathering whom most of us really doesn't care much for, and today was no exception. When glancing at him from afar, I couldn't help but think, "Why has he been such a bad person for so many years?" Then of course I had to remind myself that most bad people have developed alt-personalities to where they really think they're good, and continue on their paths without any self-doubting.
Speaking about this, reminded me of another who's always a bit of a gossip hound and pot stirrer, but after old age set in, he became markedly worse. I did hear rumors that he had some artery issues that may have affected the amount of blood flowing to his brain. Whenever I see him in the store, or on the street, I make sure to stop for very brief chats, but always quick to cut them short before his bizarre questioning begins.
One of my travels today took me over to Clear Lake to do an inspection on a property. The above photo is one I took of the lake while there. I can see why most people only live on the lake-side during our more pleasant months of the year. It looked pretty gloom and doom along with being all the colder with its lake effect.
My first closing for November took place on one of my listings this afternoon. I'm exceptionally happy the buyer is delighted with her new home. She couldn't possibly know how much extra work went into it over those many long months of restoration. Because I'm fully aware of the work the sellers put into their home, at least the new owner appreciates all the extra details that most homes in that price range don't even come close to offering. As far as I'm concerned, it was a perfect buyer/seller match.
One of the out of town showings I had on Sunday was worth the effort because I got it sold today. Yeah! Hopefully it's an indication of how productive I'll be this month. I'm hoping to have an all natural turkey in a pot come Thanksgiving. The buyers are exceptionally happy and I know it'll work very hard for them in the years to come.
Now, I have my post-Halloween scary story to share that was told me late today. It seems there's a stretch of road in North Iowa that's been cursed in more ways than one. What sent shivers down my spine was being truthfully told that many years ago, a man was driving home on a long dark road one night when suddenly seeing a man walking along the side of the road ahead. He slowed down in believing he needed a ride, and when he stopped and motioned for him to get in, the speechless man climbed in, motioned a direction, and off they went. Not but a few moments later, the passenger suddenly disappeared near the driveway of a very old and much talked about farmstead. I'm sure that driver had nightmares about his encounter with his ghostly male passenger.
Be sure to think twice before you stop for someone walking along the road in the middle of the night, and never to say, "Hey buddy. Need a lift?"