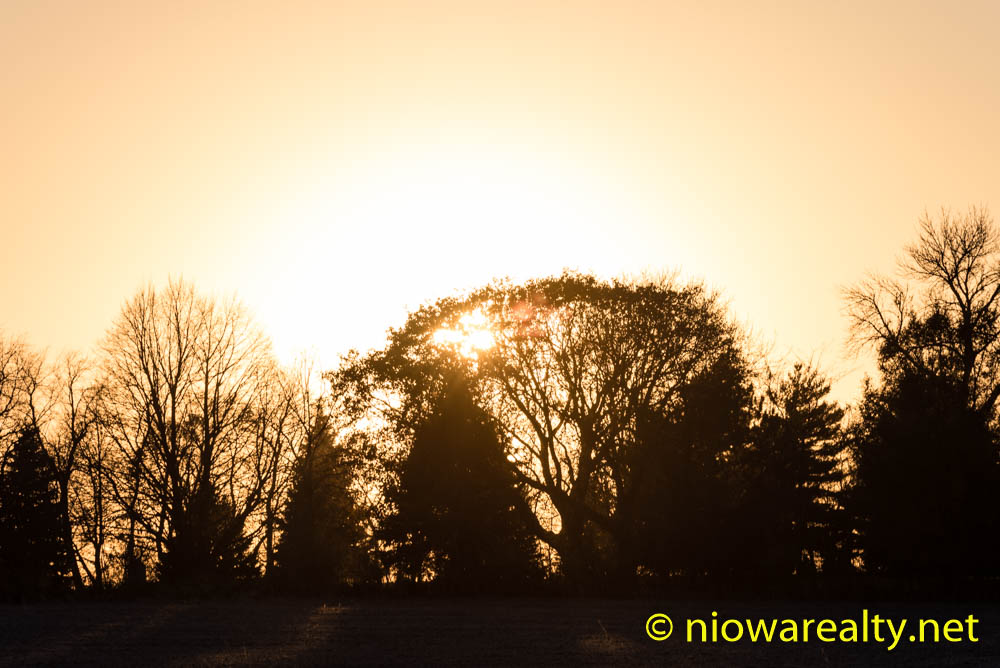 The first order of day was to get prepared for a showing that was scheduled early.  I'd say for the most part, the showing went quite well to where I believe the accompanying family members were all in agreement about my buyer purchasing it.  I was reminded once again how much I do enjoy working with senior citizens living in our community.  They're nearly always very appreciative for what I do for them which in turn inspires me to work all the harder on their behalf.
Oh, the stories I hear about people who've taken financial advantage of our overly-trusting elderly, which is likely why I'm so much of a mother hen when working for, and/or with them.  As long as they're presented all the facts, and given time to think about what they want to do, they usually always make the right decisions despite whatever their friends and/or relatives believe is best.  I've found too many times where the children of the elderly have them so stirred up and confused, they look to non-blood others for more clear and drama-free direction.
A past customer/client of mine stopped by the office unexpectedly late this morning.  Today, he had his three year old son with him.  When at that age, they're usually shy at first, but then their curiosity takes hold and they're off.  He was playing with a big rubber band while peeling himself from his father's hold.  Slowly but surely, he managed to slide himself under my desk so to investigate its underside until daddy felt that was enough.
I would've liked to visit a little longer, but suddenly realized if I didn't leave right away, I'd be more than late for an appointment on the other side of town.  Having cut our conversation so very short inspired me to call him later and apologize for being almost rude.  Thank goodness he understood.  He did mention how his son was not wanting to get in his car because he wanted back in my office.  I'm sure at his curious age, he felt robbed of an opportunity to go exploring in what likely seemed to be some giant indoor playground with very tall ceilings and darkened rooms.
There'll be a real diamond on the rough getting listed with my office in a day or two.  I told the owner today that if my suspicions are correct, it was a Sears and Roebuck home that was built somewhere in the 1920's.  There are a number of slight variations with them, but there were more built than one would believe in our City.  I've always liked its floor plan.  This one has a wood burning fireplace in the living room which is not normally found with that style.
I'm really hoping there'll be a few industrious young people still looking for project homes in these times.  It offers lots of oak woodwork, and open staircase, and other built-ins. It's getting listed at $32,500 in hopes we can get it sold quickly in that range.
If I were looking for a project, I'd jump on it without a second thought, but I also realize that times have changed, and the percentage of young people wanting to do restorations has dwindled, which is why a handful of rental barons own so many older, and once- upon-a-time grand family homes in our not so fair City.  It saddens me to even think about it because if I could go back in time, I'd become our certified town crier warning what the landscape of our inner-city homes would look like in the future should we allow the slow and systematic buying up of once beautiful homes by those who must've taken the game of Monopoly to heart.