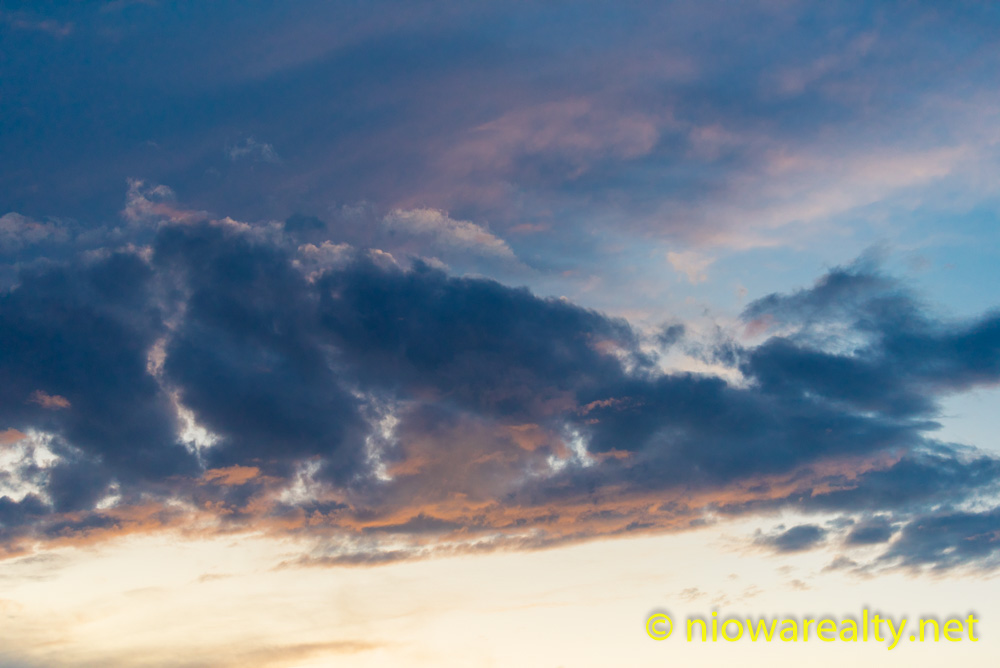 Alas the sun shined long enough this afternoon to start lifting our spirits.  It sounds like our overnight temperatures are going to be dropping below 40 degrees but then they'll be higher after tonight's lows.  Those that have planted Fall garden crops should be happy about it since it'll give more growing time for their carrots, beets, along with all the other "cool" crops.  I personally prefer cold crop vegetables that are grown in the Fall rather than in the Spring.  They always seem to have a better taste and are more sweet.  I think Summer's heat has a bad effect on their taste.
This was certainly a good year for tomatoes and peppers.  I'd say I've never seen such large sweet peppers locally grown as there've been this year.  Some I've seen look to be the likes you'd find as first prize winners at County fairs.  Have you ever looked to see how much Vitamin C just one bell pepper packs–especially if it's a red one?  The amount will shock you.
It was a rather slow day at the office, but I believe tomorrow's appointments will make up for it since I have several listing engagements as well as one in Clear Lake.  Speaking of Clear Lake, I'm still in shock from seeing how high their home prices have risen this year.  Those poor buyers don't realize what their property taxes are going to be once the County Assessor's Office makes their upward adjustments in values on their new homes.  There'll unfortunately be some who'll be eating macaroni sandwiches just to make ends meet or take on part-time jobs to help with the bills.
A pamphlet came in the mail today from Jack Leahman who's running for a seat on the City Council in the 4th Ward.  I read it thoroughly and was quite impressed by his vision for Mason City as well as his questions regarding the proposed hotel and ice area and how much it's actually going to cost we the taxpayers over the long term.  After reading his words, I was reminded of a few other projects that have fallen a bit flat with no movement.  Just today when driving down East State Street, I noticed how the Egloff house has been sitting there for months on end with unfinished work to be done, and nobody seems to be concerned about it.  The amount spent to acquire that property along with the daunting task of moving it, should certainly incite those involved to get it finished so to be up to speed and productive.
One of my clients stopped by the office today to drop something off and while there the subject of KIMT's evening news was brought up.  We both agreed that there seems to be far too much local news about Rochester rather than Mason City.  She said a number of her friends mentioned the same thing.  It only makes sense a television station that is based in Mason City should be reporting on Mason City and North Iowa's news rather than jumping up and away to Rochester all the time.  Isn't that what Channel 10 along with Channel 6 are for.  Perhaps the KIMT reporters can't find anything in our area worthy of a story.  The next time you're watching the evening news, you'll see what I'm talking about.