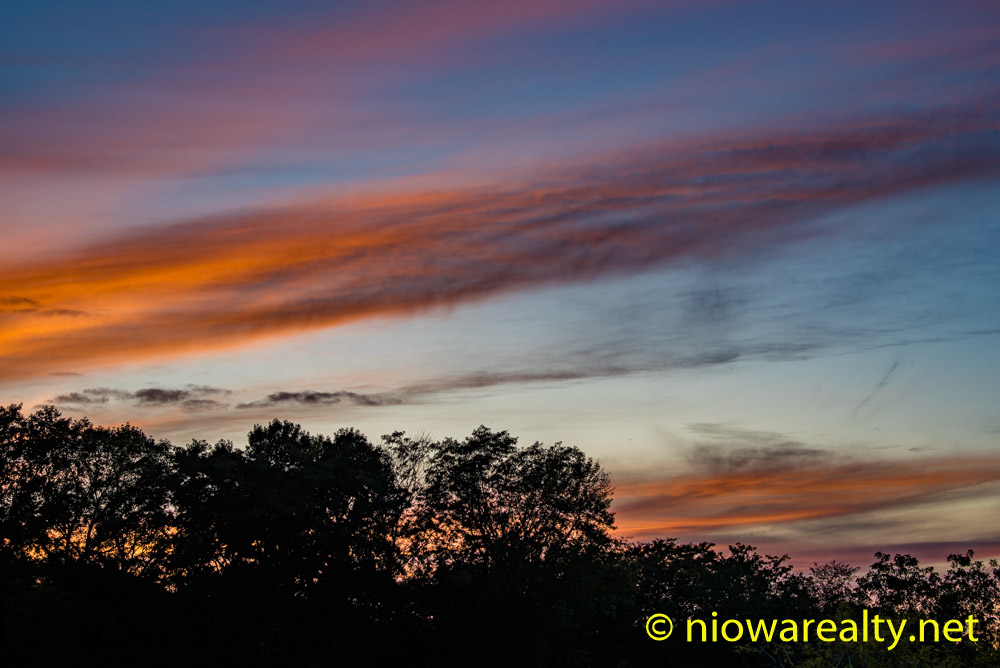 After spending several hours of research on properties here in Mason City, I believe I have a half dozen viable candidates for the buyers I'm working with next week.  In comparing prices, I'd say they're all over the map even more so than they were earlier this year.  Thank goodness they're not wanting to look in Clear Lake because their prices are all more erratic.
It's been a rather difficult week for me in my attempts to keep a recent sale together.  I'm a little bit disappointed in hearing remarks made about the property by people that seem to be influencing the buyer in a negative way.  Trying to keep the seller on board has been difficult enough due to her believing there's something not legitimate about the buyer's intentions.  It's a classic example of too many people being unnecessarily involved with the decision making process on both sides of a sale.  I'll certainly not forget the comment made by a professional about this home that just happened to be relayed to me.  I'd like to say some time soon to that meddling individual, "Mind your own beeswax!" until you know all the facts of a given situation.
Around noontime a young man arrived at the office while I was on the phone, so he had to wait a moment.  After I hung up I went out to the reception area and said, "May I help you?"  He looked at me strangely and answered, "You don't remember me do you?"  At that moment my last encounter with him about a year ago came my mind.  "Ah yes.  I do remember you now."  I said.  He must've gained about 30 pounds since I last saw him.  He knew his weight gain changed his appearance because he then said, "You probably didn't recognize me because I've grown."  I didn't think "grown" when noticing where his weight gain was showing.  What surprised me the most is that our last encounter was not at all good because he was doing some contract day work for a client of mine for several days until he had to be fired because of his unwillingness to work. What was the most annoying at that time, was his insistence that my client was over-working him.
Today his reason for stopping was his belief either my client or myself had work for him.  I told him flat out I had nothing for him, nor did I know anyone in need of help.  After he left I shook my head in disbelief wondering how he ever would've thought I or anyone I knew would hire him because of the way he worked as well as his acting like a victim at the time.  There are far too many people who burn bridges and then come back expecting you to have built a new one just for them to cross back over into your world.  I've come to the conclusion there are a number of  people who believe whatever's happened in a bad way in their past is always someone else's fault which gives them the right to come sauntering back and pick up where they left off.  Like the old saying goes, "Burn me once, shame on you, but burn me twice, shame on me."
I'm in complete readiness for a closing tomorrow and confident there'll be a soft landing for everyone involved.  Both the buyer and seller have been absolutely wonderful to work with, and I'll miss them both after tomorrow.  It's just another confirmation that there are some darned good people living in our midst.   Now what are we going to do about the increasing numbers of naughty monkeys we have to deal with on a near daily basis?  I do hope you're all enjoying this glorious Fall evening.