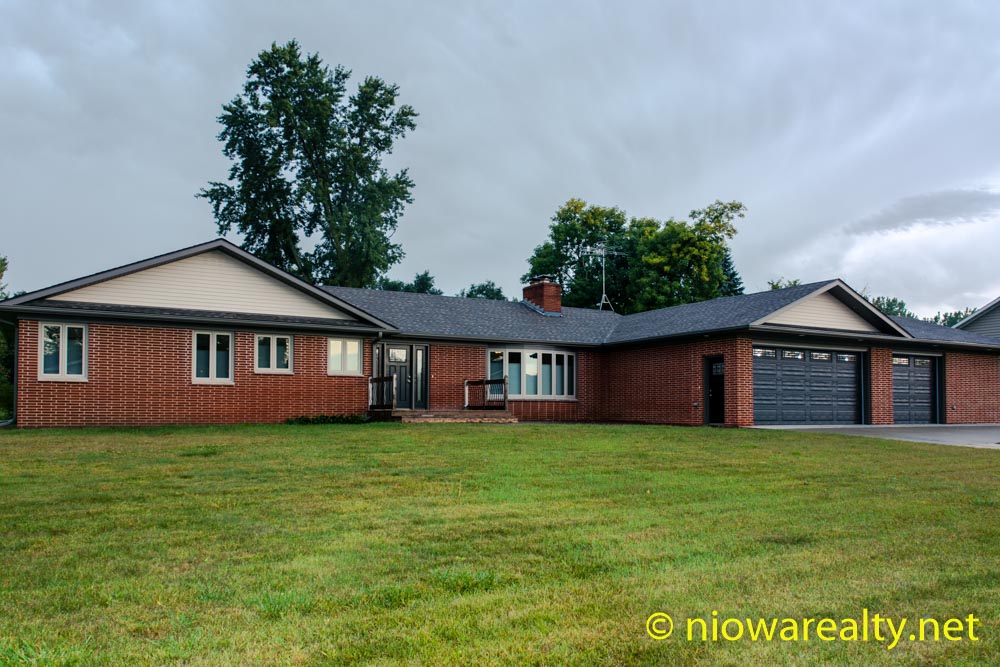 Today was one of those days where nearly everything I had originally planned to do was side-tracked by phone calls from buyers, sellers, and other agents who were all in need of assistance.  One of the agents calling when I picked up said, "I wasn't expecting anyone to answer."  I always consider such a statement a little odd to where I've been tempted to respond by saying, "So would you like me to hang up so you can leave a detailed message?"   Some people really don't think before they speak, which is why far too many have created rifts with their families along with the general public.  I'll not forget incidents over the years where one or two of my familiars would later back-peddle after saying something totally in-appropriate.  The most memorable one was when I would at times hear "Oh you know me.  I'm always saying something before thinking."  Hmmm.  I'm still wondering if that particular person is still proud of such an "ability" to insult someone and get away with it.
One of my appointments today was with a young couple who came to my office to sign transfer documents on a closing coming up this week.  They had their son with them who's just turning a year old.  Such a handsome young man who would give me a bright smile whenever I would say something to him.  His parents are very proud of him and I couldn't help but say, "You're very lucky to have such a beautiful as well as happy child."  That little man had the brightest blue eyes I've seen in some time.  If I'd thought of it I would have said to them, "With such eyes, he's telling us all the window to his soul is filled with great goodness."
The one and only showing I had today took me to one of our not so delightful districts of our City.  While the buyer and I were out in the back yard, we heard a very loud male voice yelling, "Were the "f" are your "f'ing" socks?"  We turned and looked and there stood a burly man appearing to be in his 30's glaring down on a boy likely around five or six years old.  Believe me, that wasn't all the filthy language being spewed out of his mouth and directed at that little boy who by then was sobbing.  The "big boy" finally noticed us across the alley and must've decided he'd better stop with is abusive language.  He turned and went stomping back into his house while slamming the door behind him.  And many continue to wonder why we have so many naughty teenagers in our midst.  That showing was definitely a waste of time because my buyer was quick to mention as we were walking back to our vehicles, "Who in their right mind would want to live across the alley from that guy?"   I couldn't help but agree.
The above photo is the new one I took yesterday of my listing at 2831 – 4th St. NW which I had open this weekend.  We're now getting some solid interest in it since being reduced, and considering it about time buyers are realizing it's an excellent buy.  There's not one major thing that hasn't been done to it.  The owners recently paid over $190K for it several years ago and went on to spend over $200K in improvements.  It's just like a brand new home!  There's no way anyone could even consider building a quality home like it is unless they're ready to spend close to $500K to get similar quality.  Believe me 2831 – 4th NW offers more bang for the buck than any other ranch in its price range.  I'm still hoping my customer from out East who's looking at re-locating here pulls the trigger before it gets sold to someone else.