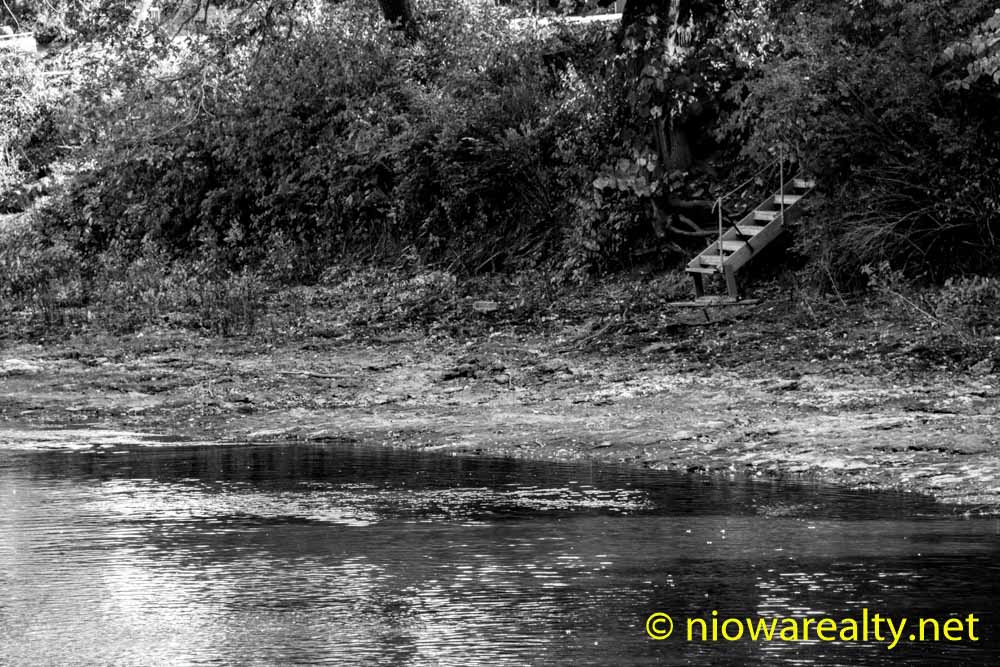 This morning seemed to be nothing less than a repeat of last Tuesday's after Labor Day weekend.  The phone was ringing nearly non-stop from 8:00 am onwards. As noon approached, it finally quieted back down to a manageable level. There are several closings coming up in the near future I was working on and I think just about everything is ready as far as the files are concerned.  There's just going to be the final walk-thru times that'll have to be arranged and that should be it barring any eleventh hour changes.
The residents of Florida should be happy hurricane Irma wasn't as devastating as was predicted.  I was looking on the map of where the storm is moving inland and I noticed it'll be traveling all the way up into Tennessee.  It won't surprise me if Iowa gets some rain and higher temperatures as a result.  I'm sure there'll be many sad stories told in the coming days of unfortunate happenings.  What angers me the most is hearing of the looting that's been taking place.  There's nothing worse than thievery in times of calamity.  The mindset of, "If it's there, then take it." is the essence of barbarism.
Several of my clients own winter homes in Florida, and I'm almost afraid to ask how their residences held up in the storm.  A colleague of mine called today who does spend some time in Florida and during our conversation she said, "I'll rent something there and that's as far as it'll ever go."  I personally have no desire to own anything in the Sunbelt—especially if it's near water.  The worry of vandalism, mechanical failures, upkeep, taxes, insurance, utilities, and everything else one must consider when buying a second home is certainly not my cup of tea.  There are many great places to go for extended stays, but none to purchase.  The owning of second homes in other State's is nothing more than a status symbol for those having money to burn.
Now on the flip side, I don't find it the least bit impractical to own a modest weekend home that's not so terribly far away.  What better way to have the best of both worlds where nearly every weekend and holiday is turned into a vacation? With the advent of high-tech security systems and in-home monitors, the fear factor is greatly lessened.  Believe me, paying a reputable company to provide 24 hr. monitoring of an area vacation home is well worth the cost.  I've had several listings over these recent years that had such systems installed and believe me, they were exceptionally sophisticated to where their temperatures and interior movements were monitored to the point where if someone even rattled their front doors, the alarms would go off and police notified. Now that's what you call real peace of mind security.
The remainder of my day was spent showing homes to a delightful young couple along with doing a little "pre-bank visit" counseling with a buyer who's getting serious about a home I showed her over the weekend.  I believe the best surprise is no surprise when it comes to financing.
The above photo is one I took today of the Winnebago River which tells us it's getting pretty darned dry in North Iowa.