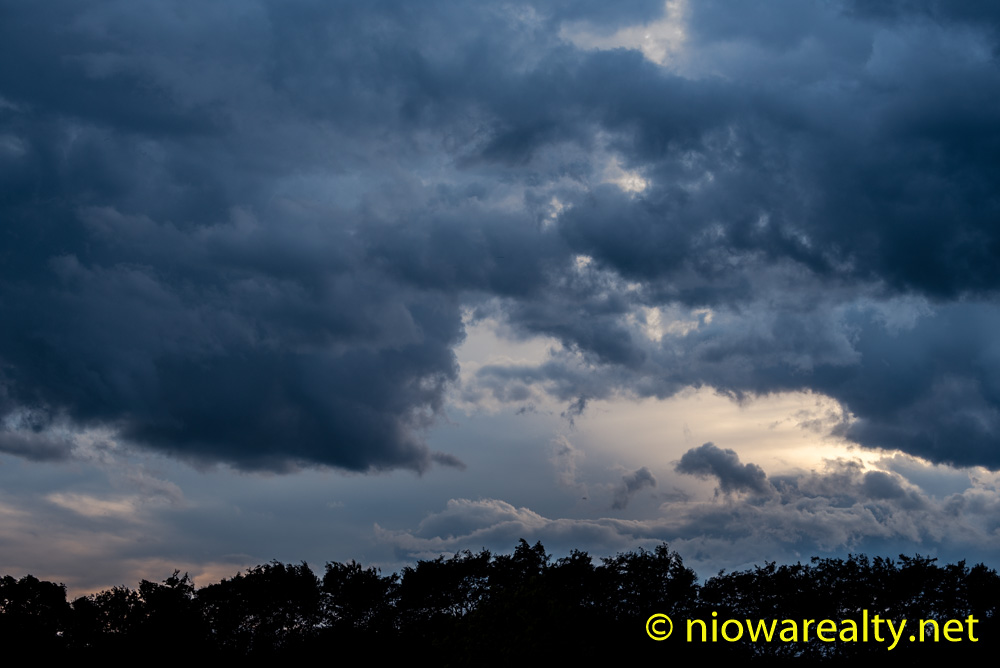 If one would ask me what work days I dread the most, I'd say the Tuesdays following a three day holiday weekend.  Today was likely one of the worst due to not only sales calls coming in, but also calls for rentals.  Some of the callers for rentals can get almost belligerent with their questioning which causes me to bristle all the more.  There's no question in my mind that the numbers are rising in our general public who have exceptionally weak phone skills as well as manners.  Perhaps all the voice activated answering systems many of the corporations have in place are creating people who treat real-life phone answers like machines.
Yesterday I spoke about a handful of offers that seem to be going nowhere.  After the close of today's business, I see possibly one of them coming together on price while the rest of them will quietly fade away as missed opportunities, and later be looked back by those involved saying, "I should have, could have, and would have."  Just today someone mentioned something about a missed opportunity he had about five years ago, and still kicks himself for not buying the home.
People really do get bent out of shape over amounts without looking at the entirety of the purchase price vs asking price.   For example if you use the rounded amount of say $100,000.00 and a particular buyer and seller are at what appears to be a great distance apart when stuck at say a $10,000.00 price difference between what's being offered and what the seller is willing to take, that amount is only 10% more the buyer would have to pay, and 10% less the seller would have to take to get the deal done.  When you look at it in such a light, what's the big issue over 10%?  Whenever we go shopping for bargains, we see items selling at 20%, 30% and even 50% less than the original prices.  Too many are stuck on numbers instead of percentages–especially when it comes to housing.
Oh Mercy!  Did I ever have a real eye-opening experience today when visiting an apartment where a young couple is living who're expecting.  First off, they can't be any older than maybe 19 or 20.  The apartment appeared as something you'd see in a television documentary about life in a 3rd world country.  There in the corner was a raw mattress on the floor with no sheets or blankets on it along with no pillow case covers.  I shuttered even trying to imagine sleeping on something like that.  I don't believe there was even a couch or upholstered chair in the unit.  All I could see were clothes on the floor, that mattress, a TV blaring, and dirty dishes in the kitchen sink.  And to think there's baby coming!  I have a feeling I'm going to have a nightmare tonight.
On a positive note, I showed one of our historic homes today and decided I'm falling all the more in like with it's charming staircase.  I've always been a pushover for open staircases.   They always seem to set the mood of a home when walking in, as well as creating a pleasant transition between the general living floor and the nighttime floor.
If you think about it, there are a multitude of reasons why builders over the centuries created open staircases.  I consider their primary jobs to be ones creating soft transitions.