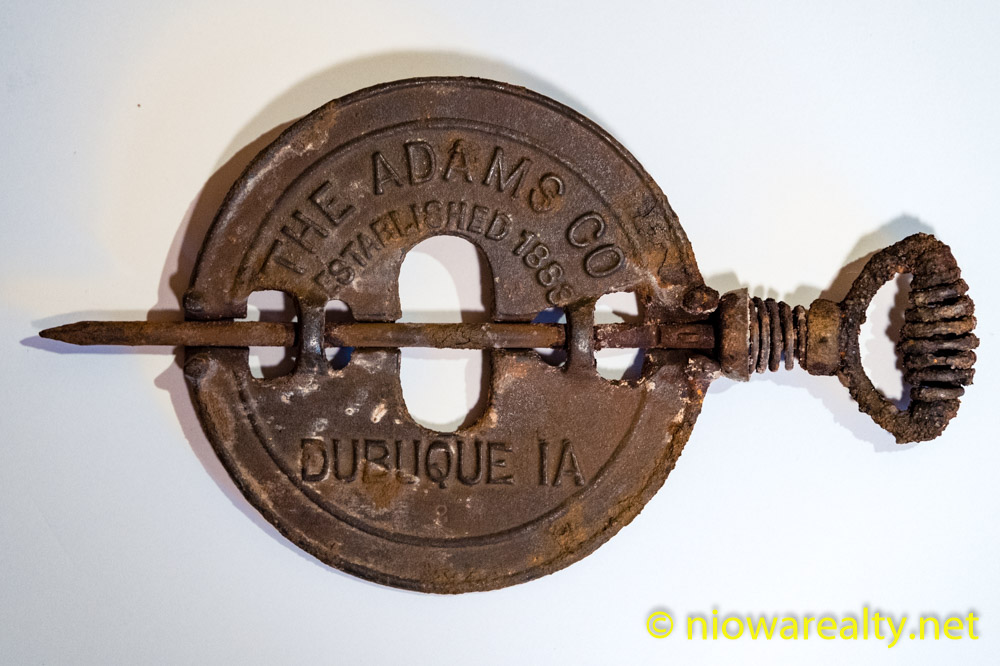 I hope everyone has been enjoying their Labor Day weekend these past three days.  The weather has certainly been pleasant enough for outdoor barbecues and backyard get togethers.  Several of my neighbors were busy partying with their relatives and friends.  I'm just glad everyone had time to relax or have time work on their personal projects.
Since I'm still plugging away at a project of my own, this free Monday gave me all the more time to focus on getting it all the closer to being finished.  I've been trying to believe over this hectic summer that I'm over the hump with it, but after today's workout, I'm convinced the project is well over halfway complete which will cause it to start moving along all the faster.
I'm really not sure what has been going on with North Iowa's buyers and sellers these past five days.  I wrote another offer today on one of my listings which is far too low for the sellers to even consider.  I nearly had a jaw-drop when the buyer told me how much he wanted to offer, but with it being my listing, I had to remain the "order taker".  Perhaps there's some sort of negative effect on the general population due to a possible bad configuration of the moon, sun, and stars.  Hopefully the rest of this workweek will be more productive.
Late this morning I ran into the most delightful young couple whom I sold a home to last year.  We played catch up on what's been happening in each other's lives.  I was shocked to hear how they've been having problems with a family in their neighborhood who seem to think they can do just about anything they want and expect everyone to look the other way.  I asked where they live and what their names were.  After mentioning their names and where their home is located, all I could do was say, "I know of them and if I were you, I'd create real boundaries and stand your ground."
After hearing what those naughty neighbors have been up to, I was once again reminded how it sometimes only takes one bad family to create a toxic neighborhood to where people hesitate to buy or rent anywhere in its vicinity.  Some years ago there was a family that lived here who created a similar situation in a different neighborhood.  They became so notoriously well known in our City, that the next evening after they drove off with their moving van, there was a great deal of quiet celebrating going on by nearly everyone that crossed their paths.  Yes, I personally even said, "Good riddance to bad rubbish!"  On my way home tonight, I made a point to drive by the home my customers were speaking of, and sure enough, the entirety of that property appeared to be in a state of "cluster dysfunction".  And to think they have children living in that pig stye.
As chance would have it, I found a little treasure buried today which I tried to get cleaned up enough so to share the above photo of it with you.  It is a damper that would've been part of a wood cookstove stovepipe assembly.  It would've been inside the exhaust pipe which would have released the smoke from a fire  to the exterior.  Wood and coal furnaces had a similar damper assembly, but only much larger.  This one is certainly much over 100 years old and was either part of a parlor stove or a kitchen range back when in operation since it was made for a 6″ stovepipe opening.
The purpose of these dampers was to let more or less smoke out of the chimney pipes.  The more open the dampers would be, the faster burning, and hotter the fires would be.  After closing it down so to speak, they would force the fires to burn more slowly due to the fire's diminished exhaust ability.  When all the way open, there would be a greater draw or "draft" of smoke going out, and below, there'd be a roaring hot fires.  Understand?
Now you've all heard someone say, "Put a damper on it."  That thought was created by connecting the idea or "memory" of slowing, or quieting something down like in the old days when parlor and kitchen cookstoves were in use.   So the next time someone is a little out of control, say to him or her, "Put a damper on it.", and then ask if they know from where the "damper" originated.