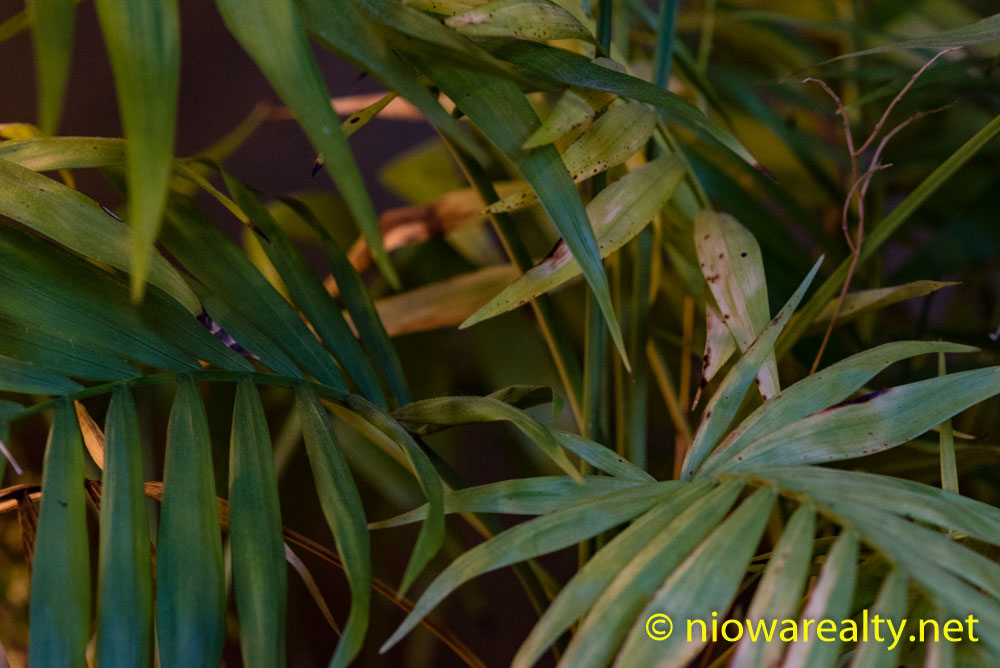 Yikes!  It was around 50 degrees this morning when I left for work and I'm not sure if I'm liking it.  One of my clients told me today that after Monday, the highs will be in the 60's.  It looks more like Fall is indeed barreling down on us a bit early.  I'm really not caring so much about an early Fall, as long as Winter doesn't follow suit.  I'm convinced we really didn't have much of a Summer due to Spring having extended itself far too many days.
Another one of my listing's sale finalized today and thankfully it came to close with a soft landing.  The buyers happened to have their two sons with them that were the cutest little tykes.  The oldest one who was certainly a Morphic resonate copy of his father was the most talkative.  I think his mother was getting embarrassed by the amount of information he was unloading on us.  I smiled and said, "I think it delightful listening to children talk because they seem to have no filters."  She then replied, "But we always have to be careful of the questions asked of him for fear of what his answers may be." Before we left, I bent down and asked the four year old, "How did you get to be so smart?"  We all laughed when he looked me straight in the eye and said, "Because my mom and dad taught me everything they know."  Now for sure that was the first time I'd ever heard that question answered in such a fashion.  At least his parents must now believe he holds them in very high regard.  I'm glad the sellers were there to meet the new owners of their home along with their children because it's always hard to cut the ties on a home if it's where any given owner has raised their children.  When meeting their homes' "replacement" owners, always helps to bring about more gentle closures.
There's no question I wasted nearly an hour and a half driving to an area town to show a home that was beyond being on the creepy side.  It wasn't so bad while walking around the outside, but once in, I had to hold my tongue with the buyer regarding how discordant and creepy it was.  I was beginning to believe myself to be an intruder of the space which as far as I'm concerned was trapped in a time capsule.  Thank goodness the buyer finally decided it needed far too many upgrades along with a major interior room changing due to the floor plan being more than a little funked up.
My last appointment today took a little longer due to interruptions at my office while explaining all the details of a purchase contract.  It required extra time, but I did finally manage to get her to understand the concept of "consideration" in regards to contract law.  At first she was a little embarrassed by not understanding, but I was glad to take the time to fully explain while using other examples of consideration outside the realm of real estate.
Please be sure to click on the following link to see what homes I'll be having open tomorrow.  They're both priced to sell and hopefully one of them will be on its way to being sold this weekend.