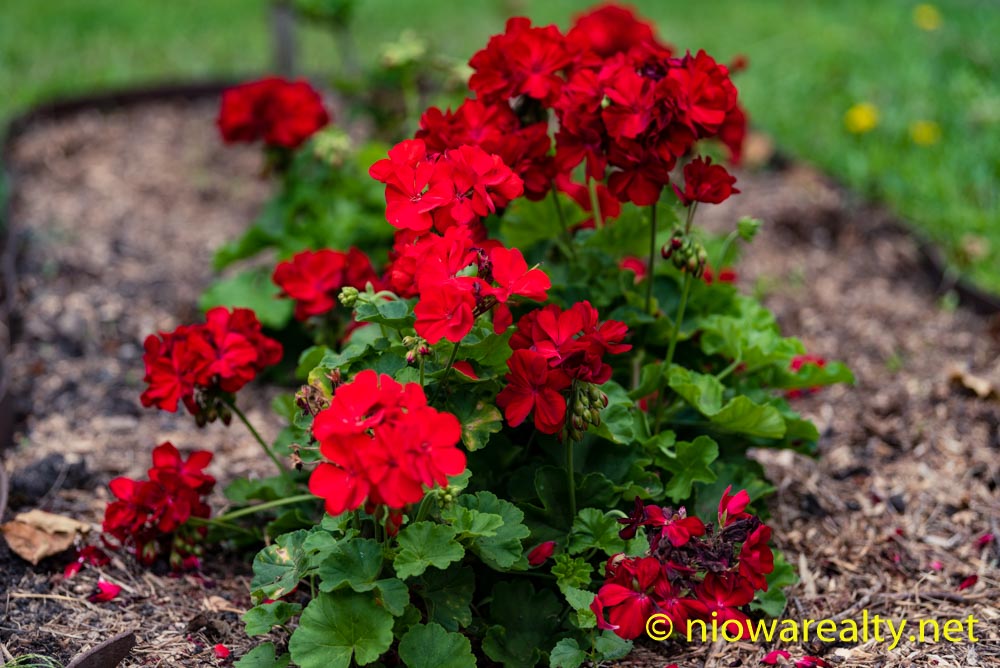 I'm glad there wasn't anyone following me around today because they would've likely dropped back and sat a spell waiting to step back in behind me on my way back.  Yes, this was a classic Monday to where I truly felt like the butcher, baker, and candlestick maker.  Every appointment was made, every text was answered, and all phone calls returned except for one that I somehow managed to forget about until my client texted me about another matter.  I did call him back and gave him the information he wanted.
One of my newer listings sold today along with another one coming to a soft closing.  I'm certainly going to miss visiting with those sellers on a regular basis because over these long months, we've developed a real friendship.  I encouraged them to keep in touch as we were walking out of the closing and will be all the happier when I see their smiling faces again.  We really do have some terribly good people living in our midst.  Most don't realize they're here because they don't scream loudly or make unreasonable demands on others. The thing that makes them all the more special is that they're truly thankful for the little things others do for them.
On the flip side, I'm growing all the more weary of getting texts from people, and especially other agents who don't even have the basics of social skills learned.  I can't think of how many people, and how many times I respond with information they're requesting from me, and yet they won't even say "thank you".  As I've said before, this business of texting is turning our society into a country filled with likely 200+ million islands of humans that have been created by smart phones.  There's going to be a day of reckoning for them as they grow older.  I won't be surprised if they'll be coming down with some sort of psychological disorder that can't be corrected due to their long years of unnecessary multi-tasking.
We see people who're supposed to be paying full attention to where they are and what they're doing, but I see all the more carrying on with whatever they're doing while glancing back and forth at the screens of their smart phones–especially the twenty-somethings and younger.  It's no wonder their memories are weak because they don't give their minds enough time to register and archive something that's not even being fully focused upon.
I had a nice chat with one of my clients today about 20 – 9th St. NE which is the home I just listed late last week.  We talked about its design along with the location it could've likely been moved from around the turn of the century.  I'm pretty much convinced it's a rare survivor of homes constructed back in the 1870's and most likely originally located in the Downtown area.  Why was it moved?  Because our City was growing and commerce needed land for their mercantile structures. When I have time, I'm going to take a much closer look at the home's original components.  I won't be a surprise if it's one of our last great examples of simple residences built when our City was no larger than a village.
The above photo is an updated one of the geraniums that I had hanging upside down in my basement all winter.  I smile to myself when looking at them because all eight of them were started from one plant that I found in the throes of death at a back alley just one day before a killing frost arrived.  These particular geraniums are an exceptionally deep yet vivid red.  I'll be sure to have them hanging in my basement again before winter arrives.