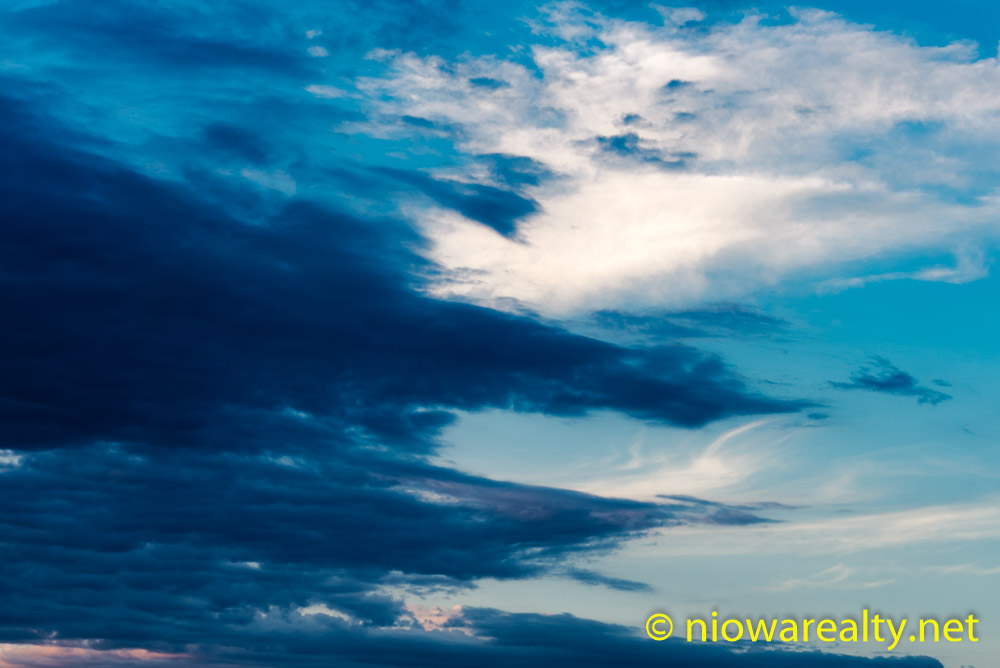 It was a rewarding day for another buyer who just purchased a home thru my office. I'm not sure who was the most excited–her or me. Moments like this morning's are what keep me happy about being a Realtor in spite of dealing with all the extra paperwork and of course the omnipresent competition. Long ago I realized that as soon as one of my competitors retired, another one would sprout up in its place. That's when I realized it was just one of the hard-coded modus operandi facts of life for a real estate broker, and then was OK with it.
I'm finding all the more buyers this year wanting to be located on acreages or bodies of water. As far as I'm concerned, it's a signal telling us they're wanting to get back to the basics. Acreages provide distance from , and water creates a primeval urge going back to mankind's beginnings, and I fully understand where they're coming from.
Just take a look at the people with real money and the amount they spend on building their fiefdom-size acreage settings. I've seen some real monsters being built out in the countryside these past 10 – 15 years. Of course we can't forget the number of giant lakeshore homes in Clear Lake that have been built during those same years. What's all the more crazy, is that they're buying existing half million dollar or more existing homes and then scraping them off to make room for their waterfront castles.
Some day I hope to have a charming cottage-style home located on a body of water. I'm not considering anything monster-sized, but rather something exceptionally well built, tastefully designed, and above all, comfortable. I'm not part of that "look at what I have" circle, and hope to never be. Too many people live in homes just for the "show" of it all without considering practicality or basic comfort.
On the flip side, I also know many who live in homes where they do the absolute minimum of maintenance, and yet have suitcases full of cash they're hoarding for some unexplainable reason. They are the ones who believe their money they will give them extended years of life, while for others it's all about legacy. Whenever I get pulled into a conversation by someone wanting to talk about their legacy, I desperately try to tune them out and think of something else until they're finished with their tedious and time consuming tales of their monetary legacies.
A dear one happened to pop into my office this afternoon to tell me about her garden. From the sound of it, she's harvesting wonderful potatoes and onions. I gave her a heads up in how to create a real meal using only fresh potatoes, onions, and bacon. I told her to boil and mash the potatoes, dice the onions and fry them until they're honey gold, and then fry some strips of really good bacon, and then cut them into small button-sized pieces. Add enough real butter, salt, and pepper to taste to the potatoes, and then fold in the onions and bacon. My preferred accompanying beverage is a cold glass of sweet buttermilk compliments of Anderson Erickson.
I hope she tries it because I'm already getting hungry while writing about it. It's a simple yet tasty option for someone to create a hearty evening meal when in possession of an abundance of fresh onions and potatoes.