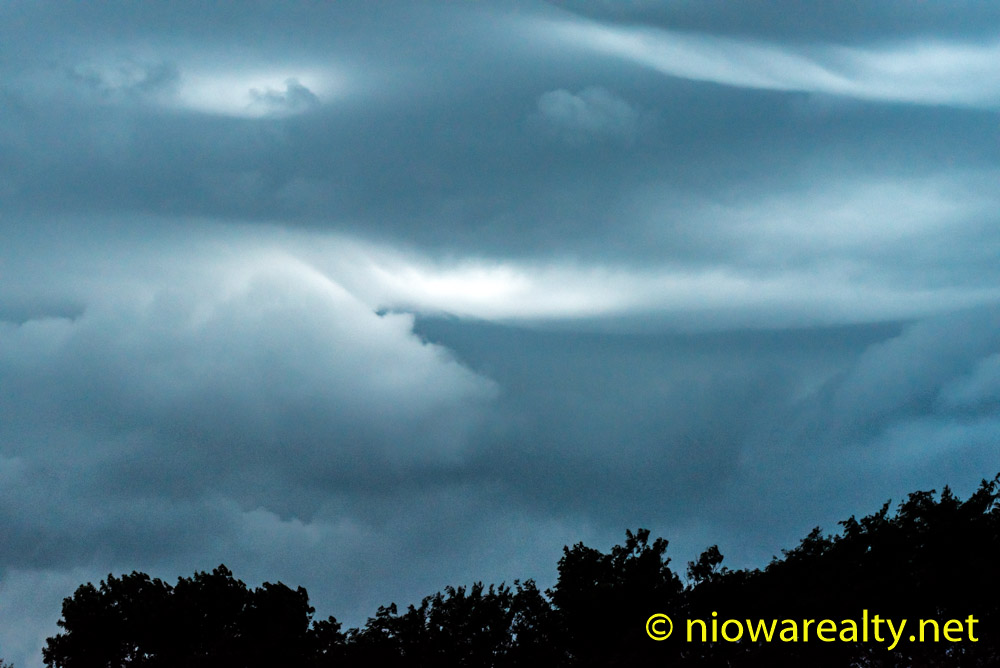 Today was near non-stop with appointments and showings, and likely tomorrow will be a mirror image.  I'm just happy I was able to get everything accomplished without having anything hanging overnight and staring at me come morning. For certain, there were a few houses shown today that were nothing more than walk-ins and walk-outs.  I've fine-tuned tomorrow's to where there shouldn't be anymore like that.
Several days ago I made a follow-up courtesy call to a gentleman whom I happened to see in his yard while out showing homes.  Since the buyer hadn't arrived, and him being just a few doors away, I figured I'd walk down and have a chat.
We talked about this and that at the time, along with a little teasing on my part regarding the state of his yard.  I wouldn't say it was a pigpen, but rather more visibly discordant.  During my follow-up call he interjected by saying, "After talking to you in my yard those weeks ago, I suddenly realized I needed to start focusing and get some things done around my house which I've now been working on this past week."
The only reason I bring this up, is that it oft times it takes a few words from someone completely out of another's circle to create movement.  It sounded like my little teasing did trigger his upward and progressive movement.  I was thankful he didn't take my comments in a bad way and start holding a grudge against me for crossing the line with my opinion on the current state of his home's exterior.  Too bad we can't instill a sense of pride in ownership/residency with all those living in North Iowa who reside in rickety homes with yards that are exceptionally unkempt.
I just received another major price reduction on 2831 – 4th St. NW here in Mason City to where it's even all the more a fabulous buy at $310,000.00.  From what information has been shared with me, there's been nearly a half million dollars spent on it considering what it was purchased for and the cost of its recently numerous big ticket upgrades. Now that's what I call a real BUY!
One of my long term clients called today to give me an update on a project she's been working on these past months.  I'm sure you've heard the question posed when someone asks you to describe another in just one word.  Well, this client I would most freely and willingly describe in one word as being fearless.  Without a doubt I'd say the key to her success has been her lack of fear of failure–especially when taking on projects that most wouldn't just walk, but run from.
People like her are those whom I believe make good and lasting changes that survive death and live for generations. Many believe they've become immortal by having bushels of children, while others create good and lasting changes that are enjoyed by the general populous for years.  Now think of something you can create that will be admired as a great accomplishment for generations to come and all to enjoy.