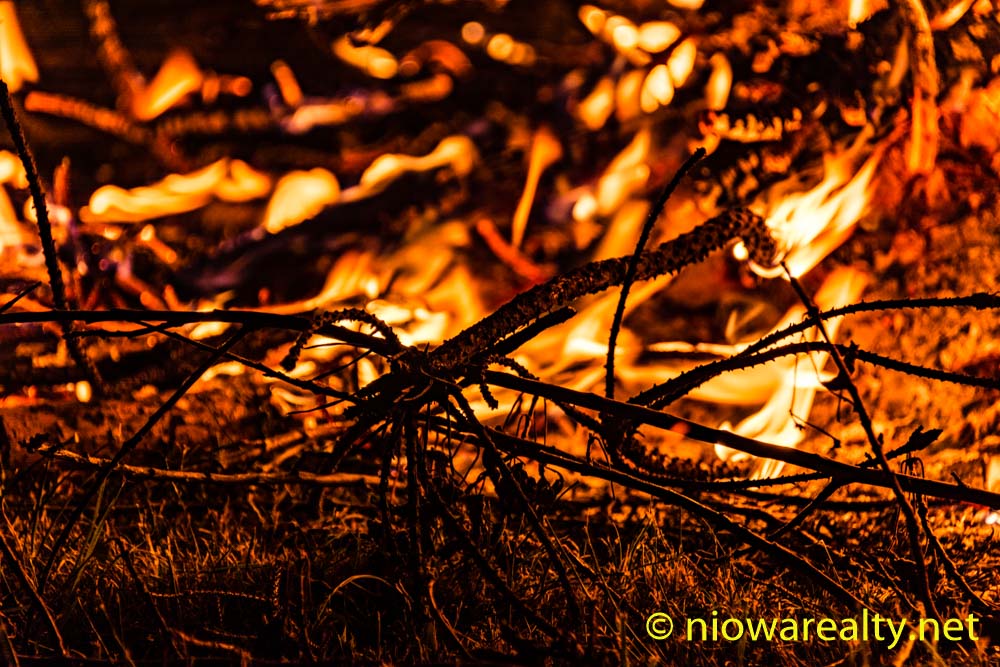 I'm still in a bit of shock that it's already the 2nd of August and feeling Summer's just getting started.  We did have a quirky beginning with all the rain and lower temps early on, so I guess we're all going to have to start playing "catch-up" with our enjoyment of Mother Nature's last third of Summer days and evenings for this year.
It sure was another crazy wind storm with rain last night.  I noticed more branches down and when talking to someone earlier today about it I said, "I think those really strong straight line winds we had several times earlier this year internally weakened those big trees to where winds not so strong are now finishing off the damage that was already done."  He agreed while saying his neighbor's big tree came down in last night's wind.   I dearly love trees, but I'm becoming all the more fearful of those healthy looking big boys that may come crashing down without notice during a storm.
Prairie Place on 1st had two separate showings on it today, and now that the word is getting out, I believe we're going to see those units starting to get sold. I've reminded everyone that Henkel Construction built that complex and they're by far the best constructed I've seen in a very long time.  I told a Snowbird yesterday, "How much better can you have it here?  When you decide to head for Florida for the winter, you just lock your door and dismiss your worries because you know it'll be there as you left it when you return in the Spring."  She couldn't argue that fact and is now thinking of having a second look.
One thing I've been careful in mentioning is the fact that when people get up there in age, they shy away from having to drive any farther than they have to–especially on our  busy four lane highways.  With Prairie Place on 1st, there's no real reason to be on the Highway every day.  Fareway is within walking distance, nearly all the big churches are only a few blocks away, along with the Post Office, the banks and credit union. Many of the elderly who like to walk, can find a plethora of interesting places to go such as the library, the shops Downtown, East Park, the museum, and everywhere else one could think of that's located in our Historic Downtown.  If I were looking for a condo, Prairie Place on 1st would be my first choice.
I'm going to schedule two public open houses this coming Saturday which will be the acreage I have listed at 305 N. 1st Street in Fertile from 10:00 a.m. till Noon, and 323 – 6th St. NW here in Mason City from 1:00 – 3:00 p.m.  They're both very good homes for the money and it's now their time to be sold.
Someone was telling me today about an unfortunate happening with one of his relatives which made me sad and internally very angry.  I know I may be sounding judgmental when saying, "Sometimes, in a karmatic way bad people get their paybacks for what they've done to others, but when bad people do evil things to naive young buyers, they're even all that much more evil.  It seems there will always be those who'll be so inconsiderate of other human beings that they'll take them for everything they can get, and walk away with Cheshire smiles on their faces.  Too bad they've never come to the realization that Hell serves no ice.