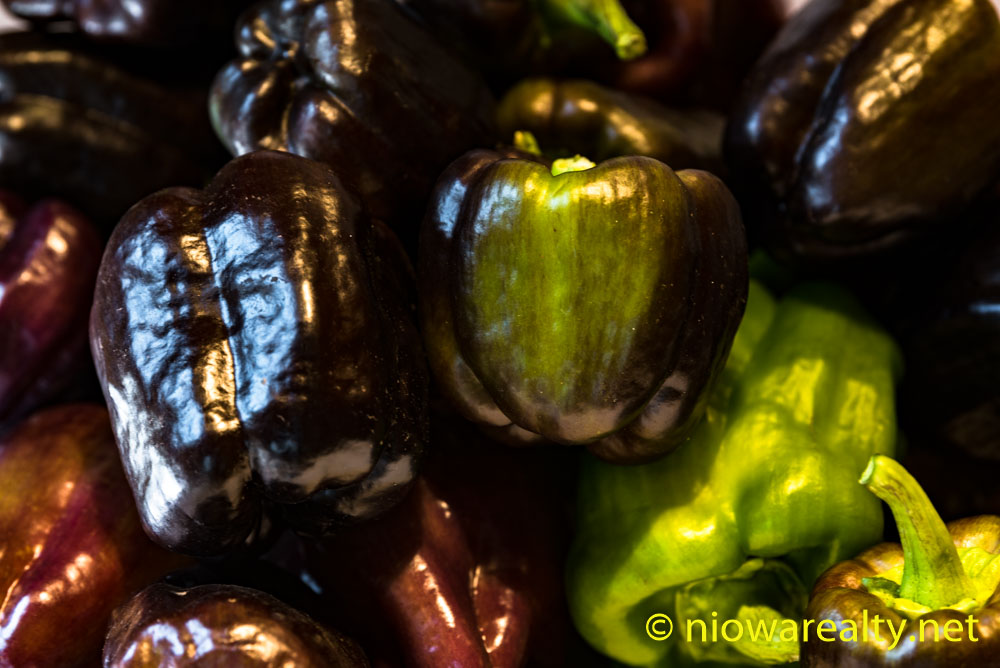 It certainly was an interestingly different day for me with having two public open houses.  Both of them went quite well to where there was someone at them nearly the entire time.  The one this morning had stragglers at the very end to where I had only a half hour to get to my next open.  I stayed on course and made it without any big rush, but I did end up having to stop at Fareway and pick up a six pack of cooked and packaged hard boiled eggs, and ate two of them during my quick stop at the office.
It was the second time I purchased those eggs and they really aren't bad considering the price was only $1.99 for six.  They're located in the produce section where all the different packaged salad greens are located.  Every time I eat a plain hard boiled egg with just salt and pepper, it takes me back to my high school days.  Since I had chores to do before going to school, and as with many young men of that age, I was oft times a bit hard to get up in the morning which created a crunch in getting my chores done, clothes changed, breakfast eaten, and be at my first class on time.
My dear mother found a way to keep me from being late by having peeled hard boiled eggs and buttered toast ready for me when I returned from the barn.  It may sound like a pauper's meal, but I developed a real taste for that simple yet nourishing breakfast, and if it was in the fall before the hard frost, I'd also have a half bell pepper sliced to fit on the two slices of toast.  Yummy!  Freshly picked organic green peppers are very aromatic as well as tasty. To top it all off, the toast she served was usually homemade wheat or rye with caraway.  In those times that breakfast would've been considered a simple fare for a growing young man, yet in today's world, a breakfast like that would be something one of the nouveau riche would be ordering in the dining room of an exclusive hotel in Chicago or New York. Don't you see now how times and tastes have changed?
I decided today, that if I were but a young man, I'd be on my way to an Indian dealership and ordering myself one of those handsomely retro motorcycles that have a diminished elegance written all over them.  I encountered a gentleman riding one today and got the whole scoop on them.  I've heard of them, but have never seen one up close or heard one running.  After being brought up to speed regarding their performance and history, I can't believe there aren't more people owning them.  As far as I'm concerned, it's time for the Harleys to step aside and make room for the coming of the Indians.  It was quite the treat as well as being the highlight of my day when watching that beauty drive off.
In between appointments, one of my clients called and asked if I'd like a few peppers.  I couldn't have said "yes" fast enough knowing they were homegrown and organic.  Because she had so many, I decided to take a photo of them to share with you.  All I could hear in my mind when seeing them was, "Peter Piper picked a peck of pickled peppers."   Isn't it funny how some of those old rhymes come rushing back just by the  triggering of a visual?  They were not only beautiful, but also exuded their mouth-watering scent of fresh bell peppers.  I'm in hopes you're all enjoying this beautiful Saturday evening as much as I am, so go forth now, and enjoy!