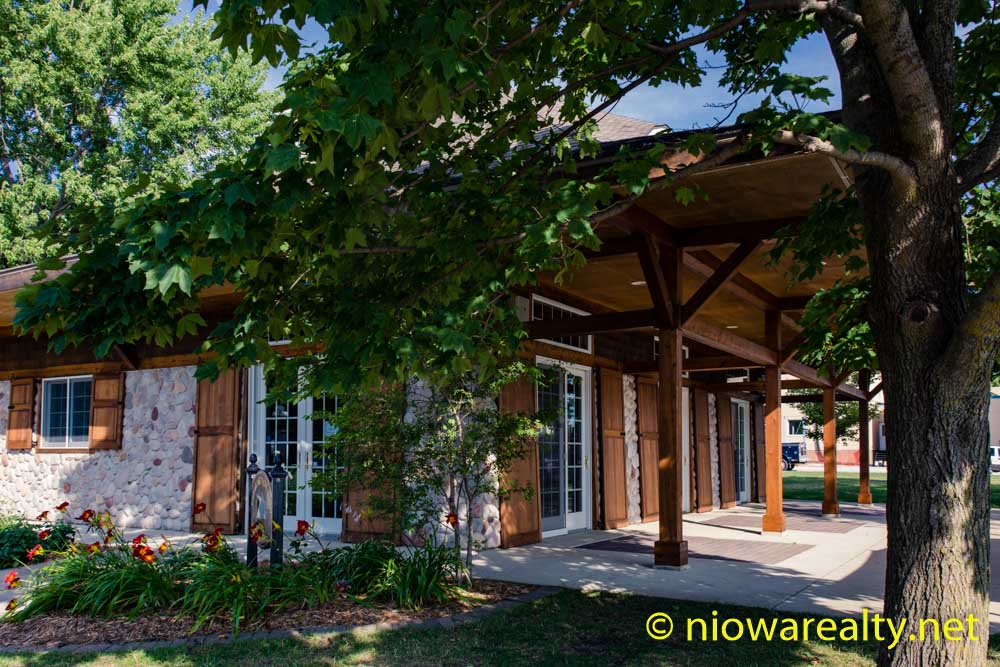 Yet another "whoosh" Monday went by to where I felt as though I was in a constant state of motion.  I think I did pretty well getting everything accomplished without having conflicting appointments.
Seems everyone was talking about how beautiful the weather was here in North Iowa yesterday.  I couldn't help but agree, along with wishing I'd spent more time outside.  Today's weather wasn't as good as yesterday's because the humidity was on the rise.  Oh well, we can't have Paradise every day of the year here in North Iowa.
It looks it's going to be the week for value added services being performed by yours truly.  I really don't mind doing the little extras that really aren't part of my job of being a Realtor for clients and customers, but when those little requests start adding up in a day or two, I'm left feeling as though I've accomplished nothing worthwhile.
Yesterday I noticed one of my nearly new tires was low so I figured I'd better get it out to Bauer Built this morning before it went flat on me.  Luckily they were able to get me in right away without much of a wait.  About 20 minutes later the technician came out of the service garage and said, "Thought you might like this little souvenir." as he handed me what looked like the snapped-off sharp end of a drywall screw.  I shook my head in wonderment as to where I could've possibly picked it up.
Whenever I see people working on roofs and new construction and not being conscientious about discarded nails and screws, I bristle a bit and think, "How would you like it if you happened to get one of those cast offs in your car or truck tire?"  Far too many of our citizenry don't think forward enough when it comes to being careful about the clean-up of their work areas.  I think people who've been around machinery and flattened tires are all the more careful about sharp things left laying on the ground.  Still to this day I'll pick up and throw in the trash, nails, screws, and everything else I think will get in someone's tires.
One of my showings today took me to a home where I met for the first time one of the nicest couples.  I was the most impressed by the young gentleman who has a child from a previous relationship, works full time, and also goes to college part time.  Now that's someone who has a full plate, yet he's happy and upbeat about his future.
After telling me he wants to be a secondary school teacher, I couldn't have encouraged him enough. And to top it all off, in his spare time he's working on a short novel.  Just think what a vibrant community we would be living in if all the young people living here in North Iowa had that much vision and drive.   As I've mentioned before, "Whenever I encounter people like him, it causes me to believe there is still hope for humanity."
The above photo is one I took Saturday evening while paying a visit to Clear Lake.  It's of the building that houses the Clear Lake Yacht Club.  Whomever designed it did an exceptional job. The mansard roof on it really creates quite the commanding presence at the shorefront of Clear Lake.