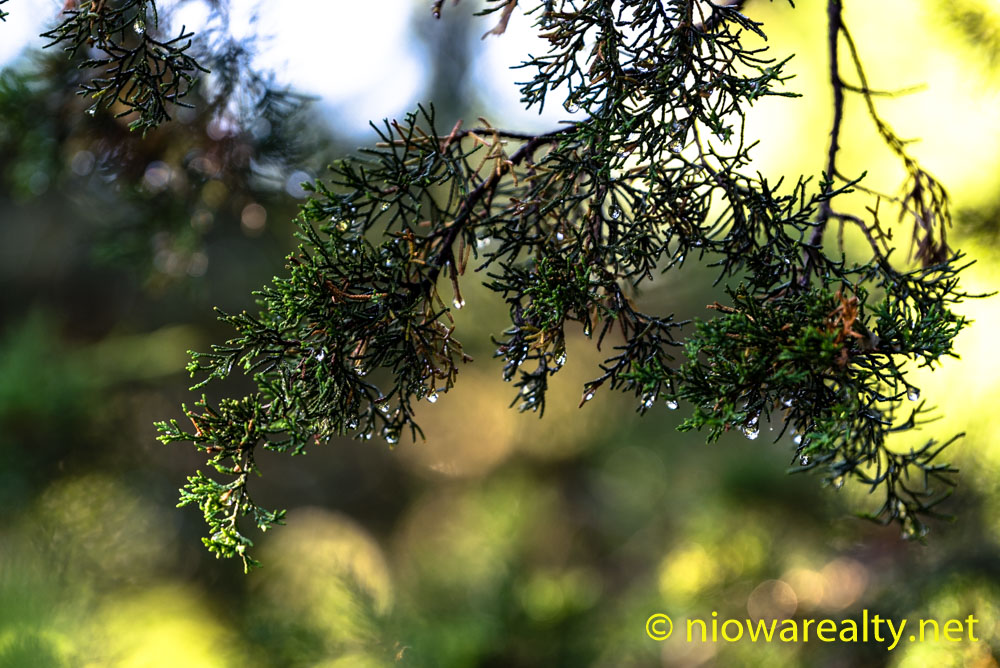 You have no idea how happy I am we had rain today.  The heat and humidity was causing me to stay in as much as possible these last days.  I was certain when I looked at the weather outlook on Sunday, there was no rain expected for at least a week.  Just about a half hour before it started raining I said to a customer, "I sure wish it would rain soon so this heavy humidity will go away." Not but a half hour later, I looked up and out my office window and to my delight, it was raining quite heavily.  Our yards and gardens sure needed it.
Most of my afternoon was spent doing more research on pre-listing appointments I have for this week as well as showing a handful of homes to a prospective buyer.  One of the homes I showed was certainly glossed over to where if I were a buyer, I'd run, and not walk fast enough to get away from it. Over these long years of selling homes, I've found myself to have grown exceptionally attuned to the components of homes and buildings.  I was waiting for the buyer to ask me what I thought of the home, and when he did, I spilled my guts.  While walking back to our vehicles the buyer said, "I think I'm gonna keep you because of your brutal honesty."  Just as before, when someone says something like that, I reply "I still want to be able to sleep nights."
As I was leaving the back of my office late this afternoon, I happened to notice something big flying up from behind a dumpster not far away.  Instead of flying away, it perched itself on one of the high wires between the buildings.  It was a Cooper hawk!  I stood there and watched while it attempted to dry its feathers off in the sun.  What surprised me was how completely oblivious it was to my standing there watching it.  I figured if it was going to be that taken with itself, I'd walk back into my office and grab my camera and snap a photo of it.  Wouldn't you know it, when I got back outside it was no where to be seen.
I figured I'd keep my camera handy for something else worth sharing which I did manage to find.  As I was pulling away and driving slowly down the alley, I looked for a confirmation of what I believed that hawk was doing before I came out.  Sure enough, there lay a small bloody patch of feathers of what appeared to be the remnants of a sparrow or finch.  It's kinda creepy even thinking about it now, because about a week ago while I was walking back to my car and seeing all the sparrows and finches scurrying about in the grass I thought, "You all best be careful with your gatherings because you may be drawing attention to yourselves with the birds of prey in our City."  Wouldn't you know it, they were discovered.
I happened to be doing a little online investigating of a couple who are moving here, and to my surprise/shock I began reading posts they were placing on the social medias regarding moving to Mason City which they consider to be "Rural Iowa" of which I immediately offense.  They're twenty something and quite free to tell nearly EVERYTHING about themselves to ALL.  The more I read, the more creeped out I was getting.  It was as if I was reading someone's very personal journal/diary.  It wasn't just the writing, but also the endless photos and attached comments to them.  In about a twenty minute span, I discovered nearly everything about them including their financial situation which included balances, religious beliefs, political leanings, sex, and everything else in between.
Yes the world is becoming all the more "look at me" and I'm still not in the least bit attracted to it.  The only words I can use to describe that couple now is "Mr. and Mrs. Cellophane".
On a happier note, I took the above photo of an ancient red cedar that was holding onto droplets of water from today's rain.  It looks like a weeping red cedar.