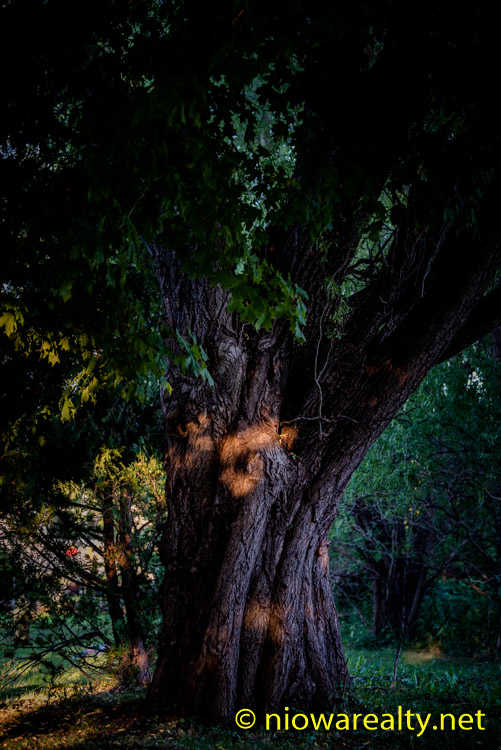 One couldn't possibly turn down having days like today continue on thru the rest of the year.  I'll accept having rain storms in the night so to keep all the greenery lush.  I've been noticing many vegetable gardens around town, and they appear to be doing just fine.  I stopped at Shopko several days ago and noticed all the unsold plants and shrubs they still have in stock.  Considering how late it's getting in the year, I think I'd be lowing the prices much more than they have just to get rid of them.
One of my appointments was to preview a home out on the east side of our City.  The owner has made some major updates including a beautiful cherry kitchen.  If and when it's listed, there'll have to be a public open house scheduled right away due to how small it appears from the street.  End-on homes always leave drive-by lookers a distorted impression of  size. Upon leaving I said to the owner, "It's too bad more homeowners don't take a keen interest in making repairs and improvements to their homes like you have done."  Whomever does purchase it will likely have no major improvements to make for many years to come.
I'm looking forward to my public open house tomorrow afternoon at 305 N. 1st St. in Fertile.  First and foremost, I really want to get it sold, but must also make a confession that each and every time I'm there, I get this wonderful "grounded" feeling.  The old growth timber, the lay of the land, the workshop, and the vintage home all seem to resonate an inner beauty, along with inciting endless visions of possibilities.  It could be a real head-turner if the right person with foresight should buy it.  With it not having sold yet, it's another confirmation to me how lazy and visionless many of our young have become.  I've personally taken on much larger projects that didn't even possess the good bones this acreage has.  I'm expecting someone to show up whom I've mentioned it to a number of times, and when I told him it'll be open tomorrow, he agreed to make an appearance.
Someone was at my office yesterday afternoon who took a keen interest in the plants I have in my front window.  She was complimenting the beauty of each potted plant to where she finally said, "How is it your plants are so beautiful?"  I laughed and said, "They likely consider themselves having a great life because they're able to watch the crosscut of humanity walk past my front window on a daily basis."  She gave me a questioning look and said, "Do you think they notice?"  I replied with a wink and a smile saying, "Of course, and they even like to have me talk to them on occasion."
I did feel bad when having to cut back my avacado tree again last week.  This is the fourth time I've had perform surgery on it since I started it from a seed about 12 years ago, and if I hadn't, it would've likely been reaching far past my second floor by now.  I'm still offering to give it to someone who's driving to either Florida or California so it can permanently plant its roots in a garden and start bearing avocados.  It's more than old enough now to start bearing.
The above photo is of the trunk of an exceptionally old corkscrew willow which is pretty much hidden from public view and enjoying its golden years right here in our City.  It wouldn't surprise me a bit if it's the oldest and largest trunk of a corkscrew in North Iowa.  While looking at it, thoughts of druids, sorcerers, fairies, and elves in some magical foreign land started popping in my mind.  If it could only speak, there'd be volumes to be heard.  Shush now, it may be getting ready to tell you its story.