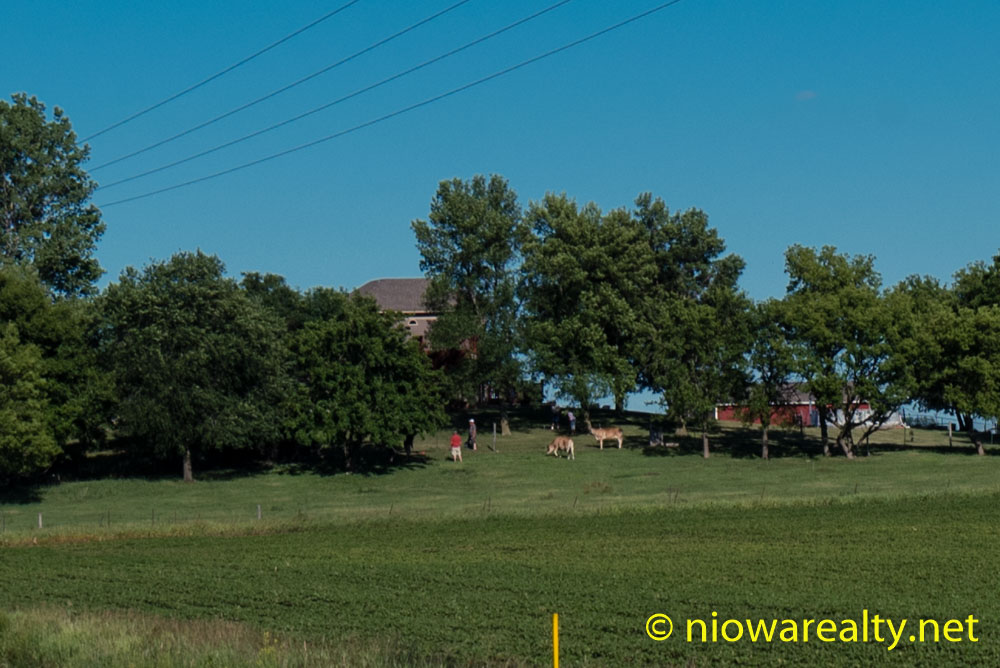 Since it was such a beautiful morning, I decided to stay home up until just before noon.  It was exceptionally pleasant scratching around outdoors without mosquitos bothering me.  I guess that's the upside of our recent rainless days.  We all know they can't reproduce as quickly since there's no standing water around.  Of course we do need some rain.  Even in the lowlands, the plants and grasses are showing signs of drought stress.  I did as much watering as I could in hopes we'll get some rain these coming days.
While at my office this afternoon, I managed to get some correspondence done along with a few necessary calls made.  After I completed my office work, I changed my clothes and went back to work on my seemingly endless menial task.  After spending four hours working at it non-stop, I found that I was able to call it a day because I'd just arrived at a true stopping point.  Having to climb up and down a ladder far too often was beginning to wear on me.  So another Sunday has come and gone with something to show for my efforts.  The rest of the afternoon and evening will be spent relaxing so to have myself rejuvenated for the week ahead.
While I was quietly working today, the home I have listed at 721 N. Delaware Ave. kept coming to mind.  I went down the list of all its features, and I've come to the conclusion that if it were just one and a half blocks north, it would've been sold long ago.  That particular block is nearly saturated with rentals owned by various kingpin rental barons.  Of course they don't do much of anything regarding repairs and improvements, so they've now become revolving doors for a number of tenants who appear to be involved in questionable trades.
If I were a hard-nosed buyer who tolerates nearly nothing from troublesome neighbors, I would buy that home at its deep discount and create an oasis in the middle of that messy block.  And then perhaps, after the buyer has grown accustomed to the neighborhood, others of like mind will start buying up those hairy structures and create their own homesteads.  There's a young family who purchased one of my listings several years ago that's just a stone's throw away, and they're doing just fine.  All I'm getting at is neighborhoods can be re-created if there's enough young and ambitious homebuyers to make good and lasting changes, and especially those able to stand their ground.
As I was crossing town, I happened to notice where someone had taken down an absolute monster silver maple tree.  I wouldn't be surprised if those sections of its trunk are over five feet across.  Since I'd been down that street before, I couldn't believe how having that tree down made the houses around it come back into view to where it's back into balance now.  I know the City won't allow silver maples to be planted on their property, but wouldn't it be nice if there were more strict planting guidelines of certain trees being planted on private property?  I've always loved trees, but only certain kinds.
Several weeks ago while coming back from and acreage appointment, I was drawn to stop and take a photo of a charming homestead where they appeared to have Jersey cows and out playing with them.  The above shot of that place has brought back memories of those small and well-mannered Jerseys. Years after my youth, I would mention to my Mother often how much I loved Jerseys cows. Wouldn't it be fun to join a Moo Moo club?