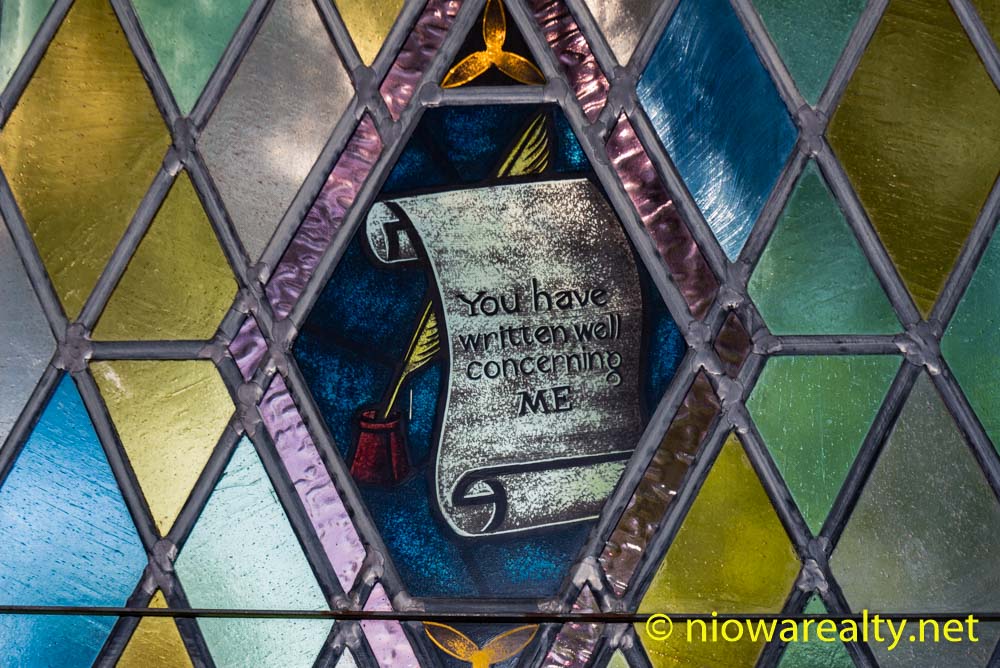 With all things considered, I decided to take part of my morning off and leisurely go about doing a little bit of this and that at my office while reflecting on the recent passing of a long-time soulmate.  I had several showings in mid-morning, but afterwards, I was back to my putzing/reflecting until it was time to head off to my public open house.
Just as 3:00 pm arrived, I came to the conclusion 731 S. Monroe Court couldn't have had a better turnout.  What I appreciated the most, was the steady stream of lookers and not one big group showing up all at once.  I will be greatly surprised if it's not sold by the end of next week.  One particular couple showing interest seemed to me to be the perfect fit.  I could actually "see" them living there in my mind's eye. They have young children, very much in like with the neighborhood, and of course the privacy its rear yard affords.  Just as I was leaving, I heard of another home that was recently listed and sold for far more money. It has one of those quirky floor plans which most buyers shy away from.  Oh well, it's just another example of how our market is still upwardly chugging along.
Since I was running a little late after my public open house, I decided to attend the services of a church that's located in a town not so far away.  Since I'd been there before,  I figured my arrival would be well in advance, but with the heavy traffic, and a necessary stop, I found myself walking in just as the bells started ringing.
Today's religious experience was considerably weak compared to my far away visit to a church last Saturday afternoon.  The music was above average, the sermon was a little flat, but the real negative "pings" I was getting seemed more on the wholeness of those gathered as well as the structure itself.  I had that "feeling" the wholeness was just going through the motions, and remiss of any deep spirituality.
One of the readers just happened to be a second cousin once or possibly twice removed of mine who's at least 75 years old if she's a day.  Oh Mercy!  The dyed black hair, the heavy eye makeup, and the junior miss clothes she was wearing was beyond being in very bad taste.  It still boggles my mind whenever I see men and women not dressing and presenting themselves appropriately for their ages.  There was yet another man who was likely 75 – 80 who also had his hair dyed jet black.  The forty-something man seated in front of me even had rinse in his hair.  Don't men realize you can nearly always tell when they color their hair?  I've said this before, and I'll say it again.  "Every age has its beauty as long as we look for it, embrace it, and become comfortable with it."
The above photo is yet another one I took while at that historic church last Saturday.  Yet again, I don't ever remember seeing a similar stained glass window in a church.  The words, "You have written well concerning me" likely speaks of the authors of the New Testament, but those words could also be perceived as a timeless inspiration to us all.