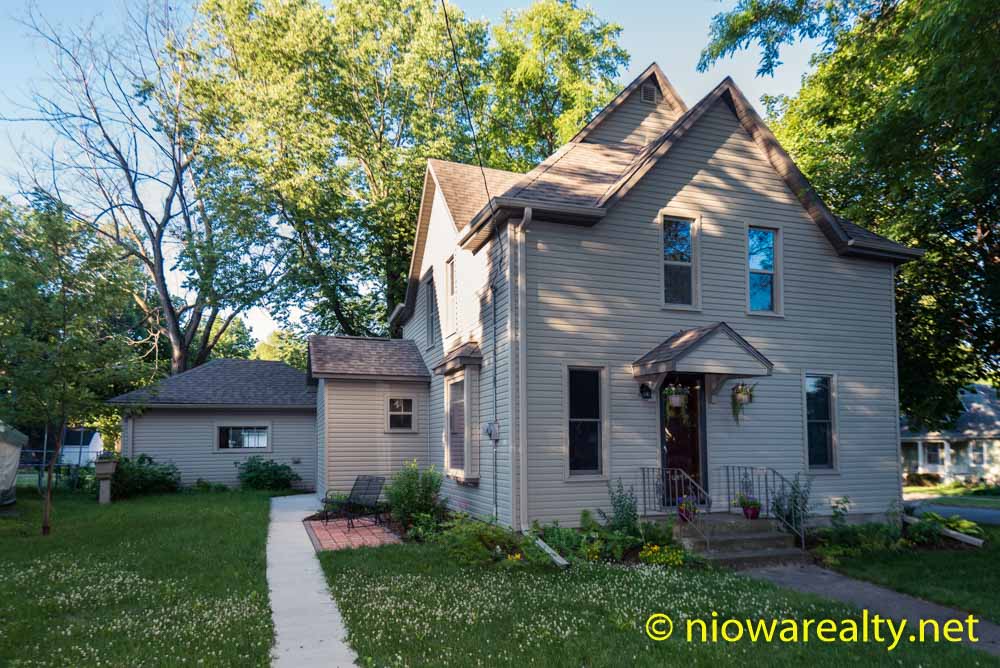 Nearing the end of this last day of June, I'm exceptionally happy the closings I had earlier all went very well.  No last minute surprises, no hiccups, and above all, no hurt feelings on either side of the table.  I even got a big hug from a buyer who's been a dear one I've known for many years.
After the closing was finished, the husband told everyone there how much his wife loved all the ceiling fans in their new home.  The other agent thought he was serious until I spoke up and said, "She and I are kindred spirits in more ways than one, along with us both sharing a real hatred for ceiling fans."  Everyone got a good laugh when I said, "I absolutely despise sleeping anywhere there's a draft being caused by a fan, and if I can't get away from it, I just pull the sheets over my head so I can go to sleep."  They thought I was joking but I wasn't. That's how much I dislike air blowing on me when in bed.
Having about a half hour free this afternoon, I decided to stop at Fareway and Dollar General and pick up a few necessities.  Wow!  The shoppers were out in full force at both places.  One can't help but notice how overly casual people have become when in public and the clothes they wear which are not complimentary to either their sizes or their age.
So let me ask, "Don't you think it a bit odd to find some men and women waiting in the checkout lanes, and every few moments they have to reach down and pull their sagging jeans back up?"  Is this another form of "Look at me!" by drawing ones eyes to hand and arm movements around their bottoms?  If so, someone really must find another fad to replace this drop crotch craze that's still raging.
Not far from my office, I noticed a young couple whom I'd worked with on and off for about five years.  They were nice enough, but there was always that underlying resistance to show any real interest in anything I agreed to show them.  It was a chronic, "We're just not sure we want to stay in Mason City."  I fully understood their fears given the number of jobs the wife has had since moving here.
The husband sheepishly informed me they found a house quite by accident and jumped on it.  After discovering the address and the amount paid, that's all I could think of was, "Just hope the market stays strong and you don't have anymore than one child because you'll be looking for another home, and more sooner than later."  I wish them well and hope they never darken my door the day they want to sell it because I remember the husband saying to me more than once when showing them homes, "Now Joe, tell me what you really think about this home." he was exceptionally fearful of over-paying in our market.
Just today I mentioned to one of my buyers how crazy the sale prices have been in Clear Lake.  I sure hope those feeding-frenzy buyers don't find themselves upside-down with their mortgages when they're forced to sell.  There's nothing happening in a great way in Clear Lake to warrant such spiking of home sale prices simply because their population isn't growing and their average incomes aren't going up.
Please be sure to stop by tomorrow's public open house I'm having at 323 – 6th St. NW from 1:00 – 3:00 pm.  The above photo is an exterior shot.  You'll fall in great like with it once you've entered!