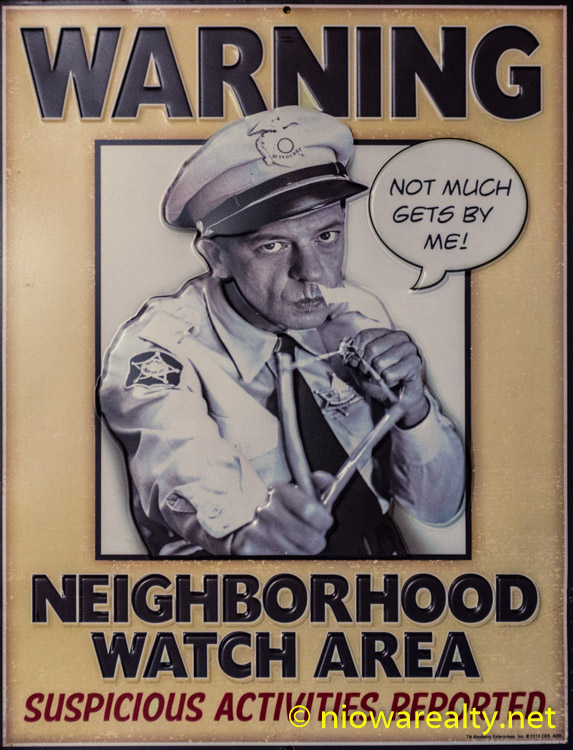 My morning started a bit earlier with my continued work on several files that are supposed to close next week, along with getting sales numbers together for a closing that will be taking place the week after next.  Yes, performing the job of a Realtor is not only dealing with the "nows", but also diligently working on transactions that are going to be coming to close in the foreseeable future.
Of course I also wasted some precious time while waiting for someone to arrive as promised today, but then had to chalk the appointment off as a "no show".  In this age of every form of cellular phones, there's absolutely no reason for someone to at least be courteous enough to call and cancel.
Some time in the near future, there are going to be several agents who are going to get scolded for their lack of respect of others as well as not following instructions.  Just speaking about protocol to another today, I felt myself being pulled into a conversation that evolved into nothing more than that person being "dismissive" towards me. For some, respect is not contained in their vocabularies. So I guess if there are those who choose to hear what they want to hear, and then become passive aggressive when hearing what they don't want to hear, then we've got problems.  Oh well, life goes on after we've had our says and sent down.
I asked someone later today who has worked with me for many years, if I really give the impression of being overly-demanding.  Since this person never minces words, the only response was, "No, you're not.  You are just one who has always wanted things done, and done right."  Those words were much needed after hearing some of those off the cuff comments about me which I considered un-true. I did mention to my long-time colleague how much more people in our work world side-step facts along with any form of confrontation–especially when a mistake has been made.  All the more people in our society are growing to where they'd rather have their head's shaved rather than bring themselves to take ownership of failings.
Please be sure to stop by my public open house tomorrow which is located at 2040 Hunters Ridge Drive.  It's a much larger than it looks townhouse that offers all the bells and whistles, and certainly for much less than if you'd be looking go out and have one similar to it built considering today's costs of construction.  I know we need rain, but I'll be hoping it won't during the two hours I'm there from 1:00 – 3:00 PM.
The above photo is the gift I received from one of my sellers yesterday.  It's a keeper!  I was instantly carried me back to much quieter and simpler times.  The Andy Griffith Show was one of our family's favorites when I was young.  My mother especially liked watching it.  I'm glad they're still playing the re-runs of those great many episodes.