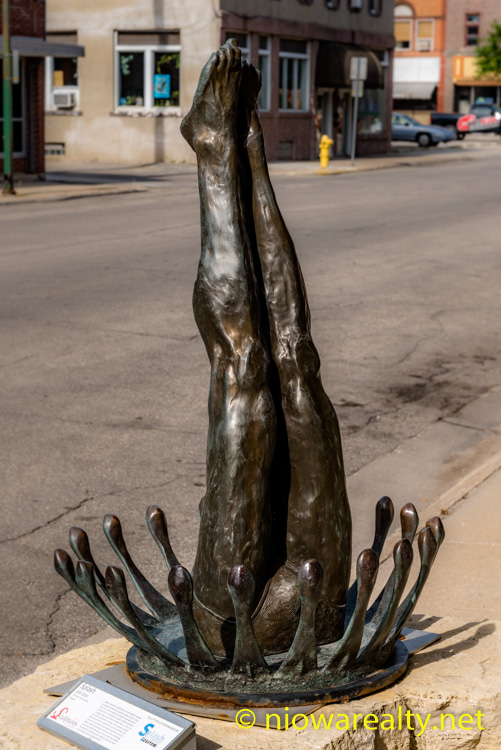 The dry winds we've been getting are starting to show their affect on North Iowa's landscape.  The grass has stopped growing, most of the soil is as hard as a rock, and even the trees don't seem to be as full of leaves as years past.  I've been really noticing it nearby with three old sugar maples.  Their canopies are usually so thick that you can't see thru them.  I'll wager this year, they're only half as dense.  Some of the old farmers have talked about certain signs to watch for when predicting weather cycles.
I'll never forget one year where the oak trees dropped so many acorns they nearly covered the ground, so I figured we were going to be in for a hard winter, and that's what we had.  I'm thinking the trees may "know" we're in for a drought so they're growing less so to conserve the energy/water required to survive a dry Summer.  I do hope that's not the case because there'll be many struggling farmers in our area.
I shouldn't say it because I may be "putting it out there", but I dare admit not one mosquito has bitten me thus far this year.  The biting flies are sure at it to where they're the first to begin annoying me while outside.  Just yesterday I saw one of the biggest horseflies I'd seen in a long while. I've also heard the tick populations are out of control.
Back to my stripping I went after my only real estate appointment I had this morning.  It took me much longer to do the same amount of paint removal than it did last Sunday.  Part of the reason was likely a very old gallon of stripper I purchased at Menards which is my personal bane.  When I opened it and started pouring, hard old jelloish stuff started hanging out its spout.  I had to get past the top third before it started getting more loose.
Another reason it took so long was the wind.  It was causing the stripper to dry too fast before it reacted to the paint.  So instead of going over it three times, I had to make it five. By the time I was finished, I was frustrated and more than hot under my collar.  The neighbor hollered over to me, "You sure are persistent."  I smiled and said, "Yes, and every time I promise myself to never strip old paint, I find myself right back at it."  He really is a gentle soul who freely steps out of himself often to help others.
I'm hoping everyone has remembered that today is the last day our City cemetery allows flowers at grave sites.  I believe you can keep them there as long as they're not in the way of their mowers.  St. Joseph/Elmwood Cemetery really is quite beautiful.  It's almost like a private park.  I'm surprised there aren't more people walking those little streets that wind about.  Just remember, it's not the dead ones we must be fearful of, but rather more so the ones still alive.
I'm hoping you all enjoyed these two days off.  I just spoke to a gentleman this morning who's getting a good tan from his time spent at our municipal pool.  What a great splash!