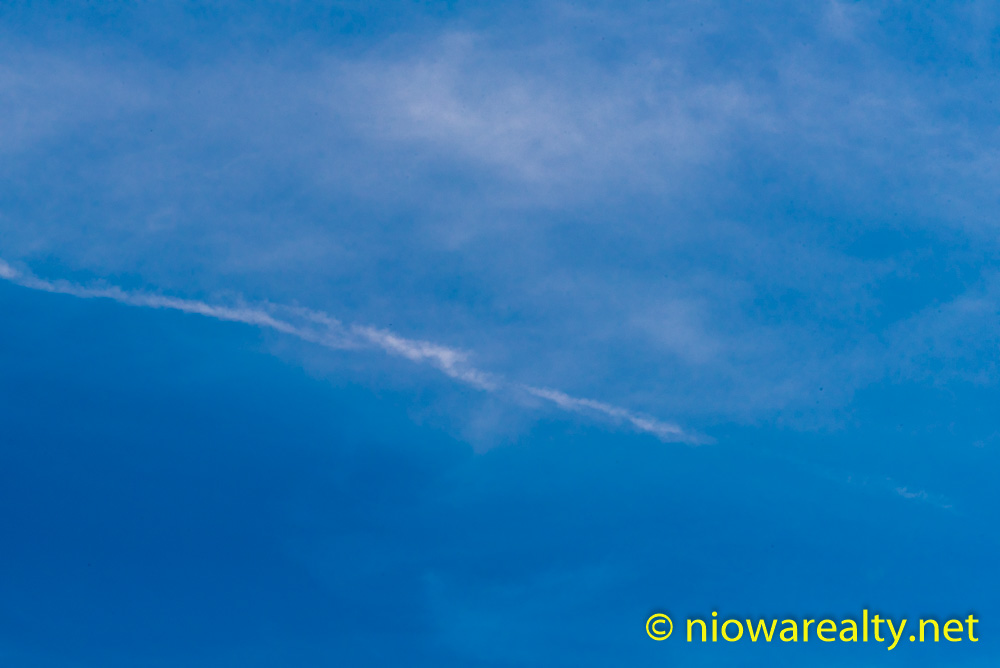 I'm not quite sure where all the hours of my day went, but while thinking back, I guess I did manage to get a few pressing things accomplished.   The first order of the day was to supply some additional information about the sellers on one of my transactions which was being requested by a title company.  I certainly don't ever waste any time getting any and all information needed for fear there'll be un-necessary holdups on my part.  As soon at the hour turned 9:00 am, I was on the phone with several people gathering the information needed.
With it being so terribly beautiful outside, I walked to as many Downtown appointments as possible.  The warm southerly breezes gave me all the more reason to be outdoors.  I guess I could've chosen a shoe type more suitable for walking other than the wingtips I put on this morning.  Oh well, with those noisy heels, I was likely heard before seen.   Just thinking about it today, I came to the conclusion there aren't as many tourists walking up and down N. Federal Ave. past my building as there have been in recent years.  It's not that I watch for them, but one can't help but notice gawking strangers outside. I've yet to find, as in the past, a young couple smooching for a camera shot in my alcove out front.  Perhaps the "time of the tourists" hasn't yet arrived and I'm prematurely expecting them to be here.
Since I was nearly all over our City on errands and appointments today, I'll say there are certainly a great number of "help wanted" signs posted about.  What are the high school and junior college students doing now that their summer breaks have arrived?  I hope they're not considering these many weeks to be their time to play.  As far as I'm concerned, there are far too many parents enabling their children which I'm afraid is going to come back and bite them some day.
A flattering phone call came to my office this morning from a person requesting a copy of one of the photos taken at the Band Festival.  I gladly fulfilled his request and emailed it to him.  Sometimes I do forget how many people visit my office website and read my daily writings.
One of my out of town appointments took me to Charles City this afternoon.  There was a really weird accident that took place on the Avenue of the Saints.  On the side of the road was parked one of those massive motor homes with its giant windshield blown completely out.  There must've been at least six law enforcement vehicles there directing traffic.  I'll have to watch the news to see if it was a newsworthy happening.
One of my clients mentioned to me several days ago, a crazy statement made to him about the trails that jet airplanes leave behind while flying over North Iowa.  I'd read some time ago about there being conspiracy theorists who're convinced those trails are mind-controlling chemicals our Government is releasing on the general public.  They've named them "Chem Trails".  Seems every day there are all the more crazy ideas that people get into their heads.  The unfortunate thing is that they're out there propagating their craziness.
I decided to take the above photo of a supposed "Chem Trail" and share it with you tonight. Such craziness!