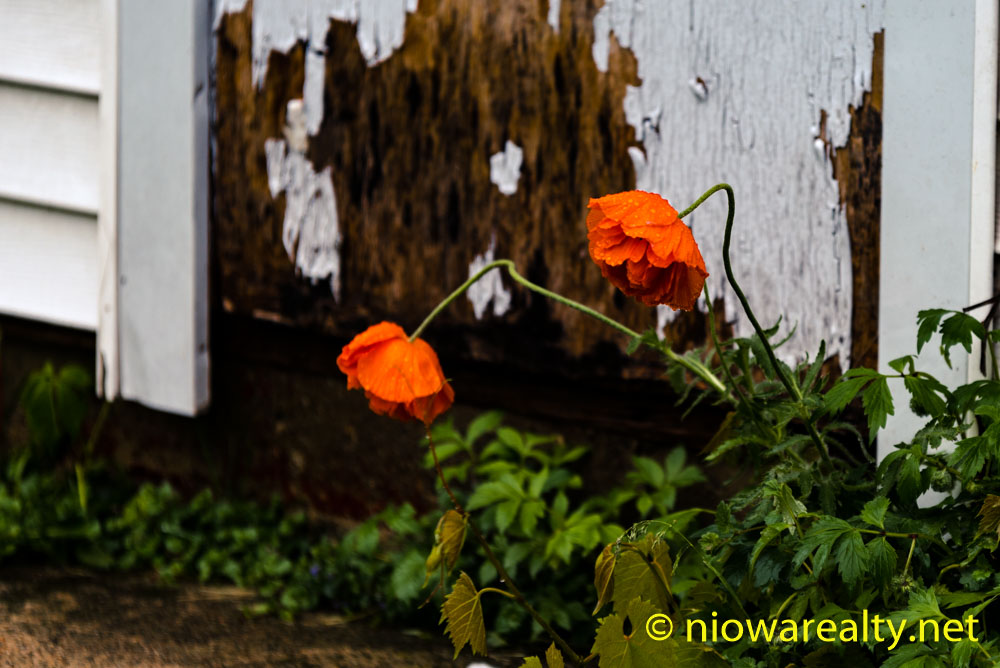 After yesterday's hectic day, I found myself playing catch up on desk work.  Of course I had to be outside when it started raining again.  Just when you think it's going to stop for a day or two, it starts up all over again.  There are going to be a number of people with exceptionally tall lawn grass before they're able to get it mowed due to the rains.
Someone placed a challenge to me this morning to find the phone number of a person living out of State.  I think by the time I finally found it, nearly two hours had passed.  This person was wanting me to get in touch with a property owner who was supposed to be selling his home in the near future.  Well, after I'd found the number and placed the call, I was informed that he'd already signed a contract with a private party.
I did have a nice chat with the gentleman whom I'd never met, but did cross paths with his father a number of years ago.  At least he didn't think me to be some crazy telemarketer.  Speaking of telemarketers, I received another phone call today from an area cell phone prefix that was another one of those electronic calls.  It was a female possessing a loud, and high off-pitched voice that was so annoying, I couldn't close the call fast enough.  Seems everyone's been getting those calls of late.  I wish I could think of a way to get them to stop it so they'll have to go out and get a real job.
One of the homes I showed today was nice, but far too chilly inside.  Some sellers are overly cautious about having a heating bill while gone, but they don't realize how much it hurts a possible sale.  I can't begin to remember how many times I've reminded sellers about the temperature settings of their homes when they're being shown.  Not only was it physically cold inside, but also visually frigid with all the walls having been painted cold colors. Cool colors are fine if they're in warmer climates with lots of natural sunlight entering to help counterbalance their psychological cooling effect.
Have most of you noticed how many potholes there are in our streets and highways?  Many of the main thoroughfares are not in the best of condition to where one not only has to watch for traffic, but also look for those random bumps that appear.  I dare say some are in desperate need of re-surfacing.  I hope the City and highway crews will be out when the weather is better to get them filled because I've heard other people complaining about their conditions.
Several days ago while showing a home, I noticed two poppies blooming near the door of a tool shed.  The contrasts between that old door and the vibrant orange of those poppies was striking enough to where I just had to take a photo of it and share with you.
Seeing those poppies blooming brought back memories of the many my aunt had in her flower bed, as well as being reminded of innocent Dorothy falling asleep in a patch of them in the timeless movie, "The Wizard of Oz".