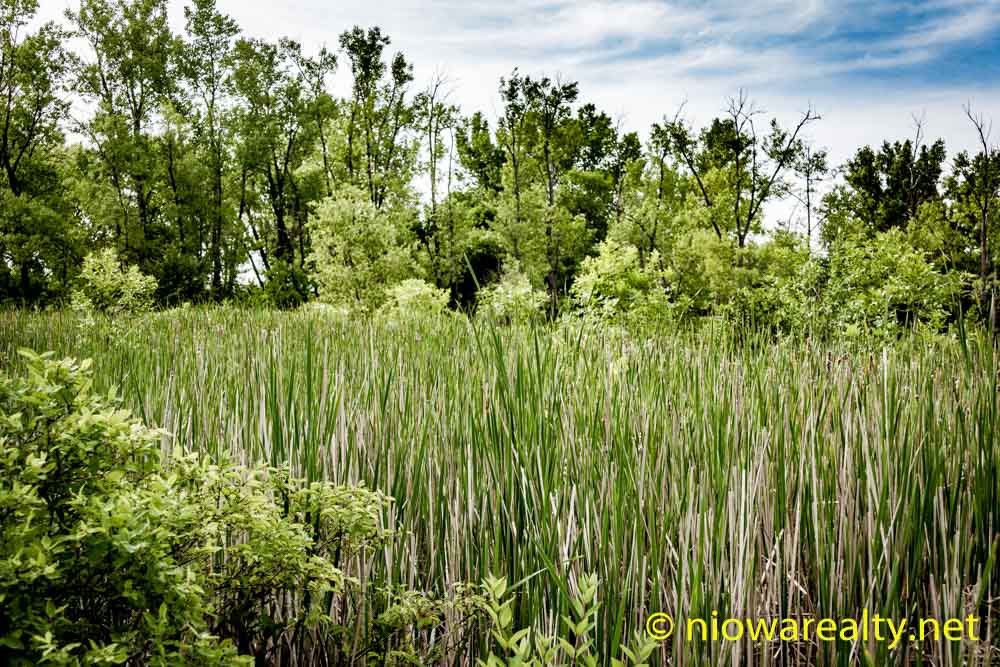 One of the summer by-products of rainstorms, is the following high humidity and heat.  I think this was our first of likely many hot and humid days.  I could certainly tell the difference whenever stepping outside my office today.  As the day wore on, it seemed to become all the more humid.
I spent most of my morning doing follow-ups on correspondence along with getting additional documents signed on recent sales. I did spend some time researching sales for some people who are looking at listing their home in the near future.  No matter what anyone says to the contrary, creating an exact sale price based on past sales isn't possible.  There are always those subtle structural differences with comparable sales as well as that ever-present human factor which can sometimes be the wild card.  Each and every buyer that walks thru a given home has in mind what it's worth based on their wants and needs.  The best we can do is create a price range in which a given home will likely sell, and that's it.  The rest of it is left up to a given buyer's discretion.
A young couple arrived at my office today looking for commercial property to purchase in the Downtown area.  I gave them as much information on the few that are available in hopes they'll call to schedule showings. What they've got planned sounds like it would be a nice fit for the Historic District.  It's always good to have enthusiastic entrepreneurs in our midst because it keeps the juices of commerce flowing.
Late this afternoon I received a price reduction on 628 S. Carolina in hopes it will create a quicker sale.  I'm surprised we haven't had an offer on it since it has five bedrooms plus another room that could be used as an office or den.  I think the one deterrent is the color of the exterior steel siding which is an unpopular green.  It would be a quick cosmetic upgrade if it were painted a more favorable softer shade of something. I've noticed the shades of gray are still in vogue.
I happened have a good chat with one of my colleagues today about how mindsets are evolving in our profession.  I did get a few light-hearted laughs when talking about the recent antics of some in my line of work.  I do really work at keeping still when stumbling upon such dramas taking place for fear whatever I'd say would make matters all the worse.  Some days the best we can do is just quietly walk away without a word.
One of my older clients whom I've worked with over the years stopped by the office with a document I needed.  As always he's  good at finding something to talk about that's comical. Today he said, "Whoever thinks people who've been married a long time have sex a lot is either dreaming, or in denial."  Of course I always have to think of something as a come-back.  I then said, "Is that why they never show older people having sex in the movies?"  He then had to have the last word by saying, "Now you know the reason.  Just thinking about it, I wouldn't even want to see myself having sex!"  Some days you just have to go with the flow.