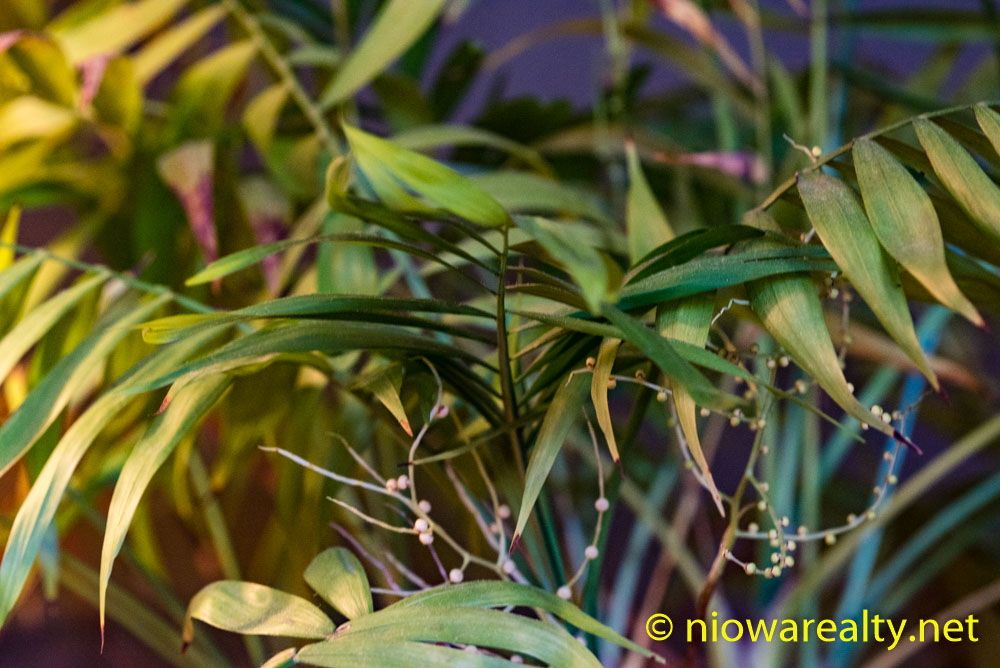 It's near unbelievable how warm it was outside today.  While I was showing an acreage, I was actually growing uncomfortably warm while out walking the land with buyers.  We all came to the conclusion it was unusually muggy.  With this hot house effect, the grass and flowers will be growing at lightening speed if this keeps up.
Since I had a few hours to kill before my open house today, I went back to an on-going project so to continue on with my mundane task.  One thing about doing extended mundane labor, is the opportunity given to do some deep thinking because I absolutely refuse to have any audio/visual stimuli interrupting my thoughts.  I'd dare not know what to answer if someone happened upon me and asked, "A penny for your thoughts."  If forced to answer, the poor soul would certainly walk away with head shaking.  I did manage to acquire a nice little cut on my knuckle and a jab on the top of my hand for not paying close enough attention due to being distracted by my thoughts.
There weren't as many people at my open house at 628 S. Carolina today.  Likely everyone was out enjoying the weather and hopefully cleaning up the trash around the outside of their homes.  I said to one of the visitors, "Where in Mason City can you find a six bedroom home with a triple garage under $80K?"  He certainly agreed but also mentioned how much larger and in better shape it was than it appeared to be from its exterior.  We all must remember, a good book can't be judged by it's cover.
Speaking of books.  How long has it been since any of you have read a book?  Before the hours of my work day grew longer, I used to always be plugging away at a good read.  I just finished up one about a month ago that was inspiring to the point where I went back and re-read several chapters.  One must also broaden the subject matter so to keep from being pigeon-holed as a "one-subject" reader.  When I was young, I read a number of recommended classics, but now I prefer more obscure material written by yet to be commercialized authors.  I actually read several novels written by highly regarded contemporaries, but I've yet to be smitten or fallen head over heels by their styles.
After reading about the chemical murders of the innocents in Syria, and the bombing of a Coptic Church in Egypt, I'm all the more convinced humanity is growing sinfully brutal.  There will never come a time in my life when I'll believe the murder of innocent children justifiable.  Everyone thinks it's all about religion, but it's not.  It's all about power, greed, and absolute control. The cloak of it being some sort of holy war, is what only the ignorant with shallow minds believe.
It sounds like I'll be getting several more listings this week, and I can say I got a good start by getting a home sold today.  Not to worry, I did make time to visit one of my favorite churches this weekend and had a memorable Palm Sunday experience.