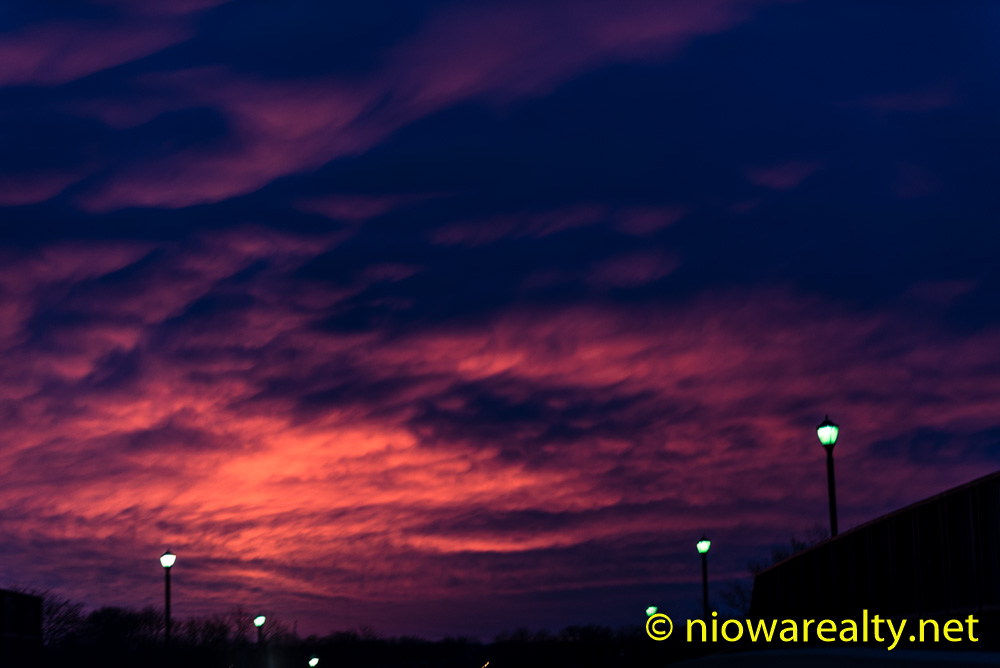 In the realm of real estate sales, one never really knows how the day is going to unfold–even if nearly every hour is filled with scheduled appointments. It's what some may believe to be our blessing or curse. I actually enjoy the element of something new or memorable happening every day to where if nothing worth remembering happens, I chalk it off as being a blah day.
Oh how wonderful it was to have the sun out the full day. Seems nearly everyone I encountered mentioned how pleasing it was to have sunshine. I just happened to show a home for the second time today to a buyer that had seen it for the first time on a very gray day. Of course today the home's "feel" was much better along with being brighter.
Sometimes I liken myself to be a forensic investigator while walking thru a home that's had remodeling or additions added. Having learned what to look for over the years, it's not hard for me to step back and tell a given buyer what a home looked like before changes were made over the years. I'm not saying I can always get it right, but most of the time I can peel back the years in my mind and see what was originally there.
Around noontime I happened to run into a salesperson Downtown whom I hadn't seen for some time. We talked about this and that as well as bringing each other up to speed with our own successes so far this year. She went on to tell how when competing with other salespeople, she's found that with a certain few who are considered the real heavy hitters, they noticeably say and do just about anything to make a sale to where she wonders what their real motivations are because their current financial standings certainly don't warrant stooping to such levels just to make their sales.
I couldn't help but laugh and say, "You know, we even have them in our business to where you'd swear they have a half dozen young and starving children at home standing around a stove with a big bubbling pot of nothing but broth in it save but one onion bobbing around, waiting for mamma or papa to bring home a half-dead chicken to throw into the mix." She laughed and said, "Wow! That was a real visual, but certainly fits the type of desperation some have to get a chicken choked so to feed their starving children at home." Everyone gets buried exactly six feet or gets toasted, and certainly aren't carrying any suitcases of cash or bags of gold with them. So what's the point of it all?
While glancing at the news today, I couldn't help but read an editorial that was re-published in "our" Globe Gazette from a newspaper in Arizona. What boggles my mind is why anyone should want to speak about someone's opinion regarding Mike Penca's appointment as the new Superintendent of Flagstaff Arizona's Schools. Evidently someone must have an axe to grind and just won't let it go. He got the job and he's happy about it, so everyone should just leave it be, and let him get on with his life.