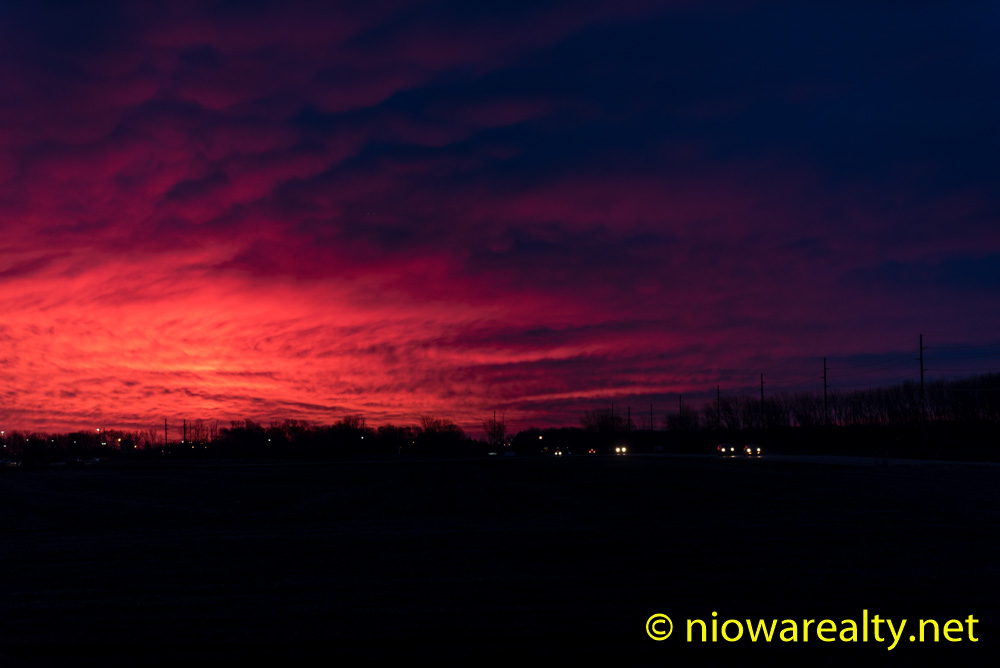 It seemed to be just one of those rainy days where no matter how much I tried to keep everything on a smooth course, there appeared all the more side-tracks and bumps in the road, as well as the day I would encounter an exceptionally priggish Mrs. Grundy.
I would say the highlight of my day was having an opportunity to show one of my listings to the most charming of couples along with their extended family.  Just as we were walking out and chatting about this and that, the father of the buyer mentioned something about living on the family farm that had been in his family for a number of generations.  I couldn't have praised him more for making the choice to live on the very same place his great grandparents built way back in the 1870's.  I felt compelled to share with him my story of a century farm.  When walking to his car I said, "Keep up the good work in preserving your family's living heritage."
With the advent of corporate investing in Iowa cropland, there are all the fewer century farms left in our State.  It makes me sad because we can possess all the photos and memorabilia surrounding our family's heritage, but when having the opportunity to live on the very same farm your forefathers built–it's truly something special.  Some day when I'm gutty enough, and talking to someone who lives on a century farm, I'm going to ask if there's ever been any happenings on the supernatural side while living there.
I'll never forget the hair-raising tale a woman once told me about a home she was selling to her grandson which had been in her family since it was built.  The home wasn't as old as a century farm, but certainly old enough to have seen the good, bad, and ugly.  She mentioned while living there having seen her father standing in the doorway of her bedroom more than once during the years she lived there.  I asked her, "Does your grandson know about your sightings?"  "Oh yes, I made sure I gave him the full disclosure regarding my home." she said.  It sounded like he was actually looking forward to having a few experiences of his own.  Oh Mercy!
If the weather isn't so nasty tomorrow, I'm hoping to have another home on the market.  The neighborhood and condition alone should create a quick sale.  It's also in the price range that seems to be in short supply and high demand in our City this year.  I'll have to see what the weather is going to be like this weekend as I may even have a public open house on it.
While driving to the office this morning I had a chance opportunity to get a photo of dawn's blazing red sky.  Since it turned out better than expected, I thought it worthy to share with you all.  Do you remember the old saying, "Red sky in morning is a sailor's warning"?  With the way today's weather turned out, I believe it to contain more than a single thread of truth.  It looks like Spring is ushering itself back into our North Iowa.