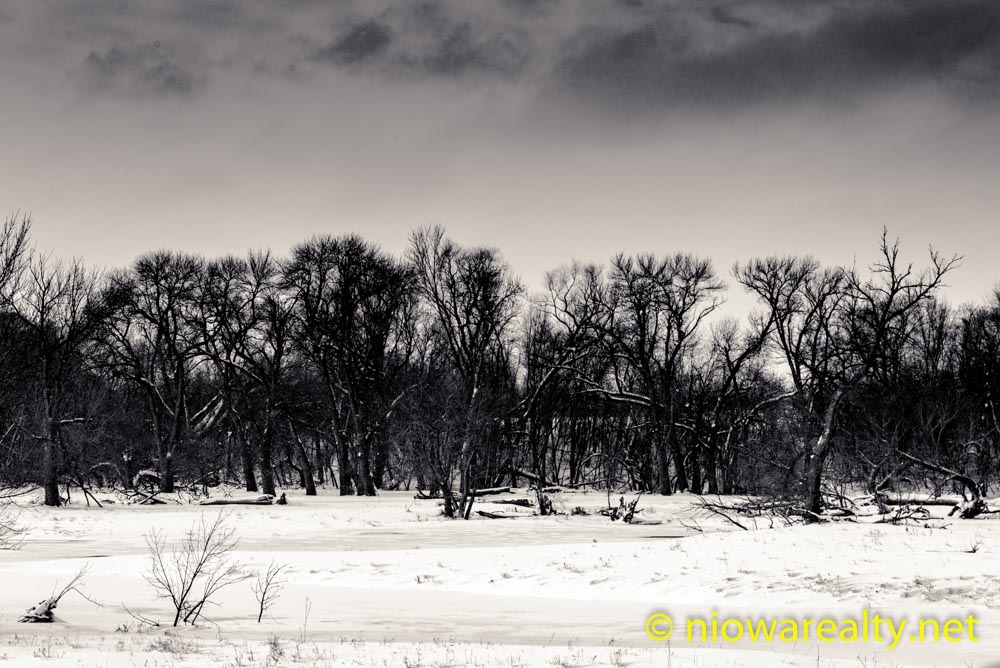 I'm so happy we still have a good helping of downright nice people living here in Mason City and North Iowa.  In spite of the recent polarization of those small groups of ultras, there still remains those who're walking their "center of the road" paths of understanding what community is all about.  Unfortunately, the ultras have the biggest mouths and like to be heard the most loudly and clearly.
On Sunday, the nicest couple arrived at my open house who were just wanting to see the home since they'd never been in it all the years they've lived in Nora Springs.  After looking it over, we happened on the subject of recent events in North Iowa and how oft times the news being read and heard are a bit skewed by reporters not telling the rest of their stories.  There are always those "rest of the stories" people don't hear about because they're not sensational enough to be printed or posted online.
Tomorrow will take me out to another home that's close to being ready for a yard sign.  The sellers have been great to work with and I appreciate their having listened to my suggestions in getting it ready for sale.  It's in a highly sought after neighborhood and if it's priced right, it should be sold relatively quickly.  I'm excited to see it again.  Since the seller and I have been sharing some stories about a certain age group we encounter on occasion in our professions, he'll be sure to share a few more concerning the unreasonable demands that are asked of him.  Several of his past stories had me laughing beyond a giggle because he's very good at re-enacting situations.
Since I've been so busy with clients and customers, I was later than normal at getting my monthly accounting done.  In sharing with you all the following, you'll for sure be convinced I'm a bit touched.  One of the accounts that gets balanced every month somehow came up long a penny.  A penny mind you!  I looked and looked, and looked some more until after about a half hour of going back over lines of numbers, I discovered the bank and encoded one of the checks wrong in the amount of a penny.  Naughty bankers!  I remember too well when working in an accounting department at a bank many years ago, I wouldn't even allow a penny difference get thrown into errors and omissions.  Some of my colleagues at the time thought me possessed when turning my searches into near missions of impossibility.
Of all the mornings, I was called out to an acreage where I was to meet a gentleman from the County to test its well water.  While standing out in the middle of a dooryard, I felt as though I'd stepped into a flash-freezing machine.  To think of all days, I was out there half frozen with my nose peering down into a well pit. I told the gentleman, "I'm really not a baby, but even when young on the farm, the cold always went to my bones."  He laughed and said, "You don't have the natural insulation I have."  Sometimes we just have to suck it up and do what we have to do even in times when it couldn't be colder.