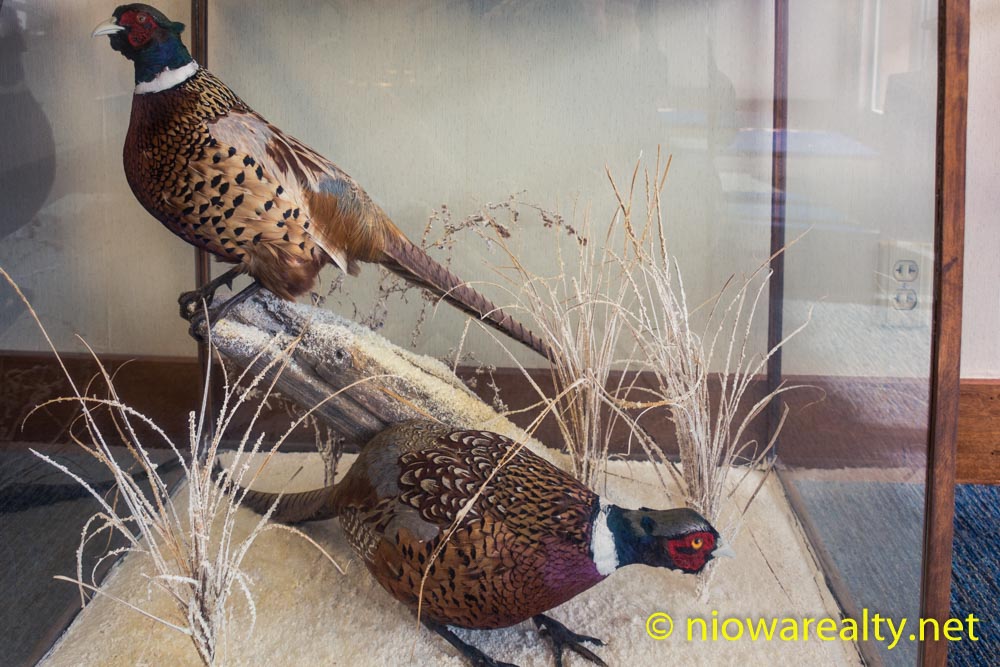 I dare not say how early I was out on the road this morning while on my way up to Fertile to pick up a sold sign I had on that charming home I had listed which closed later today. While driving up there I kept thinking to myself, "Mr. Chodur, you know better than driving the highways just before dawn—especially when you're exceptionally fearful of hitting a deer at high speed."  At least I got up there and back without a hitch.  I was reminded again how much faster some of the 18 wheelers drive when it's early in the morning and having the Interstate nearly to themselves.  I cringed when hearing one of my customers having just recently hit a deer driving to our City from Sheffield.  The damage it did wasn't pretty.  I think we should educate the deer to where they learn to cross at lighted deer crossings.  There'd be flashing yellow warning lights being tripped whenever they approach their crossings so to alert the drivers.  Sounds like a good idea don't you think?
Since I was back to the office over an hour earlier than normal, I was able to get more prep work done on several closings that are coming up next week without being interrupted by phone calls.  I learned a good number of years ago how much more efficient I can be with files when able to work on them in near complete and un-disturbed silence.  I don't care how many think they can efficiently multi-task, there's still a much greater risk for error when falling out of focus due to a distraction or two.
Speaking of distractions, I worked with an associate some years ago who reveled in multi-tasking, but yours truly was the one who'd have to review her files so to make sure everything was correct.  Yes, there were numerous times I'd find errors and omissions in her entries.  It didn't take me long to realize how futile it was in trying to get her to stay focused whenever she opened a file.  It's not that she wasn't intelligent because she was, but keeping her "plugged-in" for an extended period of time was an exercise in futility.  Oh but how good she was in keeping her crowd captivated by all her colorful stories and anecdotes.  Her clients and customers thought she to be quite the clever one, but if they only knew how many times I'd heard those same tweaked stories time and time again.
Yes, the closing on my listing in Fertile was well beyond a soft landing to where I think we'll be crossing paths again.  I was sure to mention the acreage I have listed there along with asking them to spread the word about that charming homesite.  When the weather is better, I'm going to have a heavily advertised public open house on it.  Every time I'm there showing it, I have this absolutely "grounded" feeling about the house, the workshop, and of course that near five acres of old growth timber.  Whomever is the lucky owner will consider themselves blessed having had the foresight to purchase it.
I was in Charles Biebesheimer's Law Office today which is located at 304 Main Street in Clear Lake.  In the waiting area of his office there's a much talked about glassed box with two taxidermied pheasants in it.  After I finished my business with him I asked, "Do you mind if I take a photo of your pheasants?"  He was actually delighted I asked, thus I now share with you my photo of his pheasants under glass.  And yes, he did say it was OK to say where they're located.