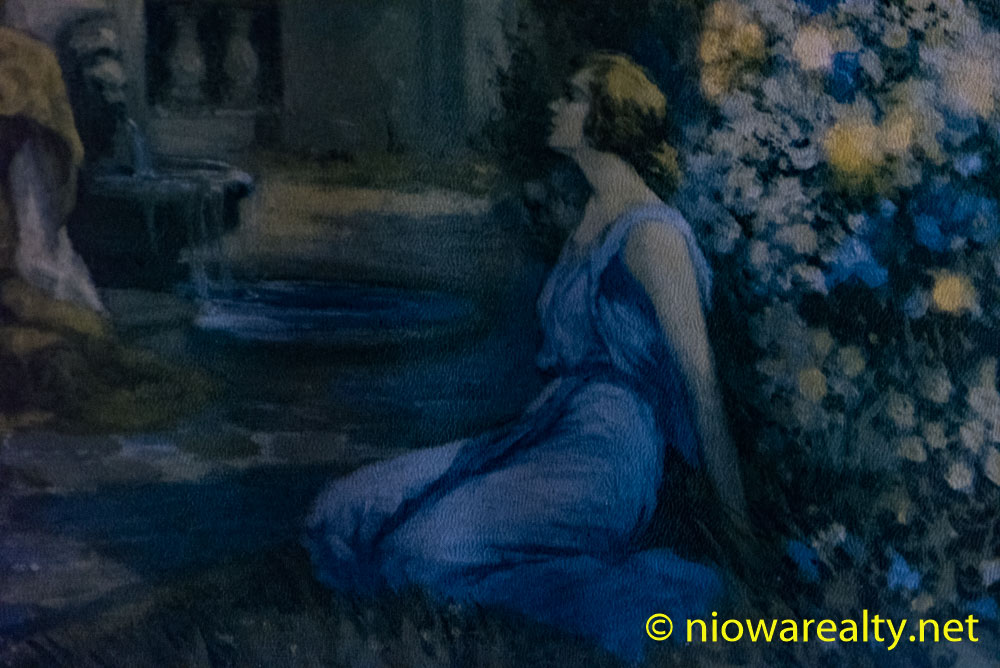 Thank goodness the wind finally started going down and the sun warmed the City up enough to get some of our slippery streets and highways melted off.  I don't even want to think of how many cars and SUVs I've seen in the ditches these past three days.  I only wish people would be more aware of the road conditions when traveling.  I've seen far too many people go whooshing past me while driving on snow and ice covered roads.
My public open house at 703 – 11th St. NE was a great success today and I'm hopeful there'll be an offer on it soon.  It really is a fine home that not only has good bones and in great neighborhood, but also has been meticulously improved to where there'll be no big ticket updates needed for a very long time.  The garage is brand new and fit for anyone wanting a clean and roomy garage in which to park their pampered vehicles.  Without a doubt, it's one of the most comfortable homes I've been in of late.
I had some more shoveling to do today and when I pulled out my small metal shovel I said to a group of four, "I'm sure likely not one of you would know what this shovel was originally used for many years ago."  There were two older ones and two younger ones, and to my surprise one of the younger ones said, "It looks like a coal shovel."  "You're absolutely right."  I said.  I was very surprised by such a young man having known what type of shovel it was.  I went on to say, "When the snow is just like this snow cone ice, I find it much easier to scoop."   Anyone trying to move that heavy stuff with a normal shovel is just asking for pulled muscles and aching backs.
Later today I got into a bit of a debate with someone regarding what appears to be a rapid moving away of our younger generation from attending the same churches their parents and grandparents attended.  I listened intently to the reasons why he believes there is this falling away.  He thinks the main reason is that there's not enough focus being placed on getting the younger generation more fired up to where they feel included.
After he finished, I gave him my "take" on why this is happening.  I began by saying, "It isn't what's happening within the churches because it's been pretty much the same business as usual with the exception of a few laws that should have been changed generations ago.  What I'm convinced is driving the young away, is their continuous need of external stimuli—just as they're receiving in a non-stop fashion out in our world.  Multi-tasking and multi-sensory stimuli is what keeps them charged.  It's sort of like being in need of a constant form of passive entertainment."
He did acknowledge what I had to say, but I'm still not sure he "got it".  Now let me ask all of you this.  "When and how often during any given day do any of you have absolutely no cell phones streaming, no computers on, no background music, and no artificial visuals reeling to where you're simply seated someplace and devoid of everything electrified?  I can assure you the key to many of the psychological problems growing in today's society is that nearly everyone has forgotten how to physically walk thru a door and place themselves into a state of contemplation?"
And now I ask you, "Have you ever wondered why when in years past you'd walk into a church and there'd be people quietly seated long before the services were to begin?"  I'm confident they were performing their own forms of contemplative spirit/mindful healing.  So, the next time you see people in a place of worship seated alone and appearing to be a bit lonely, leave them alone.  They're likely savoring every moment far more than even the best audio-visual performances they've ever attended.
In conclusion, I believe we've nearly lost our millennial-old art of contemplation.  I went to a funeral some years ago of one of my absolute all-time favorite attorneys who was one of our area's masters of the art.  As a footnote, his wife once said to me, "I'll never understand how he can sit out there in the clearing of those woods on that bench for so long!"  I simply smiled at her at the time, and without saying,  I fully understood.