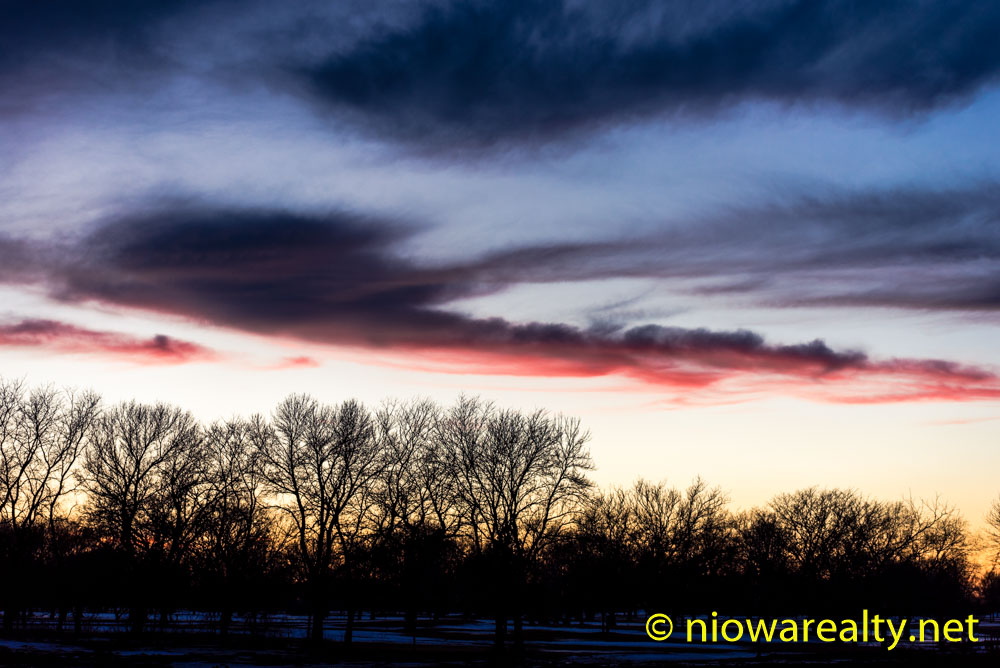 My early morning appointment took me on a most delightful drive to show an acreage.  Since I purposely arrived there early enough, I did some exploring on my own before the buyers arrived.  What I noticed first off were the exceptional views from nearly every window in the home.  Another feature I really liked was there being no close neighbors.  When the buyers arrived and walked thru the home, the wife teasingly said to me while looking out over the countryside from the second floor windows, "Wow!  I think you could walk around in this bedroom naked with all the shades up and nobody would see you."  I must've turned fifty shades of red when she said that.  Yes, she does know how to get a blush out of me.  But she was right about the privacy.
While at the Post Office today, another customer whom I've been working with on and off over this past year mentioned how she and her husband will be getting in touch with me about looking at acreages again come Spring.  Of course the foremost requirement is not to have close neighbors.  She said, "The point of living in the country is to not have another house across or close down the road."  I did mention her requirements are very much the consensus with nearly all of today's acreage buyers.  They also don't want to live on gravel unless it's only a short stretch.  I still don't understand why the counties of Iowa won't just go ahead and bite the bullet by blacktopping all our State's gravel roads and be done with it.  Just think how our Counties tax revenues would increase due to more people building expensive country homes.  Maybe some day they'll be forward thinking enough to do it.  Cerro Gordo County would certainly put itself on the radar if all our gravel roads were blacktop.
Today I was finding every reason to be outside including taking the last load of unwanted boxes from my office to the dump.  While waiting for the scale at the landfill, I looked and noticed it was 58 degrees outside.  It almost felt like a pleasant early April day without the Spring flowers blooming.  Speaking of Spring, I noticed there being a whole lot of trashy yards around our City, and I do hope the residents will be a little more pro-active than they were last year about taking care of their yards.  It bothers the heck out of me seeing lawns and shrubs being neglected.  When they get really bad, I'm not opposed to making my opinions be known to the public.
A home I had listed for rent about a month ago got rented today.  I took it off the market due to the extreme overload of callers to where there were several days when the phone was ringing nearly non-stop.  I'm glad I did stop advertising it because the new tenants just happened to stop by several days ago asking about rentals.  They both have been at their jobs for over a year, their court records are clean, and have more than enough in combined income to support their housing expenses.  I must say, some of the calls and emails I received about a month ago certainly brought me up to speed on how much of a shortage of fair-priced and clean rentals we have in our City.
Speaking of clean, please don't forget about the public open house I'm having tomorrow at 422 S. Tennessee Place.  We just got a drastic price reduction on it so I'm looking to see it sold soon.  It's all the more clean and maintenance free than one would ever expect.  It even has a balcony for pleasant evening's enjoyment. And remember, there'll be no more shoveling, so you'll be able to ditch your snow shovel for good.  It really is a great value.