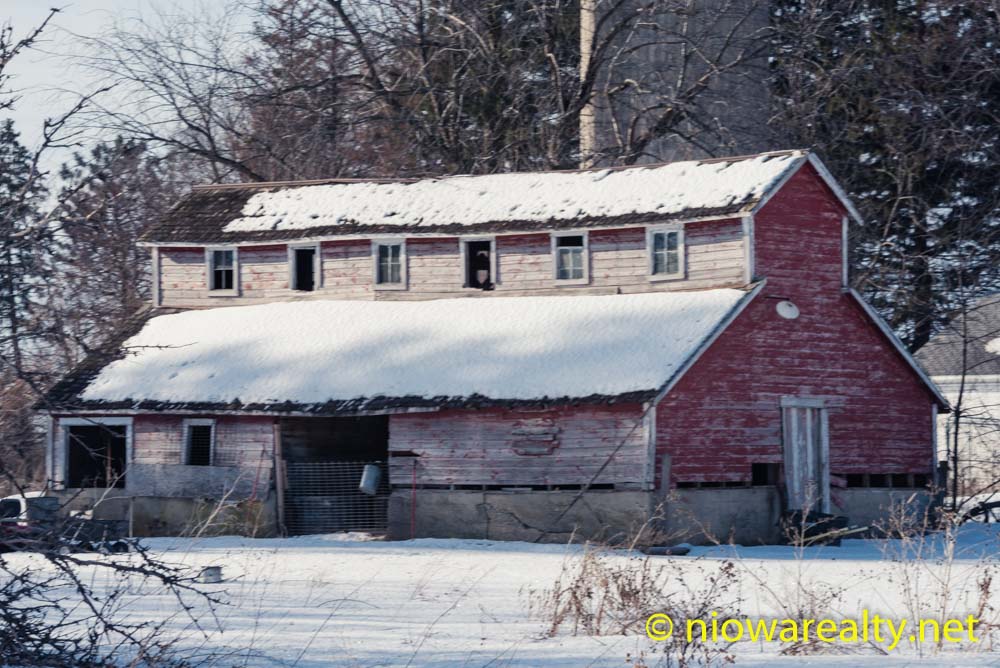 With only one pressing appointment today, I was able to finish up my tax preparations so they're now ready for my appointment with my tax accountant.  It was a bit more of a daunting task again this year because of not only having my own to do, but also my mother's.  I was saddened while doing hers because it took me back to the time when she was still alive. There were a few times I could see and hear her voice in my mind.  Counting the number of funerals I've attended these past twelve months of well knowns, I'm remaining hopeful we don't loose any more fine minds belonging to our community.  When in her prime, I considered my mother to be a walking calculator as well as having an exceptionally acute memory.  A few of my nieces and nephews came by their mental capacities honestly via my mother.
One of my clients changed his nearly new front and storm doors of his home just recently and asked if I would be interested in them.  I stopped out there yesterday to have a look and gladly agreed to take them.  I did have to borrow a pickup truck this afternoon to pick them up and place in storage.  If I can't find a use for them, I'm sure one of my clients or customers will be interested.  I do have a house that they'll likely fit on when I get around to making a few improvements on it.
Over the weekend I talked to a gentleman about 1707 S. Federal which is the restaurant/bar I have listed that's doing business as "Patricks".  It certainly should have had at least an offer on it by now simply because of its location.  If I had an inkling to change careers, I would jump at the chance to own it.  I could see it being re-fitted into a more millennial friendly bistro that would offer stellar lunches and lighter evening meals.  I would offer free WiFi, really big TV screens, great drinks, and top notch service.  Because of the size of its parking lot, I would even consider having a drive-thru.  If there were a drive-thru there right now, I'd stop for a take-away lunch.  It gets rather boring after a while going to the same old drive-thru's that dot our City.  And of course, it's always better to patronize our local businesses as much as possible.
I'm really starting to notice the days growing longer now and certainly glad of it.  It's may sound strange, but the windows at the back of my office don't get any sun shining thru them for about three months during the winter due to the position of their, and how low the sun hangs in the sky during those months.   About a week ago, I noticed the first rays starting to peek thru for about a half hour.  I've grown accustomed to those sunless months and quietly refer to them as my "dark morning months".
When I was over to the hospital last week and walking down its halls, I began noticing many windowless offices.  I thought how fortunate I am to have real natural light filtering into my office work area.  If I had to be in a windowless office all day and every day, I'd be fit to be tied.  I'm sure those workers have grown accustomed to it, but surely it must have an effect on their attitudes.  Just consider how many millions of people work in their prescribed windowless worlds while busy scurrying along on their custom-fitted and corporate issued gerbil wheels.