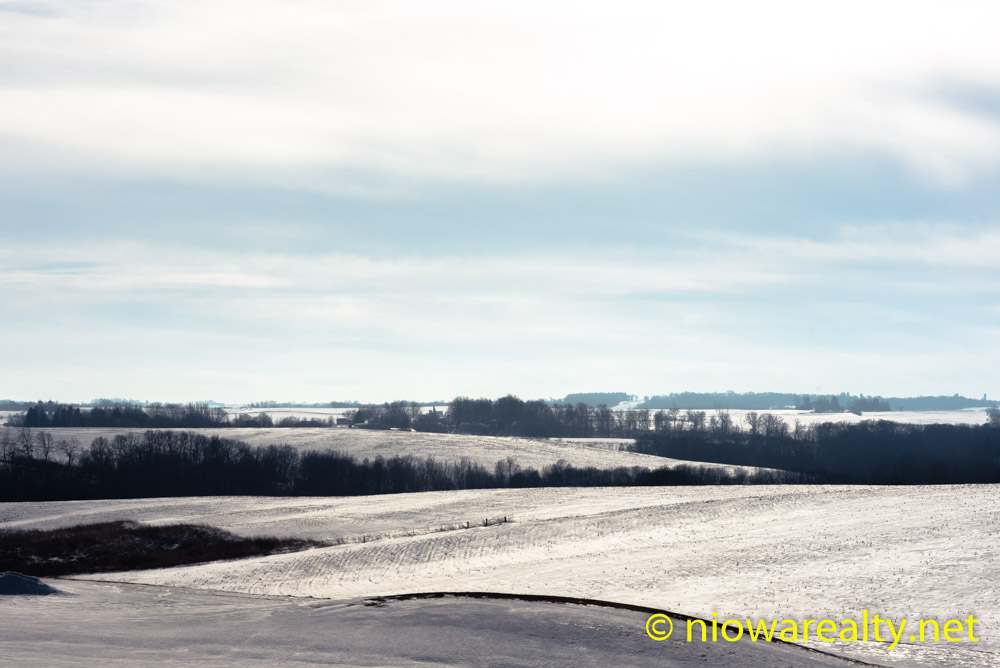 It was far colder today than I was expecting, especially with there being a northerly wind blowing.  I'm in hopes it will get above freezing tomorrow since I'll be hosting a public open house at 507 – 4th St. SE here in Mason City.  Whomever was supposed to be shoveling at the house must have forgotten about the sidewalk leading up to the front door, so I'll have to get over there in the morning to get it cleared off.
In spite of the frigid temperatures this morning, I had an absolutely delightful drive up to Fertile to show the acreage I have listed located at 305 N. 1st Street.  Just for everyone's information, driving from my office to that acreage took exactly 20 minutes.  Now just consider how long it takes many of us to drive from the east side of Mason City to the west—especially with our traffic lights that aren't the most accommodating at times.
The potential buyer was very much surprised by the good bones the home has as well as the size of the workshop that's located in a perfect spot for someone who's looking at starting a small business.  The horseshoe driveway makes for easy entrance and exit from the building site.  Yes, the home does need a few repairs and a big helping of cosmetics, but as a whole, it's a darned good bargain when comparing it to other acreages in the area.  I don't even want to think of some the rickety glossed-over country homes that have sold for many thousands more.
When talking to another person about the acreage today, he mentioned that if he owned that acreage, he'd fence off those 5 acres of woods and turn loose a small herd of goats to get rid of all the weeds and underbrush.  I laughed and said, "Now that's not a baahhhd idea."  I went on to tell him how familiar I am with goats from my younger years.  I couldn't help but share with him a story my grandmother told years ago.  Paraphrasing her words she said, "We always had a big herd of sheep and a few goats on our farm, and one day I looked out and noticed the top door of our brooder house was open and one the goats had his neck hanging inside.  I went out to see what mischief he was creating, and to my shock I found him eating my baby chicks! From that day forward I never trusted another goat."  After my little story, the listener said, "Well, they must've tasted like chicken, and you know chicken is always a favorite."
One of my clients mentioned later today how utterly frustrating it is when dealing with customer service departments of large corporations.  She went on to say, "I spent over three hours being bounced back and forth between customer service departments of two corporations.  Many of them can barely speak English, but the real upset was my discovering they really didn't know what they were talking about because one would say one thing, and then the next call to that same department I'd get another answer to where I finally decided they were just pulling answers out of thin air just to get me off the phone."  I fully agreed because we've all "been there" and "done that" when dealing with corporate America.  Don't you just want to say to them like someone did in a reality show where he said, "You're fired!"