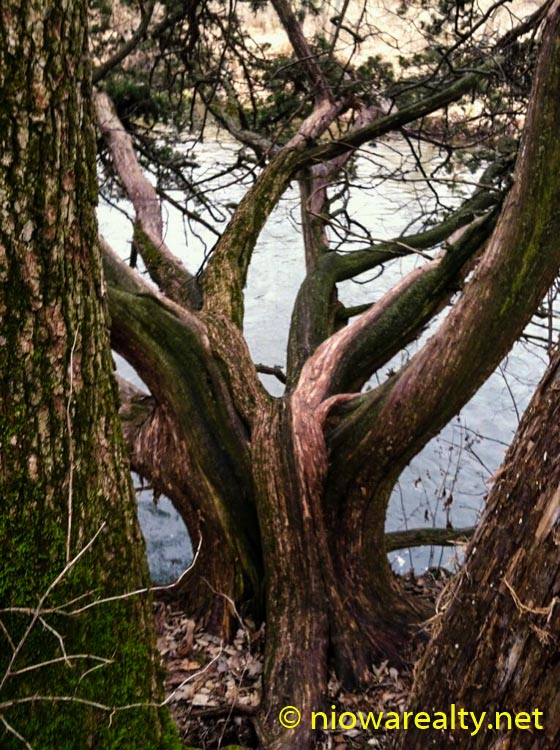 I'm sure everyone's been delighted to see it above freezing these last several days which has been helping to get our recent heavy snow melted off.  Of course with these drastic temperature swings we had this month ranging from -20 below zero to nearing 40 above, the nasty byproduct of those variations are all the potholes appearing all over our City.
Just these last several days, the number of ruts seem to be multiplying exponentially.  Just today, I had to swerve to miss a line of them.  While crossing the railroad tracks on S. Carolina this afternoon, they were so deep, I thought they were going to damage my car's suspension.  I feel sorry for all the people who're driving low-slung vehicles in this weather.  I'm sure there's been a number of "bottom-outs" while driving thru some of our angular residential intersections.  That railroad crossing at 9th NW is like driving over a giant washboard.
Having been so terribly busy these past several days, I haven't even had time to read the news.  Now that's especially unusual for me due to my continued desire to stay plugged into our world events.  It's probably a good thing to have a break from it considering all the sweeping changes we've been seeing since our new politicians have taken office.
Every year, there's a bus trip that's offered which drives interested Realtors to the State Legislature for the entire day.  With the exception of these last four or five years, I used to try to make it every year.  It's interesting to see our State government in action as well as meet with some of our Senators and Representatives.  I'm hoping next year will offer me the time to take a day off and re-visit our Capital. As we all know, the most pressing things come first, and believe me, I've had a good dose of them this past year.  I'm eternally thankful to have some of the most dear and supportive friends.
I had an appointment late this morning with an attorney in Clear Lake which I was noticeably late for due an intervening circumstance that had to be addressed.  After the meeting, I decided to grab something quick at Cabin Coffee on Main Street.  That place always seems to be busy.  I ordered a white tea and a slice of coffee cake and to my surprise, it came to well over seven dollars.  Yes, the tea was good as well as the cake, but WOW, that was an unexpected price tag.  I don't think I'll be one of their regulars, but instead consider it a charming place to treat myself on rare occasions.
One of my dear clients forwarded me the above photo she took of an ancient red cedar that's growing along the banks of the Shell Rock River on the Greenbelt trail.  As soon as I saw it, I was determined to share it with all of you.  Most have no idea how slowly our native red cedars grow.  Without question, that tree is well over a 100 years old.  She said something that really stuck with me about it and that was, "Can't you just "feel" its texture?"  Yes, it's a perfect shot to share on our last day of JanuAry.