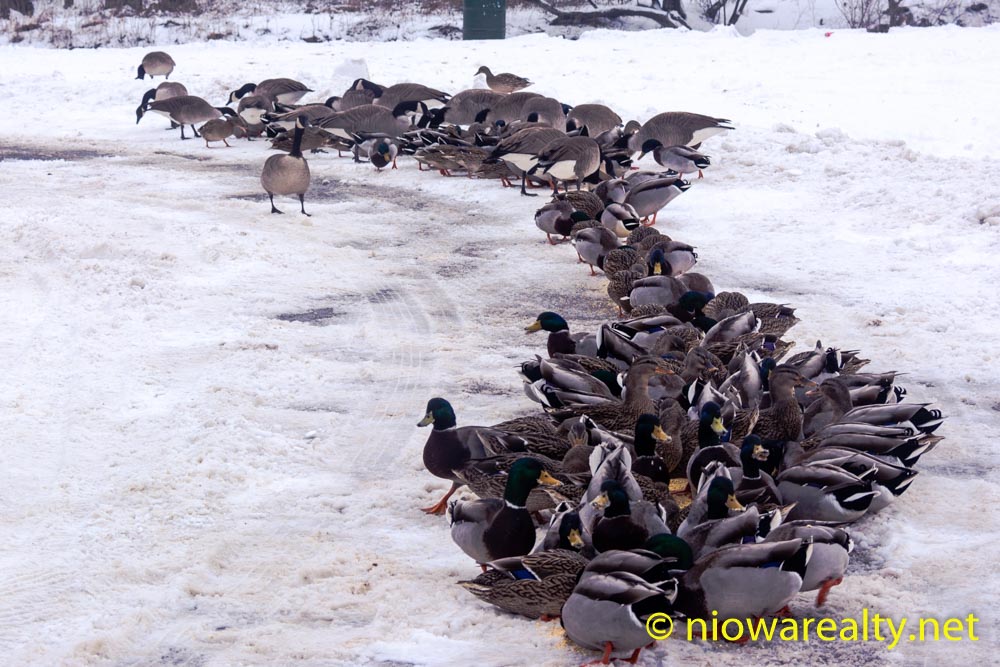 As I'd expected, the City crews were not out yesterday to at least do a once over on the streets to remove the slush, so therefore we now have streets that look and feel like driving over endless washboards of ice.  I do hope our temperatures rise enough this coming week, which it looks like they won't, or we'll be doing our share of bouncing around on side streets until we have another thaw.
It gave me the shivers when seeing an SUV with a pull-behind trailer deep in the ditch at the bottom of N. Eisenhower hill at the 12th St. NW intersection.  I hope there were no injuries.  Just as I drove past, there was the driver of a tow truck scratching his head and likely thinking, "How in the 'H' am I going to get them unhitched and out of this ditch!"  There was another vehicle across the intersection also in the ditch.  I'm sure they lost control of their vehicles last evening in that cold rain and heavy wind that was making for "greasy" road travel.
We sometimes find we need to have things happen more than once to make sure they're hardcoded into our memory banks.  While I was getting my hair cut last week, my barber asked, "How did you get this cut on your scalp?"  "Well, I somehow forgot that when it's very cold outside, the hydraulics on my vehicle's back hatch doesn't raise as high as normally, so I got another gash similar to one I received several years ago." I replied.  He laughed and said he'd done nearly the same thing with his trunk lid, only he didn't hit it hard enough to draw blood.  Yes, we can laugh later about the careless things we do, but they're not so pleasant at the time.
Still having cracked corn at my office, I filled another pail and drove off to feed the "duckies" late this morning.  It sure didn't take long for them to recognize me and my vehicle. Before I'd even stepped out of my car, some of the drakes were taking short flights to get to me first.  After I made another long line, I noticed another car pulling up behind mine and it appeared the driver was taking photos of them in their head-over-heels feeding frenzy.  Looking at his age, I'll not be surprised if he'd posted it somewhere on Facebook today as I am with the above. Those ducks really do "quack" me up.  I'd forgotten the sound ducks make when they're excited about something.  Audibles surely can send our memories racing back to the past.
For today still being part of our three day Holiday weekend, I was busier than expected with real estate.  There'll be a very nice residence coming on the market the end of this week.   I suspect it won't be on the market very long since it offers a three car garage. Those three stalls can make quite the difference with a home's time on the market.
For some reason I've always remembered the 26th as being Boxing Day, which really isn't always the case should Christmas land on a Friday or Saturday, since it's technically supposed be the first day after the weekend following.  Did you do any "boxing" today?