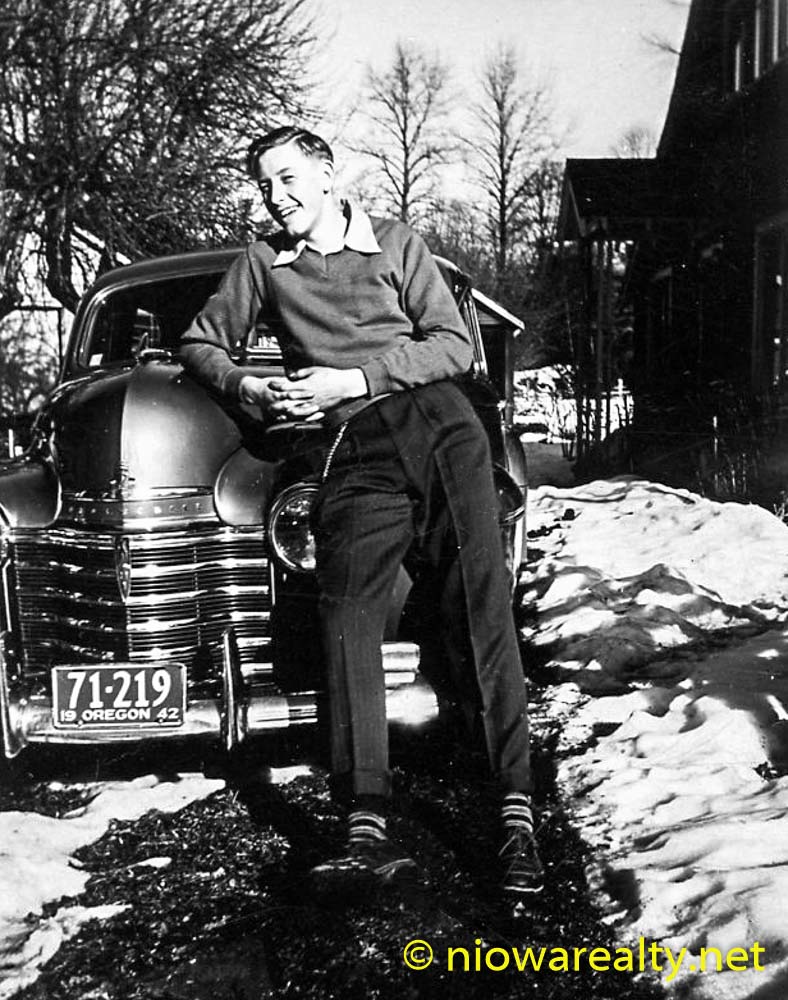 Here we are just about a week away from Christmas with snow on the ground, a more than crisp chill in the air, and above all, more white stuff on the way this weekend.  It looks like we're going to have weather that's conducive for an Ole Fashioned Christmas, so lets make the best of it.  I believe it was not too many years ago when we were getting snow nearly every weekend during that winter.  I mentioned to a client this morning how well I remembered it because I thought I was going to go out of my mind with the endless shoveling of snow.  I said, "By the time Spring arrived, I found I was becoming somewhat of a snow shoveling automaton to where if there was even the slightest dusting of snow, I was on it."  He laughed and said, "You must've been one of those old time spring-loaded shovelers with a hair trigger."  I believe he got my drift.
In spite of the increased amount of mail being sent out this time of year, I was happy to have received some documents earlier than expected from a seller up in the Great Lakes area.  It looks like I'll be able to get a home sale closed days early.  These weeks have been more of a downtime for the buyer, so I'm sure he'll be happy to be working on it sooner than planned.  This sale will be another great example of how when everyone involved in a transaction moves expediently, there's not so many dead days of waiting.
There was an offer that came in today on one of the homes I thought would be the next to be sold, but I'm not so sure the buyers and sellers will be able to come together on price.  If it doesn't get sold to this particular buyer, I'm sure there'll be another in the not so distant future.  I'm still hoping a minimalist millennial buyer will arrive who'll be jumping at the chance to own it.
Yesterday afternoon I couldn't help teasing an exceptionally sensitive young man who was spinning out of control over a verbal confrontation he'd had with another, and the subsequent threats being levied on him from the other party.  He was getting so excited, he appeared to be nearing the point of an anxiety overload.  I couldn't help but diffuse some of his stress by interjecting a German saying I learned many years ago which goes, "Du bist wohl vom Affen gebissen!"  It seemed to help when finding him changing the subject and begging for the meaning.  I said, "In today's world it would translate as: Are you off your rocker?"  Thank goodness it was enough to make him laugh and get back on his "rocker".
In spite it being so close to Christmas, I've decided to schedule a public open house at 507 – 4th St. SE this coming Saturday from 1:00 – 3:00 PM.  The timeless beauty of the home lends to this Holiday Season.  It's one of those homes that's begging for a buyer who'll enjoy entertaining family and friends.  I absolutely love the kitchen design as well as the super-sized dining room.  Wish me luck on Saturday.
Looking thru my box of old photos, I was quite taken by an early 1940's photo I've now posted above of a young man with what appears to be his new car.  By the way he's dressed, positioning himself, and the expression he has on his face for the camera, I found it to be a classic example a young man's many levels of pleasure.  I'm happy to share it.