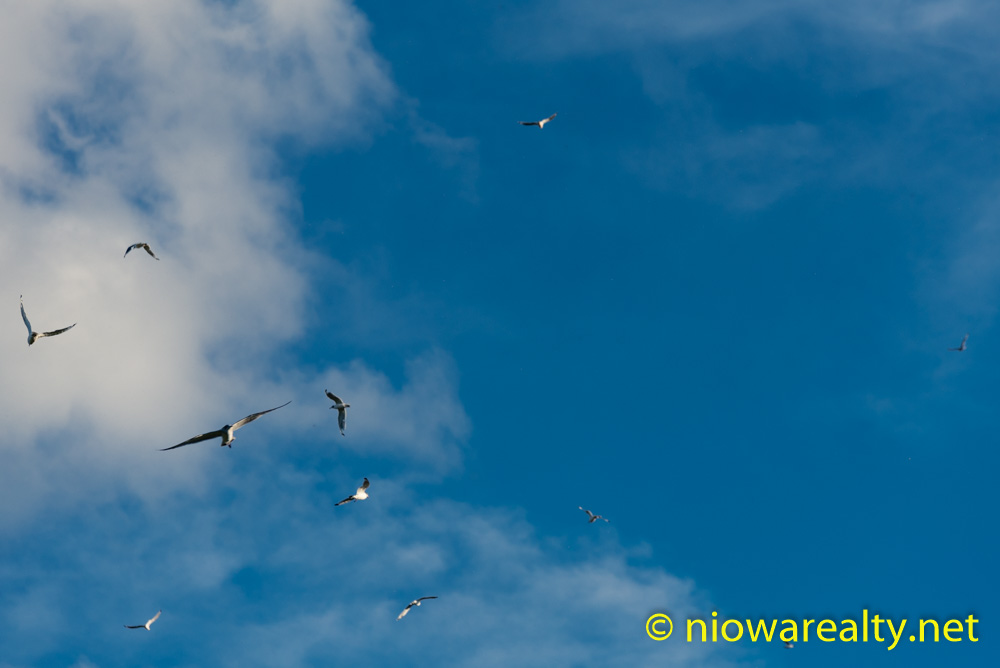 Yikes!  This morning's temperature was a huge swing back to the cold when finding the wind had changed its direction.  The biting north wind can certainly put a chill in the bones of even the most warm-blooded of creatures.  Those steely gray clouds in the west were worrying me a bit in fear they'd be dumping snow or sleet on us.  I know I'm going to be busy again this weekend with more winter prepping.
There seems to be quite a bit of movement these past days with moving trucks and vans. It seems as though, there's quite a few people changing residences for the normally quiet month of November.  I'm sure part of it has to do with more people deciding to purchase rather than rent.  I have a 2 bedroom 2 bath home that I manage here in Mason City that'll be available sometime around the end of December.  It's really quite charming to where I could actually see myself living there.  It has all hardwood floors, a master bathroom, and all appliances are furnished including the washer/dryer.  The rent on it is $650.00 per month but no pets or smokers allowed.  There is a possibility for a pet, but at the discretion of the owner.
For the first time in over a year, I had a sale fall thru due to the buyers being denied a loan.  I was absolutely mortified because that rarely ever happens with me or my office. For me, having to call the owner and relay the bad news, was worse than my being taken out for an old-fashioned beating.  After pulling myself together from this huge let-down, I decided I'm going to be all the more diligent in getting it sold to an iron-clad buyer.  I actually think, I felt worse than the sellers.  I can't help but blame the lender for not being more transparent as well as timely with the whole transaction.  It seems there are a few mortgage lenders in our area that are shooting from the hip as well as speaking with forked tongues.  The lenders that I've worked with a great deal over the years know that I don't tolerate this type of zig-zagging with buyers.  It becomes too nerve wracking for them and there's nearly always hard feelings being harbored for months and years to come.
My two most recent listings this week are getting quite a bit of activity and I hope it will continue until they're both sold.  Those two are stellar, and will make great homes going forward for whomever purchases them.  Please don't forget another mid-century classic that's been under the radar which is located at 15 N. Ohio.  Because I like the floor plan of it so well, I've actually sketched its floor plan in case I'd ever want to build a new home.  What I really like about it is the amount of natural light it has entering from all directions during the day due to its open design.  Someone's going to have a real light-filled sanctuary.
One of my dear friends called this afternoon to have a little chat.  We ended up talking about how people who are normally manipulative, are also found to be hoarders.  They hoard materially, monetarily, and mentally.  They can't seem to get enough because they themselves are empty.  They don't realize their emptiness is the black hole in their soul/spirits that attempts to pull everything and everyone into it.  Whenever we've heard the saying, "The more they get, the more they want.", really doesn't relate to just our material world, but rather to every level of our existence.  This is the true mindset of hoarders.