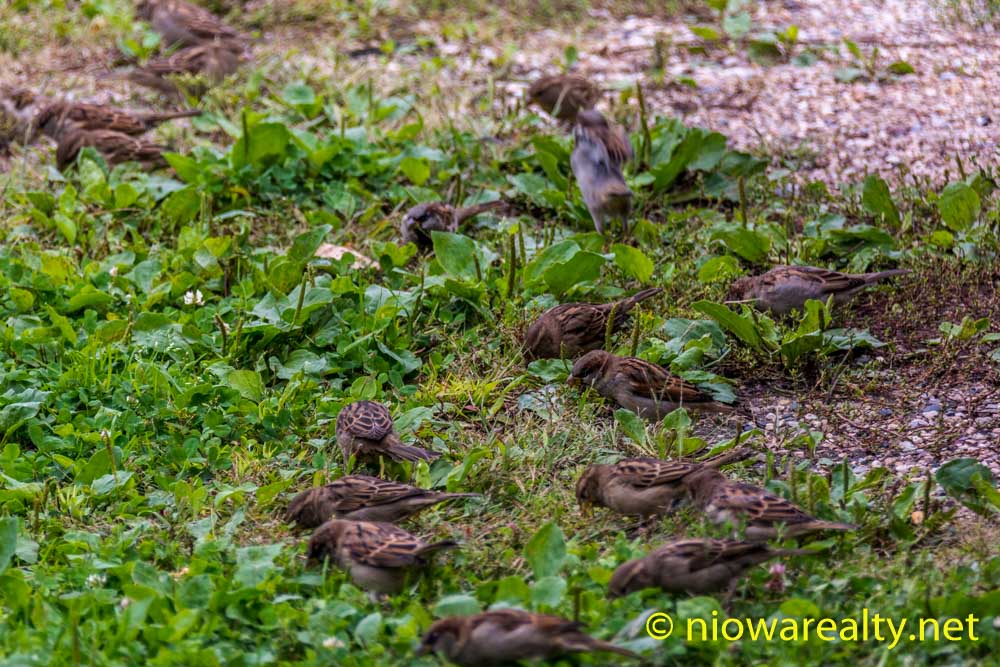 Yesterday, having promised myself a free Sunday morning to do some work outside, I woke up to a light rain. Urgh! So instead of doing something I'd planned to do, I focused on getting more inside work done that I'd promised for a rainy day. I was amazed at how quickly the morning passed to where I was rushing to get my clothes changed so I could make it to my public open house on time. Looking back on what I managed to get done, I was pleased to find one less thing on my "to do" list being mentally crossed off.
I planted several tomato plants much later than normal this year and they're now getting quite large, but not even beginning to turn red. If this weather continues to be as cool as it was today, I may have to pick them and bring them inside to ripen. Looking at them today brought back memories of my grandmother and her uses for green tomatoes. Since she was a lover of any type of meat that was roasted–especially beef or pork.
I'd often see her pulling our her ancient graniteware roasting pan in preparation for a Saturday evening or Sunday noon meal. She'd have garden fresh carrots, potatoes, and onions sliced in large cubes and piled around either a pork or beef roast, and then into the oven it went. Once everything in the roaster started cooking, a wonderful aroma would fill her home to where one couldn't help getting all the more hungry from the smell. She would always have a full selection of all the homemade down-on-the-farm goodies from which to choose. Nearly always, whenever she'd be eating a beef or pork roast, she'd have some type of relish to eat with it. One of them was a very good relish she made from green tomatoes. It wasn't made just from tomatoes because I could taste other flavors when eating it, but I've not seen or tasted anything like it since. I'll have to look online to see what recipes there are for green tomato relish that's served with meat. One thing I've always admired about the wives of the old farmers, and that was their ability to experiment with vegetables that were either in surplus or not fully ripened before the first frost. I wouldn't be surprised if nearly all the green tomato recipes were concocted by people who didn't want to let un-ripened tomatoes go to waste. I can still hear Grandmother saying, "Willful waste'll bring woeful want."
My public open house today at 104 – 11th St NE was quite the success to where I wasn't alone but maybe 10 minutes the entire time. I'm glad to find buyers finally realizing what a great value it is. Where can you find a home offering 4 bedrooms, 2 full baths, a newer double garage for just over 100K? There's absolutely no major improvements necessary. I told one couple today that anything they'd want to change in the home wouldn't be anymore than a Saturday or Sunday project. There was one couple there whom I do hope ends up buying it because I know they'll be the right fit for the neighborhood, and no doubt the neighbors will be glad to have them. I absolutely love working with the younger couples. Their enthusiasm is contagious and they're always thankful for the extra miles I freely go for them.
There was a flock of sparrows at the back of my office today and appeared to be feeding on weed and grass seeds. They were so cute! If you look closely, there's a first in flight.