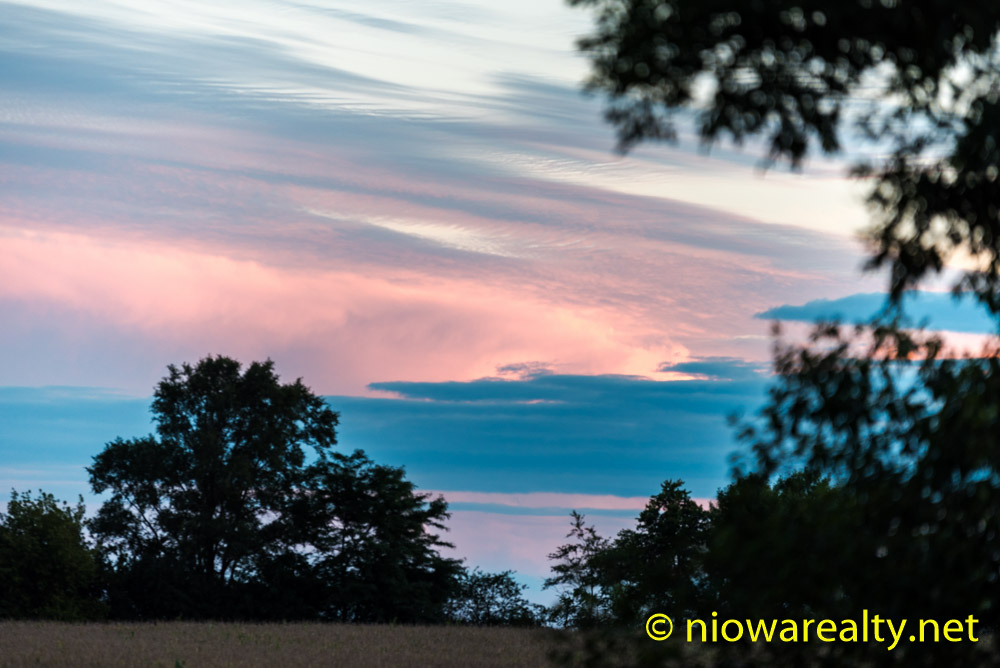 Having been awakened by the rain more than I would have liked last night, I was in shock to learn this morning how many inches we received. Three inches and likely more! Several homes that I was in today had puddling water, and when crossing the Winnebago River, I noticed it was well over its banks. It's really beginning to make me wonder where all these strange weather happenings are going to lead us. I'd certainly not want to see another repeat of the Flood of 2008 which was considered a 500 year flood. Now wouldn't that tell us something about global warming if it should happen again in less than ten years. I remain eternally grateful we didn't get any more than we did.
I'm finding this year to be the real turning point of how companies are doing business. There's no liking or dis-liking because it's an evolutionary process. It came to mind today after responding to an e-mail from a mortgage company's processor whom I've worked with on a number of transactions these past three or four years. Believe it or not, I have never had the opportunity to speak to her personally—all communication is via e-mail. The signs of these times see us moving farther away from any and all personal interaction to where communication is via text or e-mail. The down-side of this movement is my having to spend more time texting and returning e-mails than ever before. I now receive e-mails from complete strangers wanting to look at homes, and when meeting them at the homes, I have nearly no idea who the person was that sent the e-mail because there was no verbal exchange. As I've mentioned before, the isolationism that is rapidly growing in our world is due to the internet and social medias.
The melting pots of cultures will no longer exist due to people of the same stripe seeking out similar mindsets. There will always be cultures, but the wild cards will be the sub-cultures of die-hards who believe their ways of thinking are the right ways. The more we find people of like mentalities coming together, the more strength they believe they have, or should I say "righteousness". All may seem well and good with groups in the public's eye, but what is said and discussed behind closed doors is a whole different story. One example I've used in the past is the near miraculous rise of ISIS. People wonder how such a radical movement could come about so quickly without notice. Again, we can blame much of this on the information highway. That's all it takes, is a strong leader and a rapidly growing group of followers who are willing to die for a cause. For centuries the justifications have nearly always been cloaked with religious beliefs. We must continue to work at maintaining the "It's all about our community" mindset, instead of falling into a trap laid by those radical sub-cultures looking to poison our minds and exploit our resources. It's something we must always be wary of in today's ever-changing world.
Having set aside most of my morning for first of the month office accounting and bill paying, I was wasted no time to get early at it since most of the City was still asleep. What normally takes me an entire morning to accomplish, I managed to get everything done and more in just two and a half hours. There's a lot to be said about the benefits of chaining oneself to a workstation until the job is finished. I'll have see if I can do a repeat again next month.
I took the above photo this evening because the sky reminded me of the old saying, "Red sky at night is a sailor's delight."