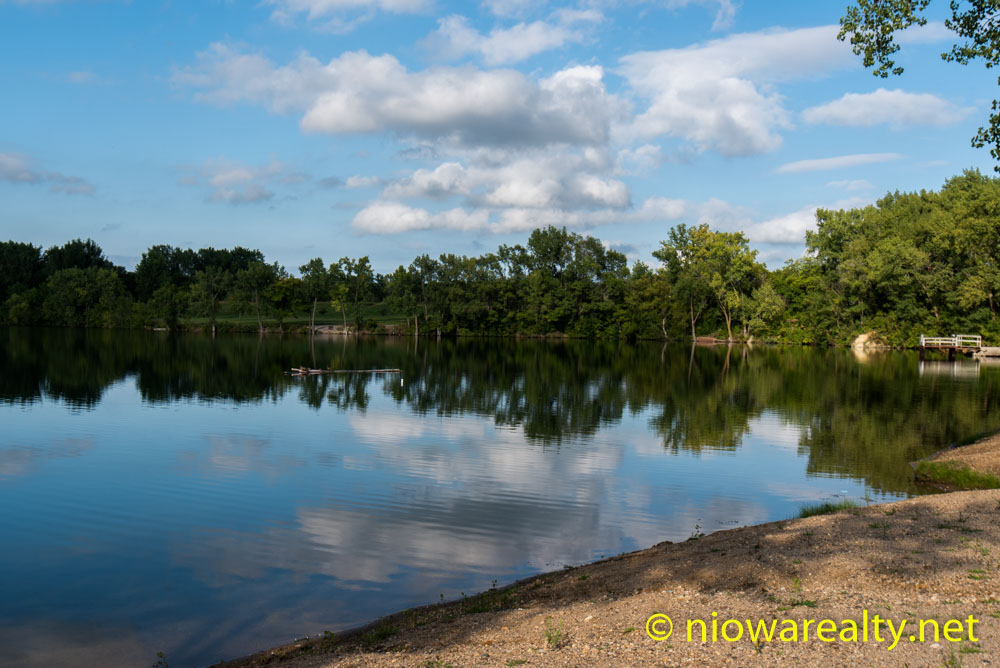 Since we were cursed with more rain last night and again this morning, I wasn't able to get my Saturday morning chores done as I would've liked, so hopefully tomorrow will be a better day for it.  I've been noticing all the more now how the cornstalks are changing from green to golden yellow which is definitely our cue that Fall will soon be upon us.  The oak trees are dropping their acorns all over the sidewalks and driveways, and the squirrels have been busy with their random runs to gather all the nuts they can find.  I've even noticed the turkey vultures starting to flock in greater numbers.  There must have been thirty of them circling and then perching on the grain bins just to the east of Downtown.  Yes, Fall is on its way whether we like it or not.  With the exception of the over-abundance of rain, I consider this past Summer to've been a success with the exception of having to deal with a few irrational and overly paranoid people in my non-real estate world.  Oh well, I've just been chalking it all up as another experience as well as a reminder that no matter how well we think we know someone, there's always those dark sides of people who'll always find a way to blindside you.  What's been helpful in dealing with them this Summer, has been the stellar support I've received from several friends and confidants. So, whenever you think you're being singularly targeted, you must remind yourself that it happens to others far more than anyone could ever imagine. I've come to the conclusion that oft times the triggering mechanism of it all is the combination of greed, jealousy, and most of all, hatred.  As long as we know who we really are, those loud shouts and innuendoes must only be considered nothing more than grey noise coming from the dark side, and consider the source.
Today I was given the great opportunity to list a home that's a real beauty and will likely sell more sooner than later when it hits the market.  When measuring the rooms I found nearly all of them larger than normal.  And, the care given both inside and out is above the best I've seen yet this year.  There's a great deal to be said about people who've lived in their homes for a number of years who've been diligent in keeping all the repairs and improvements up to today's standards.  The quality of construction, the number of bedrooms and baths, and the size of the garage and lot, will make it attractive to just about any buyers—especially if it's a young family.  Since I've inspected more homes than I want to remember, I'd say if I were looking for a home in today's market, I'd be all over it–immediately.  That's how much I was impressed by it all.  As I was walking out, I smiled and said to the owner, "Get yourself ready for it to be sold."
Since I had my camera with me, I thought I'd stop by Big Blue on my way home.  When I pulled into the drive, I noticed there were only a few people there which gave me more of an opportunity to get a good photo.  The water was so calm, it looked like a sheet of glass which was creating a reflection of its surroundings.  The few people that were sitting in cars were watching me and likely wondering what I was taking a picture of out on a lifeless body of water.  When driving away, I was again reminded how lucky we are to have so much natural beauty in our City.  After speaking about my trials this past Summer, I've decided to name the above photo of Big Blue, "Calming Waters".