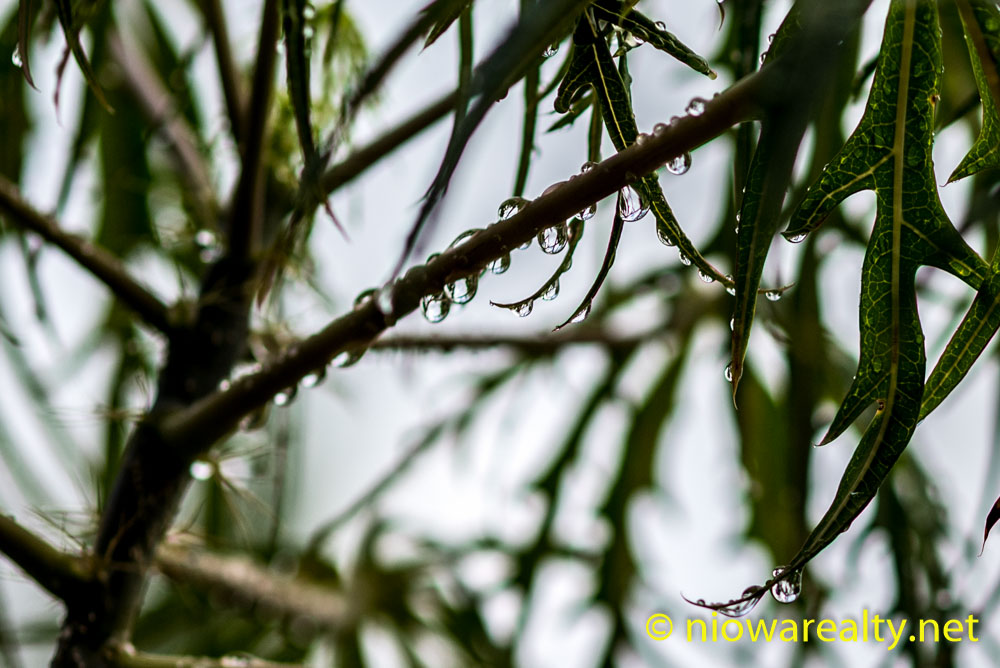 Oh Mercy!  The type of rain we were having today reminded me of the cold misty rain that takes place in late October and early November.  Rarely have I ever experienced it during months of summer.  I was outside for such a short time and when I went in, I felt as though I'd just gone thru a lukewarm steam room fully dressed.  I'm sure anyone who has even the slightest natural curl in their hair would have been surprised to find their hair curling after being out in it.  When looking at the weather several days ago, there was only supposed be a chance of rain today.  Some much for the forecasts.
Norma Heiny's Memorial Service today went very well and was happy to see the large number of people in attendance.  The minister's words were very appropriate considering they was meant for Norma.  I was touched when hearing her favorite Psalm was #33.  It came as no surprise being her favorite because it is one of mine as well.  One of the hymns that was chosen was one I'm familiar with as having been used at the funerals of several family members.  As "Here I Am Lord" was being played and sung by the congregation, I found myself choking back tears. It's not so much the melody but the words of the hymn that are moving.  I stayed for the lunch in the church basement and sat with several people I knew.  I'm just glad I had the opportunity to pay my respects to a wonderful woman who gave much to our community and often in quiet ways.  She was another pillar of North Iowa we had to bid our farewells.  Whenever we loose such giving people, I only hope there are others willing to pick up where they've left off.  If we don't have that, our community will turn into 10,000 islands of selfishness.  In visiting with a dear one today I said, "We can't make people take the high roads–especially when they know better.  They must make choices themselves."
The following are a few real estate news alerts for you as we head into the weekend.
1.   I'll be hosting a public open house at 1057 Park Lane tomorrow from 1:00 – 3:00 pm and since we've reduced it, there should be some serious activity on it.  It's been freshened up all the more and looks great.
2.  I went out today and took new interior photos of 1029 – 12th St. NE which has been drastically reduced to $84,500 and really is a great buy since the home has never had any water in its basement since it was built.  Someone's going to get a steal of a deal on this home.
3.  The townhouse I just listed last week located at 2031 Springview Drive has been getting some real good activity already and I'm not expecting it to be on the market very long at all.  The glass sunroom is a real bonus which we normally don't find in homes so reasonably priced.
With today's misty rain there was created the most beautiful landscape by the plants and flowers holding fast every last drop or two.  Tonight's photo is one I felt worth sharing.